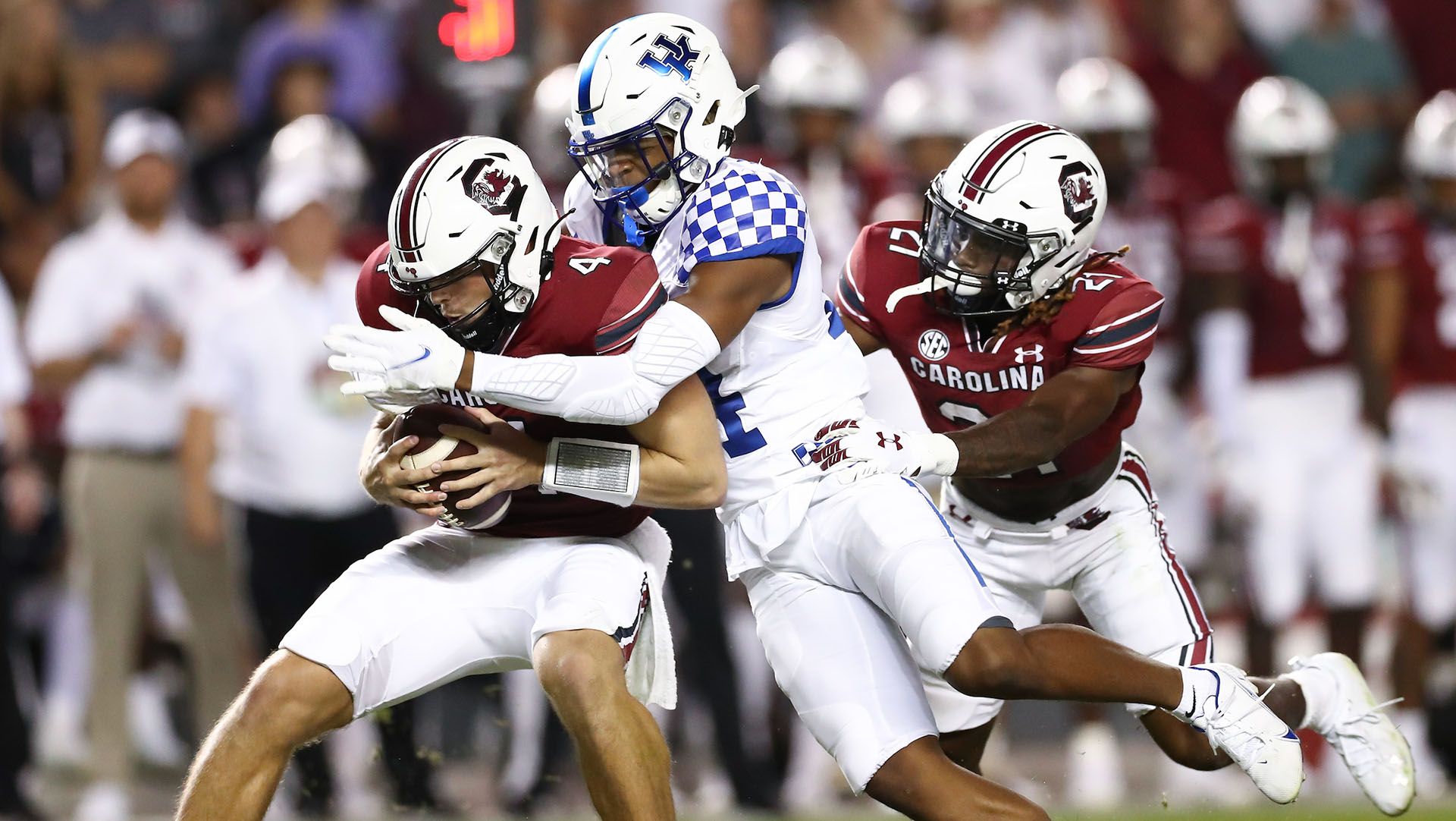 Kentucky's defensive backfield lost a large number of contributors from last season. But as fall practice moves forward, a pair of cornerbacks seem to be stepping forward and appear to be ready for the season.
One of those players is returning starter Carrington Valentine. The other is Ole Miss transfer Keidron Smith, who played four seasons at Ole Miss before deciding to transfer. Both players spoke to the media after Wednesday's practice.
Valentine had a very good season last year, playing in all 13 of Kentucky's games. He was third on the team with 61 tackles, including a sack. He broke up five passes during the season.
As a younger player, Valentine had to learn an important lesson that all cornerbacks learn at some point in their career.
"You've just got to have a short memory playing corner," Valentine said. "I have only been playing for a short amount a time. Once I got that, I started being more comfortable. Receivers are going to catch balls, you've just got to compete and you don't lay down, that's the definition of a hard corner."
Now, Valentine is a confident player who has aspirations of soon playing on the next level.
"My goal is to go out there and compete every day. I know my personal expectations," Valentine said. "I wanted to go out there and look like an elite NFL prospect my junior year. I feel like this year is the year I feel confident enough that I'm going to have people looking at me like, wow, that's an elite level talent right there."
Smith played in 47 games in four seasons at Ole Miss. He has 224 tackles in his career along with five interceptions. Last season, he had a pair of picks while making a career-high 65 tackles. But at then end of the season, he decided he needed to have a change of scenery. Why did he leave?
"New start," he said. "Had a real mature talk with the coaches. My departure was the best for me."
He entered his name into the NCAA Transfer Portal and was almost immediately contacted by former roommate Jacquez Jones, who himself had transferred from Ole Miss to UK. Did Jones try to recruit Smith?
"Just a little bit," Smith said. "When I officially hit the portal, he was the first one to contact me."
As far as what he can bring to the team, Smith wants to be part of just that, a team.
"I'm just here to add on, a leadership role, and make plays with those guys," Smith said. "It's a talented group."
It's a group that's still shaking out as far as the depth chart is concerned. But it seems as though both Smith and Valentine could play key roles for the Cats this season.