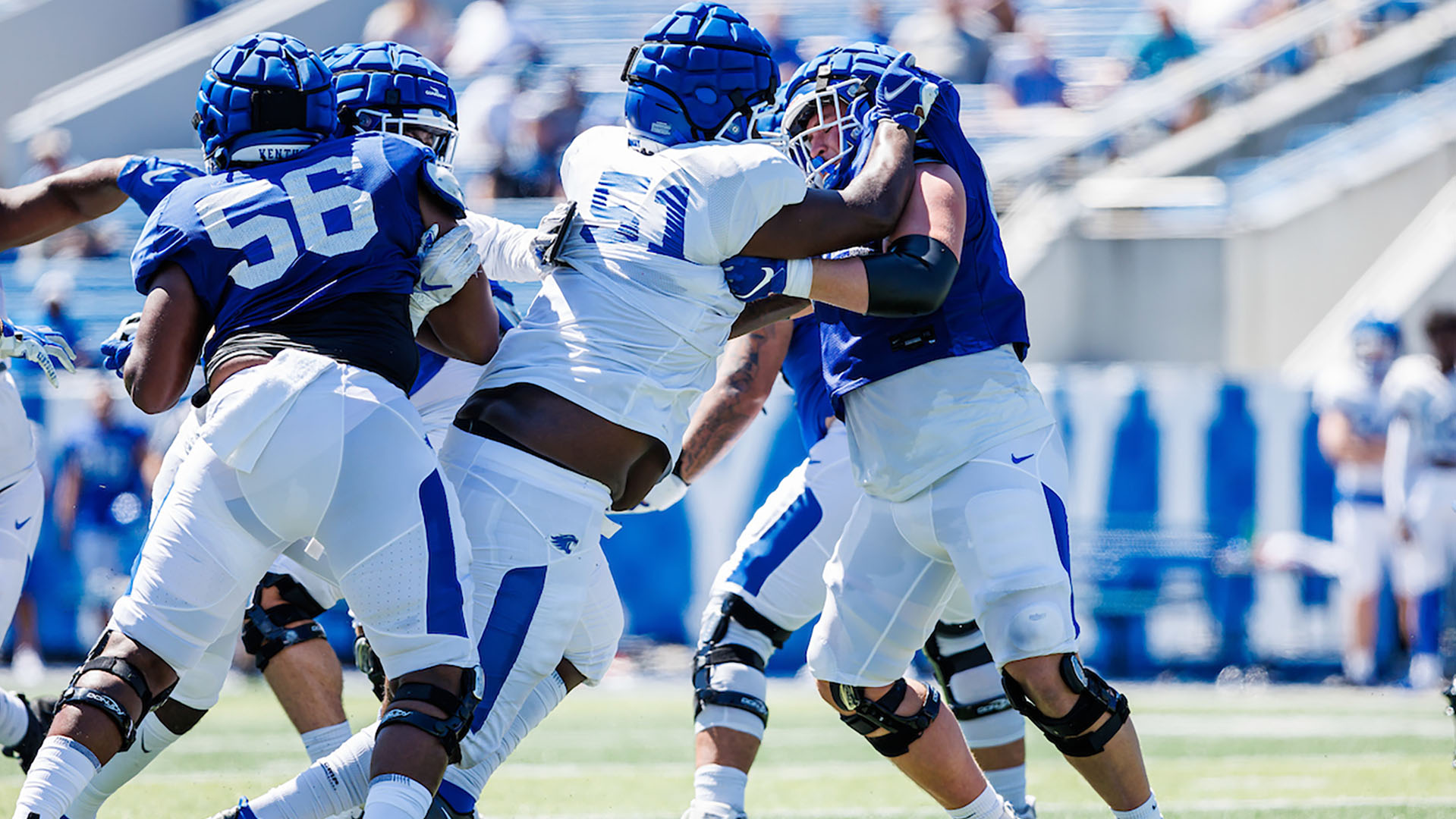 As any fall football camp progresses, certain players emerge from the pack and are able to make a name for themselves. This fall's Kentucky football camp is no exception, although very few probably expected to hear the name that came forward during Saturday's scrimmage.
That name – Deone Walker – was one of the standouts of the day on Saturday. The true freshman from Detroit drew the praise of his head coach and his teammates following Saturday's scrimmage.
"Deone, on the defensive side, Deone jumped out right away," head coach Mark Stoops said on Saturday. "Deone can be a wrecker up front which is great. We really need to see that."
Stoops knows that Walker's combination of size and strength could be a combination that leads to great results.
"To have a D-lineman with that kind of length and then be loose enough and sudden enough to get pressure on the quarterback from the inside position. He's very good," Stoops said. "Great starting point. He definitely showed up today. To be able to do it all, to be a run stopper but also put pressure on the quarterback, be a complete D-lineman, I think he has that kind of potential."
UK center Eli Cox, who is sometimes matched up against Walker in practice, thinks that the youngster is already showing flashes of greatness.
"Deone is young and is very physically gifted," Cox said. "He plays with lot of length and really good explosion and strength for a young guy. He will be able to provide a great look for us on offense because he's built just like every other SEC defensive lineman we play every day. He's only going to get better with time. He's already proven that he's a talented guy."
Walker stands 6-6 and tips the scale at roughly 330 pounds, giving him tremendous size up front. But it's his ability to move that has impressed his teammates, including linebacker DeAndre Square, who, like Walker, attended Cass Tech High School in Detroit.
"Deone's my guy. We come from the same high school. He's been great. He's been working," Square said. "He's a big guy. You don't see too many guys that big moving like that. If he can stay the course, he's going to be really good here."
Square cited the defensive line as a whole as a unit that has been performing well in fall camp.
"They are very active," Square said. "They know the playbook. They're fast, physical, big. They love football. They're very young but they're very mature."
While many may have expected bigger, or more familiar, names to emerge after Kentucky's first scrimmage, it was true freshman Deone Walker who had the coaches and players talking following Saturday's action.