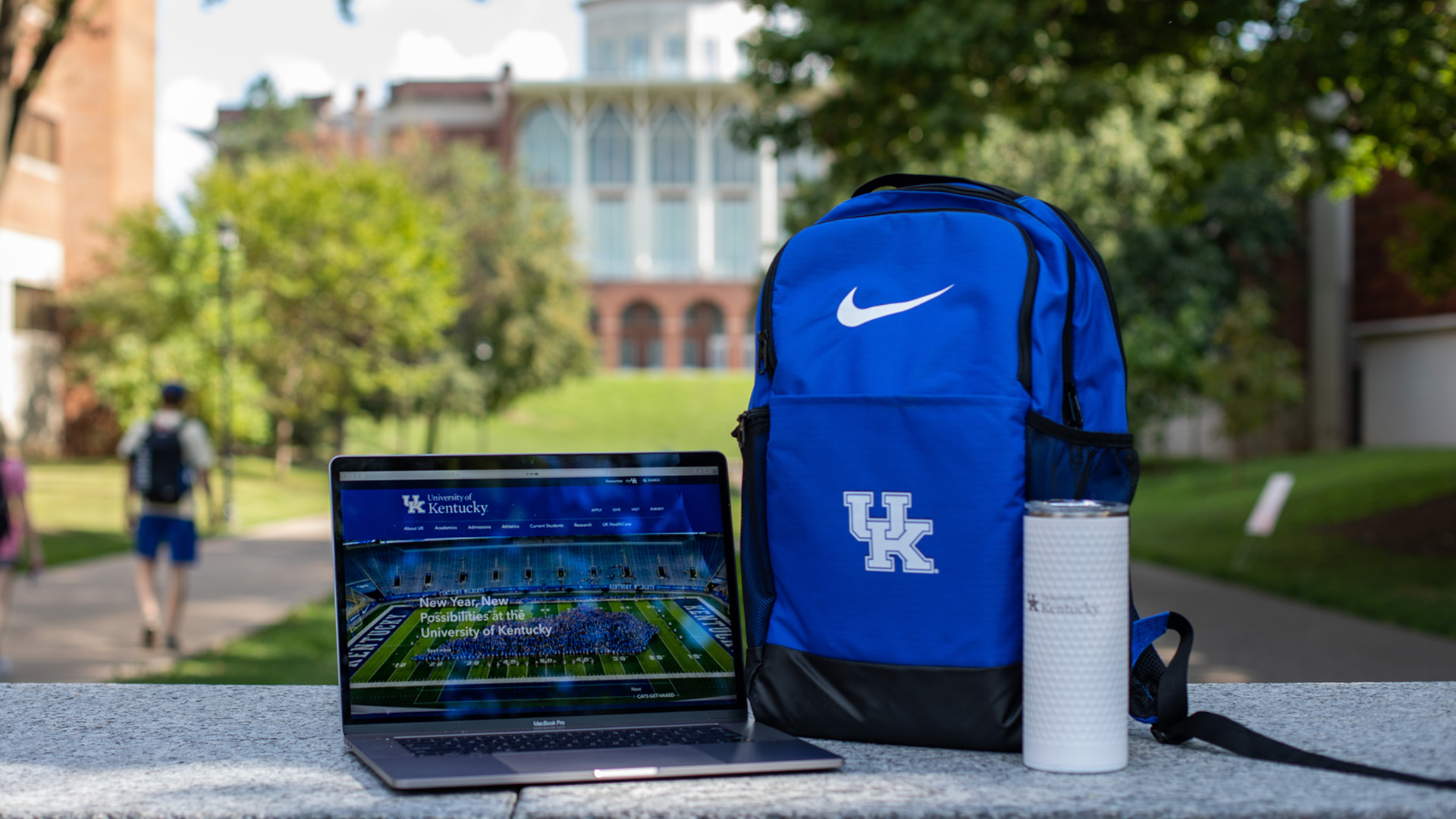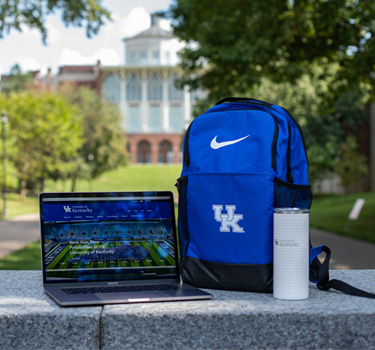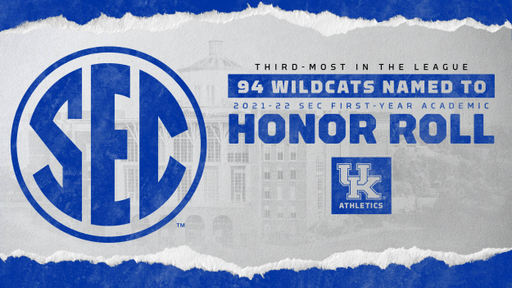 BIRMINGHAM, Ala. – Student-athletes in their first year at the University of Kentucky combined to earn a total of 94 spots on the 2021-22 Southeastern Conference First-Year Academic Honor Roll, the third-highest number in the league, SEC Commissioner Greg Sankey announced Thursday.
Kentucky had five teams finish among the top three in the SEC in their sports.
Baseball had the second most in the league in that sport with 18 honorees
Gymnastics tied for second most in the conference with four honorees.
Men's tennis tied for second in the league with two honorees.
Women's track and field tied for third in the league 10 honorees.
Women's soccer tied for second in the league with nine honorees.
The First-Year Academic Honor Roll is based on grades from the 2021 summer and fall terms, along with the 2022 spring term. Among other qualifications, a student-athlete must have a 3.0 grade-point average for the entire year to earn a place on the honor roll.
For the latest on the UK Athletics, visit UKathletics.com.
Kentucky – Sport – Major
Tyler Bosma – Baseball – Sport, Fitness, and Recreation Management
Magdiel Cotto – Baseball – Integrated Strategic Communication
Michael Dallas – Baseball – Media Arts and Studies
Jase Felker – Baseball – Management
Adam Fogel – Baseball – Sport, Fitness, and Recreation Management
Colby Frieda – Baseball – Undeclared
Reed Gannon – Baseball – Finance
Daniel Harris, IV – Baseball – Sport, Fitness, and Recreation Management
Christian Howe – Baseball – Civil Engineering
Hunter Jump – Baseball – Business
Tanner Kim – Baseball – Undeclared
James McCoy – Baseball – Finance
Mason Moore – Baseball – Communication
Jackson Nove – Baseball – Finance
Emilien Pitre – Baseball – Management
Travis Smith – Baseball – Communication
John Thrasher – Baseball–  Improving Healthcare Value
Darren Williams – Baseball – Applied Statistics
CJ Frederick – M Basketball – Community and Leadership Development
Bryce Hopkins – M Basketball – Communication
Oscar Tshiebwe – M Basketball – Communication
Jager Burton – Football – Communication
Jordan Dingle – Football – Clinical Leadership and Management
Parker Estes – Football – Finance
Austin Gough – Football – Kinesiology
Adrian Huey – Football – Communication
Will Levis – Football – Finance
Lucas Padgett – Football – Undeclared
Kaiya Sheron – Football – Communication
Martez Thrower – Football – Kinesiology
La'Vell Wright – Football – Communication
Andrew Clark – M Golf – Economics
Jillian Procasky – Gymnastics – Kinesiology
Anna Riegert – Gymnastics – Marketing
Lila Smith – Gymnastics – Kinesiology
Makenzie Wilson – Gymnastics – Communication
Allison Buesseler – Rifle – Elementary Education
Tori Kopelen – Rifle – Public Health
Luke Andrews – M Soccer – Sport, Fitness, and Recreation Management
Casper Grening – M Soccer – Management
Nick Gutmann – M Soccer – Kinesiology and Health Promotion
Jan Hoffelner – M Soccer – Marketing
Cooper Kieran – M Soccer – Marketing
Lucca Rodrigues – M Soccer – Kinesiology and Health Promotion
Martin Soereide – M Soccer – Finance
Cameron Wheeler – M Soccer – Sport, Fitness, and Recreation Management
Paige Archbold – W Soccer – Kinesiology
Emma Dalton – W Soccer – Agricultural & Medical Biotechnology
Emily Duncan – W Soccer – Kinesiology
Maya Goudeseune – W Soccer – Management
Sara Makoben‐Blessing – W Soccer – Psychology
Tallulah Miller – W Soccer – Finance
Emma Nicholson – W Soccer – Kinesiology
Laura Nielsen – W Soccer – Psychology
Emilie Rhode – W Soccer – Neuroscience
Jenna Blanton – Softball – Elementary Education
Taylor Ebbs – Softball – Kinesiology, Communication
Ella Emmert – Softball – Human Health Sciences
Izzy Harrsion – Softball – Integrated Strategic Communication
Alexia Lacatena – Softball – Kinesiology
Hallie Mitchell – Softball – Sustainable Ag. & Community Food Systems
Margaret Tobias – Softball – Accounting
Nick Caruso – M Swim & Dive – Kinesiology
Cooper Tyler – M Swim & Dive – Biology
Meredith Bauer – W Swim & Dive – Psychology
Caroline Benda – W Swim & Dive – Agricultural & Medical Biotechnology
Kaelan Daly – W Swim & Dive – Biology
Abigail Devereaux – W Swim & Dive – Journalism
Annie Galvin – W Swim & Dive – Marketing, Management
Megan Hartlieb – W Swim & Dive – Marketing
Olivia Mendenhall – W Swim & Dive – Finance
Maddie Welborn – W Swim & Dive – Human Health Sciences
JJ Mercer – M Tennis – Finance
Francois Musitelli – M Tennis – Marketing
Ellie Eades – W Tennis – Marketing
Lidia Gonzalez – W Tennis – Biomedical Engineering
Myles Anders – M Track & Field – Supply Chain Management
Theo Bachmann – M Track & Field – Digital Media and Design
Brian Faust – M Track & Field – Public Financial Management
Alex Justus – M Track & Field – Finance
Jacob Sobota – M Track & Field – Data Science
Jackson Watts – M Track & Field – Electrical Engineering
Maggie Aydt – W Track & Field – Kinesiology
Anthaya Charlton – W Track & Field – Finance
Patrice Cornelious – W Track & Field – Integrated Strategic Communication
Cierra Fogg – W Track & Field–  Kinesiology
Sophie Galloway – W Track & Field – Equine Science and Management
Dynasty McClennon – W Track & Field – Undeclared
Phoebe McCowan – W Track & Field – Human Health Sciences
Mollie Roden – W Track & Field – Marketing
Julz Williams – W Track & Field – Digital Media and Design
Meg Wilson – W Track & Field – Psychology
Eleanor Beavin – Volleyball – Journalism
Emma Grome – Volleyball – Kinesiology
Erin Lamb – Volleyball – Kinesiology