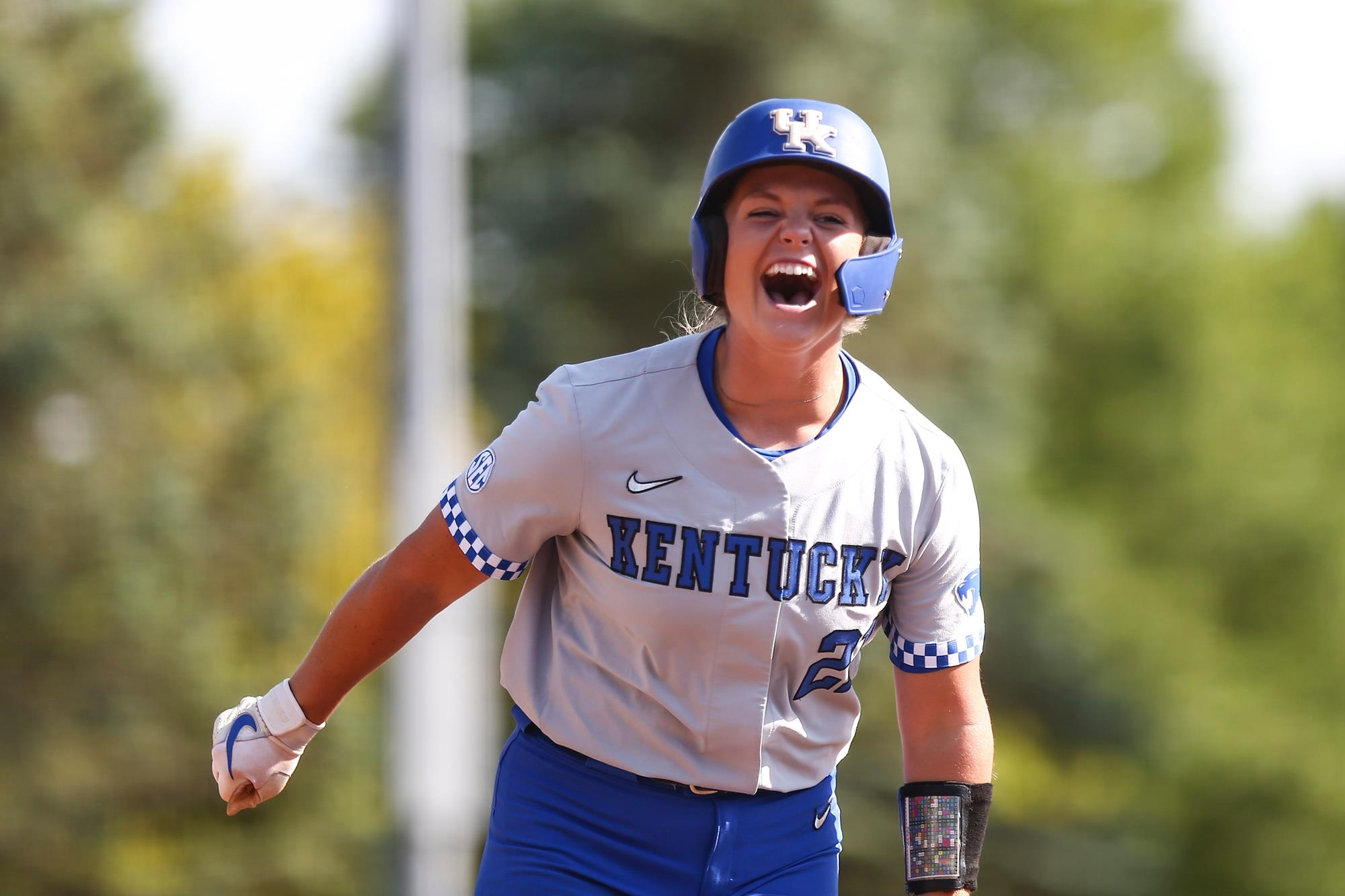 BLACKSBURG, Va. – The Kentucky Softball team hit an NCAA Tournament and school record-tying six home runs and scored in every inning as it beat Miami 15-1 in five innings Friday in the opening round of the 2022 NCAA Tournament's Blacksburg Regional.
Erin Coffel and Taylor Ebbs each hit two home runs in the contest, with Kayla Kowalik and Renee Abernathy both also hammering a long ball. Coffel's two homers brough in seven runs, and Ebbs' pair brought home a quartet of runs for the Wildcats.
With the win, Kentucky moves into the winner's bracket of the NCAA Blacksburg Regional and will play Virginia Tech, who beat St. Francis, at 3 p.m. ET. The winner of Saturday's game will move into the Blacksburg Regional final Sunday afternoon.
Miami scored first, launching a lead-off HR in the top of the first inning off the bat of Karli Spaid to put the RedHawks up, 1-0. Kentucky then responded with a four spot in the bottom of the first and the six spot in the bottom of the second to break the game open.
Television assignments will be announced Saturday morning for Saturday's games.
Key Play
The key play in the game was Erin Coffel's two-run bomb in the bottom of the first inning to make it a 3-1 lead for UK.
Key Player
The key player in the game was Stephanie Schoonover, who went the complete distance of the game with one run allowed, three hits, one walk and five strikeouts. Schoonover threw 81 pitches, and 49 were recorded as strikes.
Key Stat
The key stat in the game was six, as the Wildcats launched six homers in the game.
Run Recap
Karli Spaid led off the game with a solo home run. MIA 1, UK 0
In the bottom of the first, Kayla Kowalik hit a lead-off HR to make it a 1-1 game. After Lauren Johnson singled, Erin Coffel banged a homer out to LF and Renee Abernathy then hit one yard for back-to-back jacks. UK 4, MIA 1
Kowalik led off the second with a double, and she scored on an Erin Coffel single. After walks were issued to Blane and Abernathy, Meeko Harrison hit a two-RBI single through the right side. Taylor Ebbs then hit a three-run homer to conclude the scoring. UK 10, MIA 1
IN the bottom of the third, Kentucky plated a run on an Erin Coffel single through the middle that played Kowalik, as one of four runs scored. UK 11, MIA 1
As part of a four-run fourth, Taylor Ebbs led off the inning with a home run and Erin Coffel then slammed her second long ball of the day out to left, scoring three. FINAL – Kentucky 15, Miami 1 (5)
For the latest on UK Softball, follow the Wildcats on Twitter and Instagram at @UKSoftball.