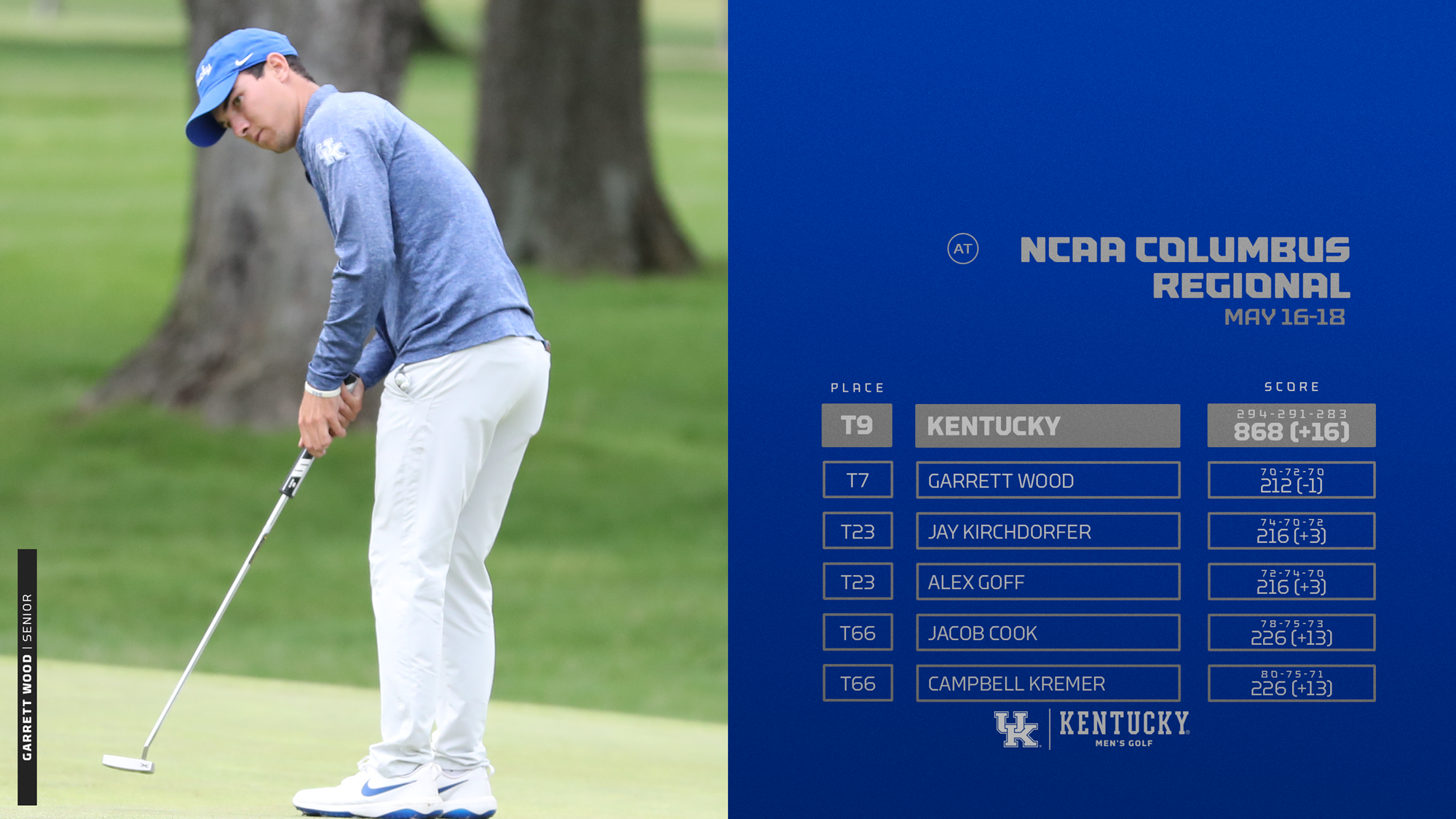 Kentucky Saves its Best for Last in Final Round of Season
COLUMBUS, Ohio – Behind its best round of the week, the Kentucky men's golf team made a run at overcoming a nine-shot deficit and had a chance to push through to move on to the NCAA Championship with a 1-under par round on Wednesday. The Cats fell short of their goal and finished in a tie for ninth behind a top-10 individual finish from Garrett Wood.
"We made a valiant run today and were in a position to advance to the NCAA Championship with 6-to-7 holes to play," UK head coach Brian Craig said. "Unfortunately, we did not quite finish it off, but I am super proud of these guys. Their efforts this week and for the entire season was first class and should put a smile on the Big Blue Nation's faces. And what can I say about Garrett Wood and Jay Kirchdorfer? They both played fine golf this week and nearly led us to Scottsdale."
Wood capped the week in a tie for seventh on the individual leaderboard following a final round of 1-under par. Kirchdorfer pieced together a 3-over week and easily had the best performance of his career in the Blue and White. He finished the week in a tie for 23rd which included a career-low round (70) and the second-lowest 54-hole total (216) of his career.
Alex Goff matched Wood with a 1-under round during Wednesday's final action and finished in a tie for 23rd on the individual leaderboard in his second-career appearance in the NCAA Regionals.
Campbell Kremer generated an even-par 71 to rebound in a big way on Wednesday. Jacob Cook also turned in his best round of the week with a 2-over 73. Kremer and Cook finished the tournament in a tie for 66th.
"I also have to commend our team captain and leader, Jacob Cook," Craig said. "We had such a tough fall season that put us so far behind. But Jacob's leadership and excellent play led this team right back into the postseason. We absolutely would not have been here without Cookie."
Cook entered the NCAA Regionals having led the Wildcats in scoring average, top-10 finishes, top-20 finishes and par-or-better rounds. Cook, Kirchdorfer and Zach Norris will conclude their careers with the Wildcats this week. UK is set to add three highly touted freshmen to next year's roster in Oakley Gee, Solomon Petrie and Kevin Watts.
"The future is bright for this team," Craig said. "We will have an excellent blend of experience and youth and definitely talent. I already can't wait to get next season started."
The Wildcats finished in a tie for ninth in the NCAA Regionals with a 16-over scorecard. No. 2 Oklahoma State and No. 11 Georgia Tech tied for first at 10-under par. Ohio State (+4), No. 14 Arkansas (+7) and East Tennessee State (+10) rounded out the top five to advance to the NCAA Championship.
Wood produced his second sub-par score with a 1-under on Wednesday. The squad began on the back nine from the No. 10 tee box. He was 2-under at the turn with birdies at the 14th and 18th. After suffering three bogeys over his first five holes following the turn, Wood responded with consecutive birdies at the seventh and eighth to conclude the week with a top-10 finish which marked the fourth of the season and the eighth of his career.
Goff opened play with consecutive birdies to pick up momentum immediately. He yielded a shot back at the 16th but answered with a birdie at the par-four 18th to make the turn at 2-under par. A pair of bogeys on the front nine were offset by a birdie at the par-four third for his 1-under round. It marked the 34th par-or-lower round of his career.
Kirchdorfer shot a 72 on Wednesday and played even par over his final nine holes with birdies coming at the fifth and seventh holes.
Kremer was 2-over par at the turn after facing adversity all week, the Louisville, Kentucky native rallied for birdies at the par-four first and the par-five fourth and played flawless golf over his final 11 holes of the season.
For the latest on the Kentucky men's golf team, follow @UKMensGolf on Twitter and on the web at UKathletics.com.