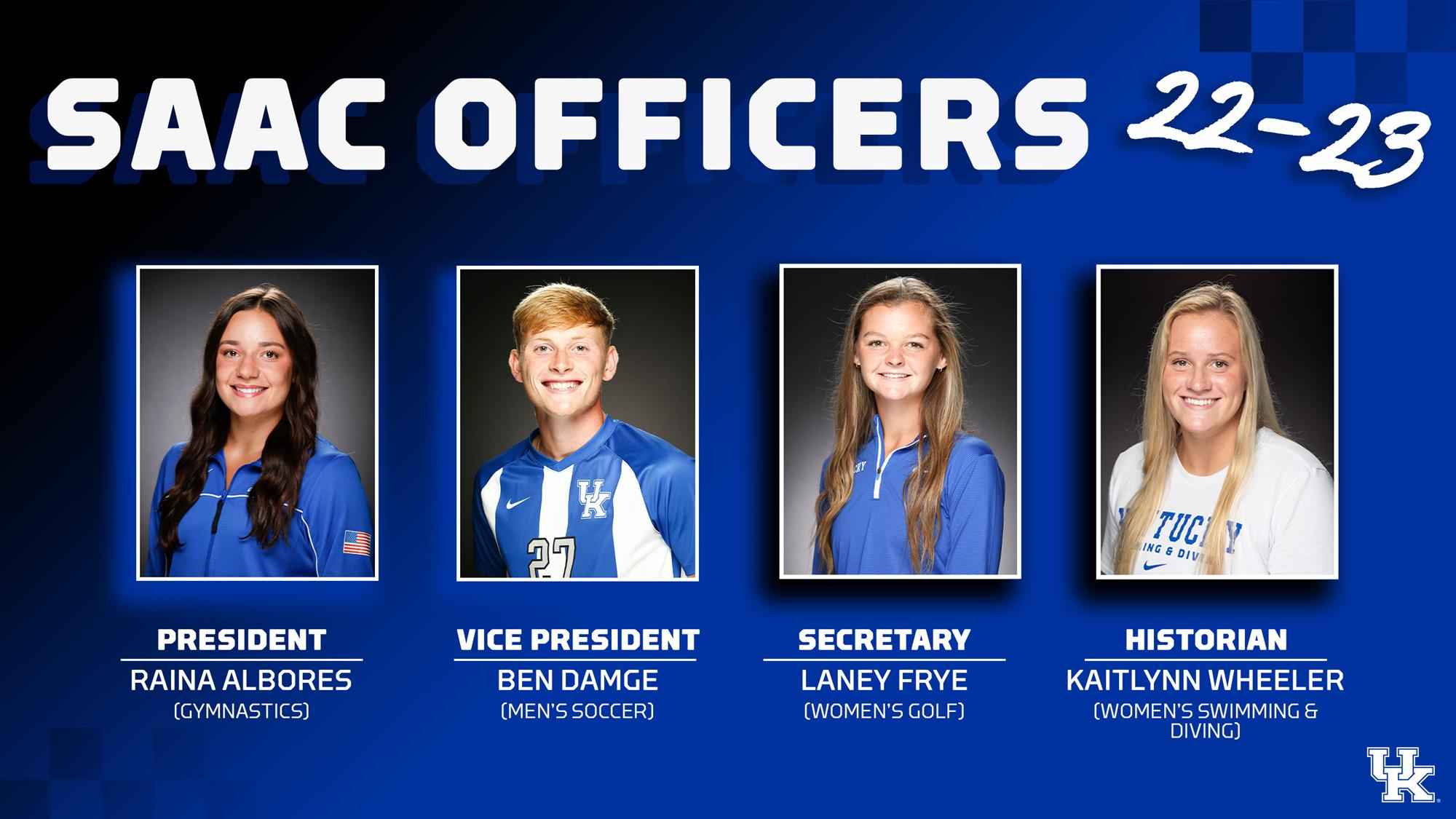 LEXINGTON, Ky. – The University of Kentucky Student-Athlete Advisory Committee (SAAC) has announced the officers elected to serve the department for the 2022-23 academic year.
The gymnastics team's Raina Albores will serve as president, men's soccer's Ben Damge was elected vice president, women's golf's Laney Frye will be secretary and Kaitlynn Wheeler from women's swimming and diving will be the historian.
SAAC is the student-athlete organization that represents the student-athletes at the University of Kentucky. SAAC seeks to ensure that UK Athletics provides each sport and every student-athlete with a quality environment and the essentials to be competitive as a student-athlete and a team. Each UK team is represented by at least one SAAC member. SAAC is supported by UK Athletics' Student-Athlete Experience division.
The SAAC has selected a Community Partner of Choice in recent years, working with UK Healthcare Kentucky Children's Hospital from April 2020 through April 2022, and Special Olympics of Kentucky from December 2018 through April 2020.
UK student-athletes work with numerous other charitable organizations, but the "Community Partner of Choice" initiatives enable Wildcat student-athletes to cultivate even deeper relationships in a focused manner.
Albores (River Falls, Wis.) will be a senior in the upcoming academic year. She is a Women's Collegiate Gymnastics Association Scholastic All-American and Southeastern Conference Honor Roll student, in addition to representing Kentucky at the highest levels of collegiate gymnastics.
Damge (Mason, Ohio) will be a junior in 2022-23, and played a big part in Kentucky's 2021 conference tournament champion team in addition to being an honor roll student.
Frye (Lexington, Ky.) will be a junior next year and is a perennial honor roll student. In 2020-21 she enjoyed one of the best seasons in Kentucky history, being UK's top finisher at its first NCAA Championship finals appearance in 29 years, earning a selection to the SEC All-Freshman Team and reaching the match-play portion of the U.S. Women's Amateur.
Wheeler (Loami, Ill.) will be a senior in 2022-23 and is an All-American, SEC Champion and two-time conference medalist, All-SEC and Scholar All-American, and played an important part in the Wildcats' 2021 SEC Championship team.
— 
The online home of The Kentucky Road is TheKentuckyRoad.com, a first-of-its-kind digital platform that inspires prospective student-athletes to visualize their future at UK. That future includes a set of opportunities that will challenge them to grow into leaders prepared for a lifetime of success, both during and after college. The Kentucky Road digital platform illustrates that through story-driven multimedia content and an interactive roadmap experience.