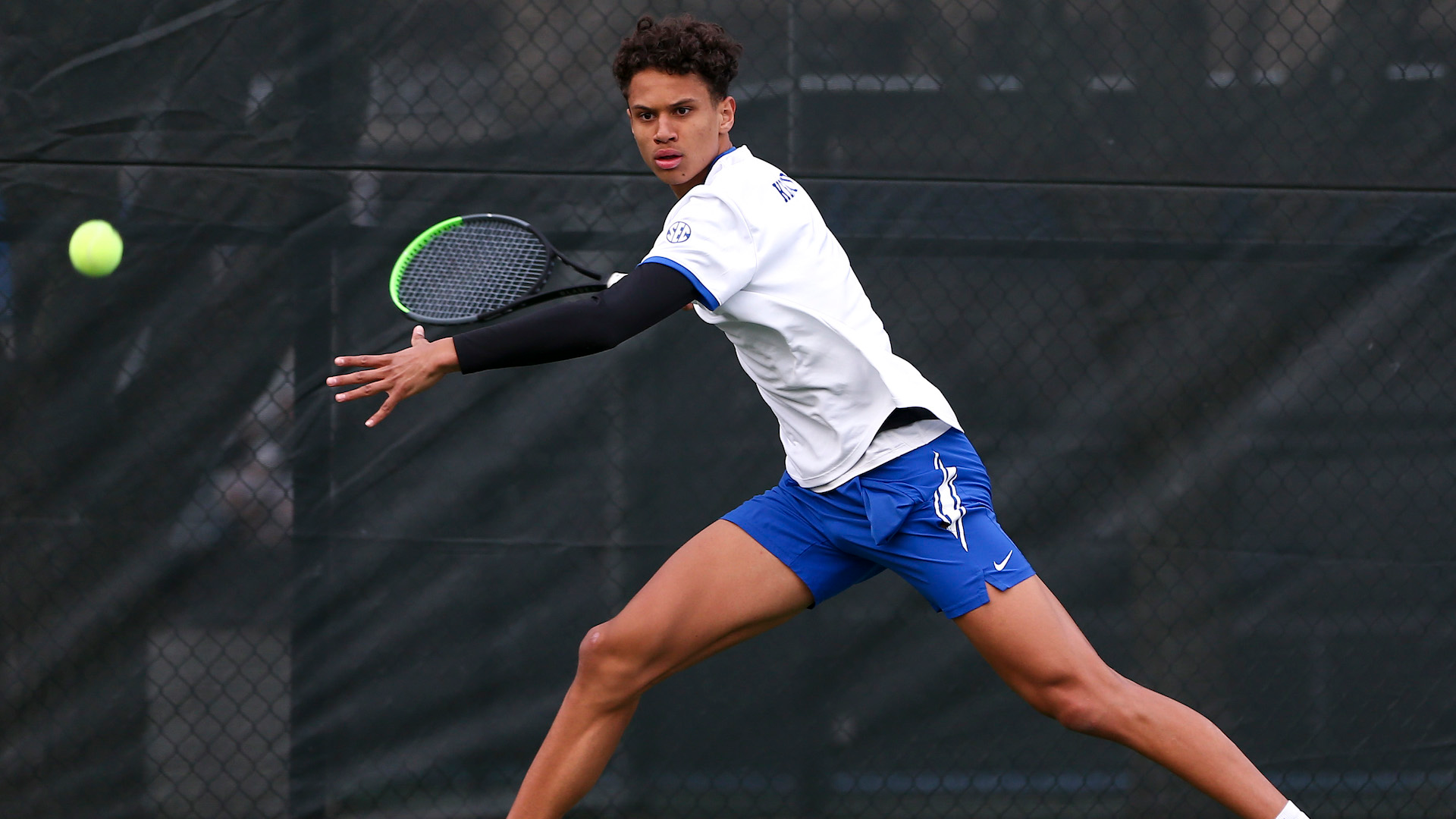 March 25, 2022 - 09:21 PM
Gabriel Diallo Scores 50th Career Singles Win as Kentucky Defeats Vanderbilt
Nashville, Tn. – The 12th-ranked Kentucky Wildcats edged past the No. 41 Vanderbilt Commodores Friday evening at the Currey Tennis Center, winning the match 4-3 as junior Gabriel Diallo notched his 50th career victory in singles. 
 
The victory elevates UK to 14-4 overall with a 5-1 mark in Southeastern Conference play, while Vanderbilt drops to 13-6 on the year and a 1-5 SEC record.
 
Diallo pulled out narrow victory over Commodores' Marcus Ferreira, winning a 6-4, 6-4 affair to achieve the milestone win.
 
Opening with doubles competition, Kentucky prevailed and picked up the first point of the match to take an early lead. Millen Hurrion and Francois Musitelli took down No. 80 Siim Troost and Michael Ross to notch their first ranked win together as a tandem, 6-2. 
 
Joshua Lapadat and JJ Mercer as well as Liam Draxl and Alexandre Leblanc both led in their matches once the outcome on court one was decided. However, it was Lapadat and Mercer who clinched the point in favor of UK for the second consecutive match, earning their 10th win this spring in the process, 6-4, over George Harwell and Jeremie Casabon.
 
Vanderbilt managed to tie the match after Yasha Zemel fell to Troost, 6-3, 6-3, on court six. No. 61 Musitelli wrapped up his match shortly after for UK to take the lead again, taking his sixth straight singles match over Max Freeman 6-3, 6-3. The Dijon, France native improved to 12-2 in spring with the win.
 
No. 9 Diallo's win put it at match point in favor of the Wildcats. The junior is now 8-0 this spring with a 22-7 overall record.  VU pulled it close again, 3-2, after captain No. 114 Hurrion fell on court two to Joubert Klopper. The fifth year dropped the first set but had an absolute battle in the second, putting the match at 40-love attempting to force a tiebreaker, but losing the following point.
 
No. 95 Lapadat then clinched the match to earn Kentucky its fifth SEC win. After a picturesque 6-1 first set, Jeremie Casabon forced a third by winning the second 6-3. From there, Lapadat held strong and took the third to notch his 12th spring win, 6-1.
 
The teams agreed beforehand to play out the matches on all courts once the match was clinched, with now just No. 94 Draxl and No. 44 George Harwell left on court one. The reigning Intercollegiate Tennis Association Player of the Year dropped the first set after forcing a tiebreaker but responded with a fierce 6-1 second set and forced the third. The final set went back-and-forth, but ultimately Harwell took down Draxl, 7-5 (7-4), 1-6, 7-6, to put his record at 8-3.
 
Kentucky will next travel to Palmer/Salloum Tennis Center in Oxford, Mississippi, to take on No. 39 Ole Miss on Sunday at 2 p.m. ET. The Ole Miss Rebels hold a 11-8 record, going 1-5 in SEC matches and recently fell to Auburn on Friday afternoon, 6-1. 
 
#12 Kentucky 4, #41 Vanderbilt 3
 
Singles competition
1. #44 George Harwell (VANDY) def. #94 Liam Draxl (UK) 7-5 (7-4), 1-6, 7-6
2. Joubert Klopper (VANDY) def. #114 Millen Hurrion (UK) 6-2, 7-5
3. #9 Gabriel Diallo (UK) def. Marcus Ferreira (VANDY) 6-4, 6-4
4. #61 Francois Musitelli (UK) def. Max Freeman (VANDY) 6-3, 6-3
5. #95 Joshua Lapadat (UK) def. Jeremie Casabon (VANDY) 6-2, 3-6, 6-1 
6. Siim Troost (VANDY) def. Yasha Zemel (UK) 6-3, 6-3
Order of finish: 6, 4, 3, 2, 5*, 1
 
Doubles competition
1. Francois Musitelli/Millen Hurrion (UK) def. #80 Siim Troost/Michael Ross (VANDY) 6-2
2. JJ Mercer/Joshua Lapadat (UK) def. George Harwell/Jeremie Casabon (VANDY) 6-4
3. Macsen Sisam/Joubert Klopper (VANDY) vs. Liam Draxl/Alexandre LeBlanc (UK) 3-5, unfinished
Order of finish: 1, 2*
 
For the latest on the Kentucky men's tennis team, follow @UKMensTennis on Twitter and Facebook, @kentuckymenstennis on Instagram, and on the web at UKAthletics.com.
 
– GO CATS –
For more information contact:
Ryan Cullinane (rrcu222@uky.edu) – (859) 257-8309