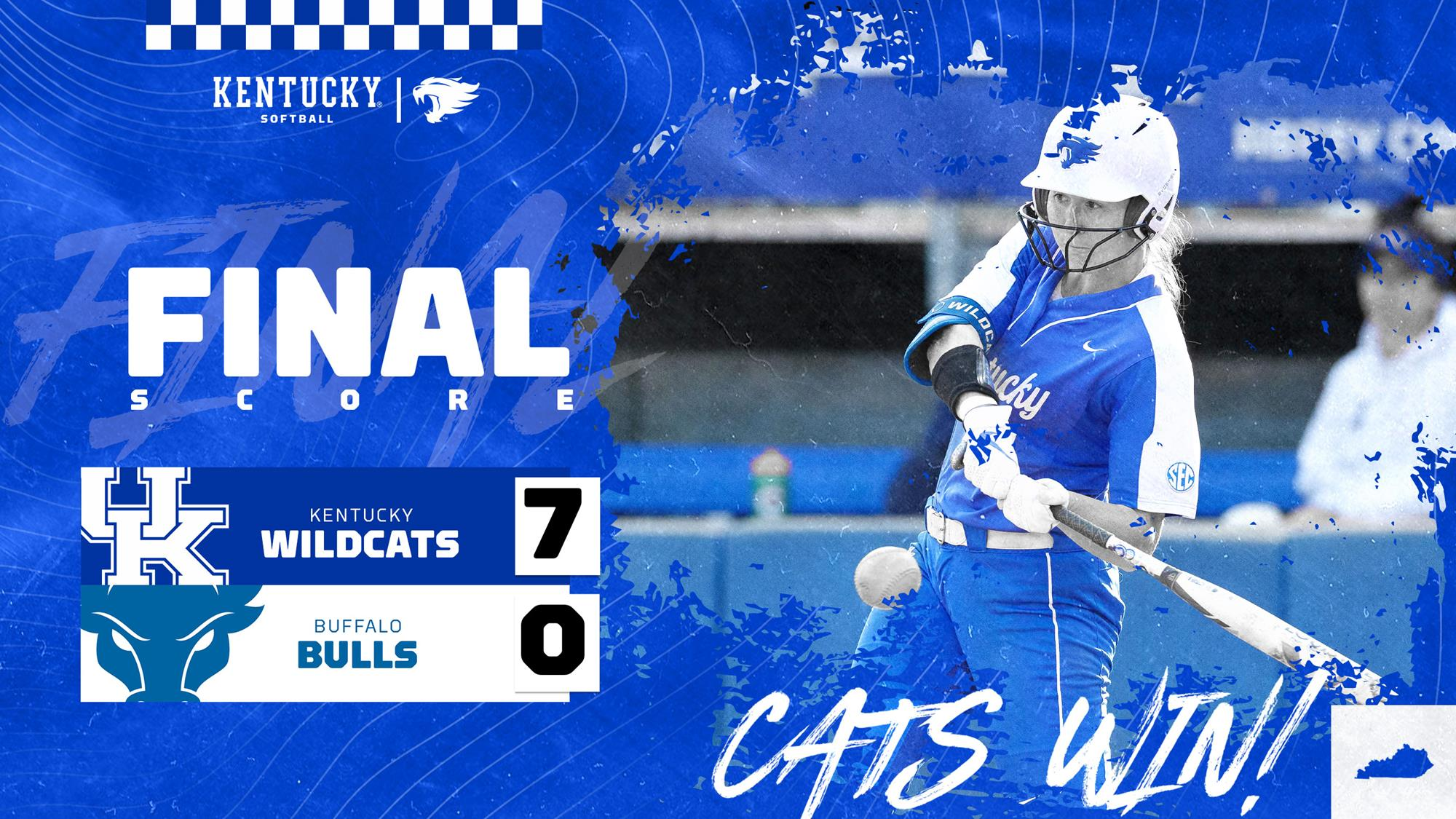 LEXINGTON, Ky. – Renee Abernathy hit the first inside-the-park home run at Kentucky since 2014 and Miranda Stoddard pitched a complete-game shutout as the No. 9 Kentucky Wildcats shutout the Buffalo Bulls 7-0 to open play Friday morning at the 2022 Bluegrass Classic.
 
Stoddard went the distance, shutting out the Bulls in seven innings, allowing just two hits and striking out seven batters in the game. With the win, Stoddard improves to 5-1 on the season, joining Alexia Lacatena with five wins – the most on UK's pitching staff this season.
 
Offensively, Abernathy's inside-the-park home run was the first in program history since Sylver Samuel did it in the 2014 NCAA Lexington Regional on May 18, 2014. It goes in the book as Abernathy's fourth HR of the season, and it scored two runs on the play to open up UK's lead in the bottom of the fifth.
 
Kentucky will play its final game of the day in the Bluegrass Classic at 5:30 p.m. ET against the Valpo Beacons from JCS. The game will be streamed on the SEC Network+, ESPN3 and the ESPN app with Mark Buerger and Carol Bruggeman on the call from Lexington.
 
UK improves to 18-2 on the year with the win over the Bulls.
 
Key Play
The key play in the game was Abernathy's inside the park HR. With runners on second and third and two outs, Abernathy lifted a deep fly ball to center that hit the top of the wall and bounced straight up, and back into CF. Abernathy rounded second and was sent home by third-base coach Kristine Himes and was safe at the plate.
 
Key Stat
The key stat was seven strikeouts for Miranda Stoddard. The seven K's is a new season high for the junior from Anaheim, California, besting her prior season high by two which was set against Wisconsin on opening night.
 
Key Player
Lauren Johnson was the key player, going 1-for-3 at the plate, scoring the go-ahead run in the fourth and coming up with a sensational catch over the left field wall to retire the Bulls in the fifth.
 
Run Recap
Lauren Johnson doubled to lead off the UK fourth in a scoreless game and scored on a first and third play. UK 1, BU 0
 
In the bottom of the fifth, Stoddard doubled to lead off the frame, as part of a seven-run inning. Kayla Kowalik drove in two runs after a Margaret Tobias single and Taylor Ebbs drove one to the gap in right center to score the fourth run of the frame for the Wildcats. Renee Abernathy then hit her inside-the-park HR to close the scoring. FINAL – Kentucky 7, Buffalo 0
 
For the latest on UK Softball, follow the Wildcats on Twitter and Instagram at @UKSoftball.