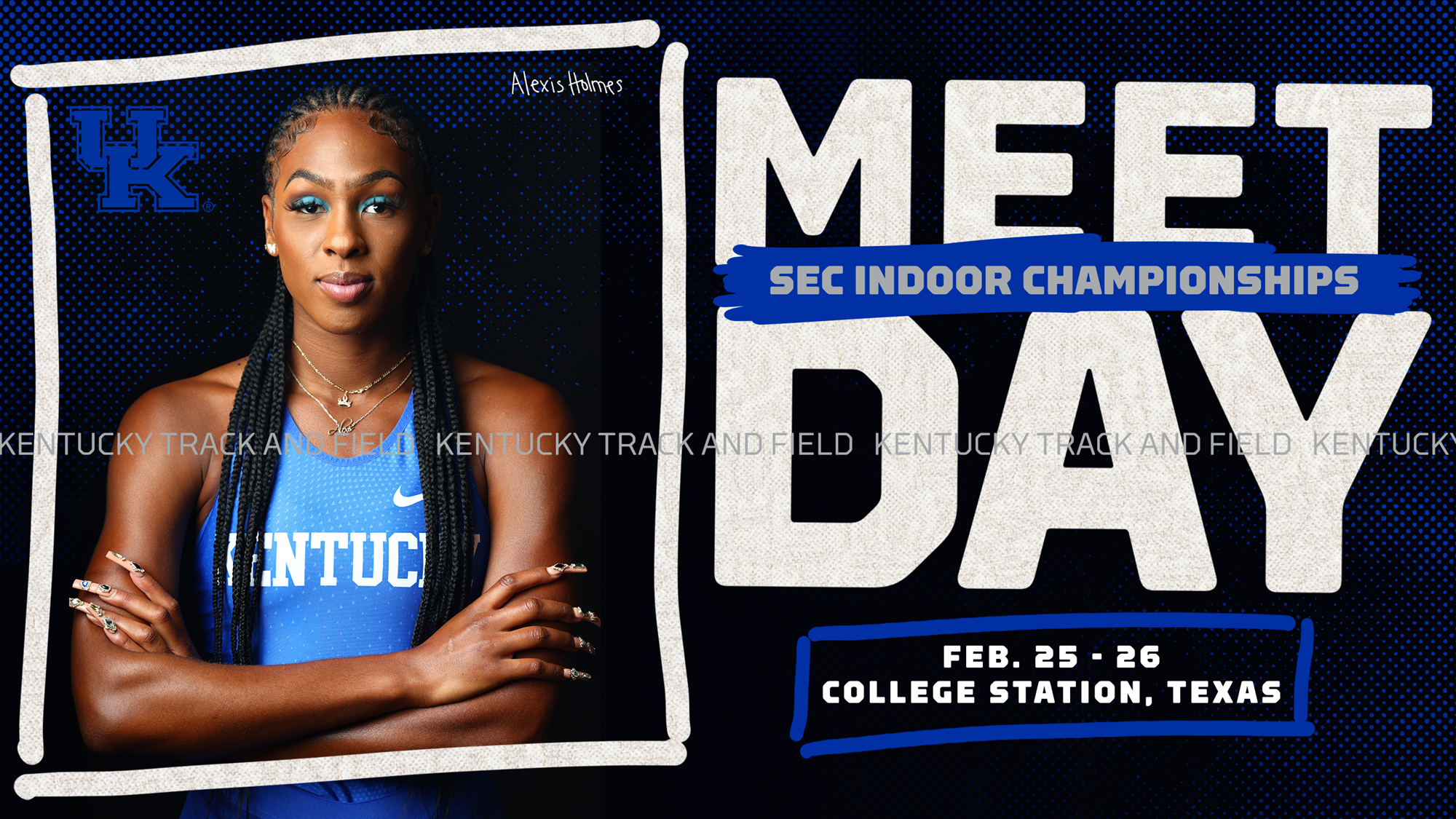 February 24, 2022 - 02:01 PM
Kentucky Track & Field Set for SEC Championships
BRYAN-COLLEGE STATION, Texas — No. 5 Kentucky women's track & field and No. 9 Kentucky men's track & field will compete in the Southeastern Conference Championships hosted by Texas A&M from Friday, February 25 through Saturday, February 26. 
Meet Information 
On Friday, events begin at 12:30 p.m. ET with the heptathlon men's 60-meter. Friday's running events are set to begin at 6:10 p.m. ET with the women's 800m and end at 10:30 p.m. ET with the men's distance medley relay. 
On Saturday, the heptathlon continues at 11 a.m. ET with the 60m hurdles as the first event of the day. Saturday's field events will begin at 2:15 p.m. ET with the men's high jump while running events start at 5:10 p.m. with the women's mile and last until 8:10 p.m. ET with the start of the men's 4x400m relay. 
The meet will be streamed live on SEC Network+ on both Friday and Saturday with separate links depending on the time of day. Please refer to the Kentucky track & field schedule page for all streaming links. There will also be a highlight show on SEC Network on Sunday from 8 p.m. to 11:30 p.m. ET. 
Live results can be found at flashresults.com. 
Tickets are required for fan entry with general admission and reserved seating available for purchase. To buy tickets visit the 12th Man Foundation Ticket Office by visiting https://aggi.es/secindoor22 or calling 888-99-AGGIE (888-992-4443). 
The meet will feature nine ranked teams on the women's side and nine on the men's side per the United States Track & Field and Cross Country Coaches Association top 25 rankings. Kentucky women's track & field is currently ranked No. 5 and fourth among SEC teams while the men's team is ranked No. 9 and fourth among SEC teams. 
Setting the Stage: A Historic Season for UKTF Sprinters 
Kentucky track & field has been breaking records all season long in multiple disciplines. 
The sprinters have had an especially successful season with five school records, two collegiate records and several more NCAA-leading times with several student-athletes being SEC medal contenders. 
Abby Steiner leads the group with two collegiate records set this season in the 200m (22.37 seconds) from the Tiger Paw Invitational and 300m (35.80) from the Cardinal Classic in December. She also tied the school record in the 60m with a 7.12-second run at Clemson earlier in February, which is also tied for the fastest time in the NCAA this season. 
Kennedy Lightner has impressed in the 200m as well this season, breaking the school record twice with a 20.52 run at Texas Tech in January and then a 20.45 run at Clemson. His third-place finish at Clemson (running behind the two fastest 200m runners in the nation) ranks him as the current third fastest 200m runner in the NCAA this season. 
Close behind Lightner in the 200m has been Lance Lang, who currently holds the fifth-fastest time in the NCAA after placing fourth with a 20.59 run at Clemson, the second fastest time in UKTF history. Lang also ranks 14th in the nation this season and fourth all-time for UK in the 60m, running 6.61 at Clemson and in Lexington this season. 
The men's 4x400m of Brian Faust, Lang, Jacob Smith and Lightner is currently ranked ninth in the nation with their best time of 3:05.01 coming from the Jim Green Invitational in mid-January. 
Alexis Holmes is a dominating force in the 400m for UKTF, currently holding the NCAA-leading time with a 51.27 run at Clemson. It's also the second-fastest time indoors in UK history behind Sydney McLaughlin's 20.36 that won her a national championship. 
Alongside Holmes and Steiner, Karimah Davis and Dajour Miles earned the 4x400m school record and fourth-fastest time in collegiate history with their 3:27.27 run at Clemson. It was the women's 4x400m's second time breaking the school record this season. 
Dwight St. Hillaire has dominated the 400m for Kentucky, currently ranking fifth in the nation with a time of 45.90 from Clemson. 
Davis has found success in the 200m this season as well, running 23.30 at Clemson for the 24th fastest time in the NCAA this season. 
Hurdles 
Russell has dazzled in the 60m hurdles this season, continually earning personal bests nearly every time she has competed. Her career and season best happened at Clemson when she ran 7.93 in finals to earn third in the event. 
It was Russell's first time running under eight seconds. She currently sits at fifth in the NCAA this season with that time and second all-time for UK. 
Tai Brown earned a personal best in the 60H (7.72) at Texas Tech, which ranks him as the fourth fastest in the event in UKTF history and 15th in the NCAA this season. 
Distance 
Kentucky's distance runners have also had a solid season, featuring a women's DMR school record and several other UK top 10 all-time times. 
Jenna Gearing has stood out among UK's distance runners, running the second fastest mile in UKTF history (4:38.13) in Nashville earlier in February. In the 3000m, Gearing is now ninth all-time for UK after running 9:18.04 in Lexington in January. 
Also a member of the UKTF DMR, Gearing, alongside Tori Herman, Jenna Schwinghamer and Miles, ran for a school record on February 18 in Winston-Salem, North Carolina at the JDL Fast Track, finishing with a time of 10:58.81 after the NCAA conversion, a school record by over a second. 
Four women distance runners have landed themselves on the all-time top times list for UK in the 800m this season. 
DeAnna Martin has led the way in the 800m after running 2:05.55 in Nashville at the Indoor Music City Challenge. This was a personal best for the junior runner, and she is now the second fastest in the event for UK all-time. 
Schwinghamer and Bryanna Lucas are fifth (2:05.96) and eighth (2:06.41) for UK all-time respectively, both running their personal bests at the Indoor Music City Challenge. 
Freshman Phoebe McCowan rounds out UK's 800m quartet with a personal best 2:07.66 run at the Rod McCravy Memorial meet in Lexington, ranking ninth for UK all-time. 
In the men's mile, Dylan Allen has led the way for UK with a personal best 4:01.09 in Nashville, ranking eighth for UK all-time. 
Tori Herman now has the fifth fastest 3000m run in Kentucky history with a 9:10.59 run from the McCravy. 
Pole Vault 
Kentucky's pole vaulters are led by Keaton Daniel on the men's side and Siobhan Szerencsits on the women's side. 
Daniel tied teammate Matt Peare's indoor school record at the Jim Green Invitational in January with a vault of 18'0.5″/5.50m. The 2021 NCAA outdoor pole vault silver medalist currently sits at eighth in the NCAA this season with his 18-foot mark from January. 
Szerencsits' best vault of the season came at the Tiger Paw Invitational where she cleared 14'2.75″/4.34m for a personal best, improving upon her already-held second-best all-time spot for UK in the event. 
Another SEC pole vault medal hopeful is Peare, the reigning SEC indoor champion. He currently ranks 23rd in the NCAA this season with a 17'5.75″/5.33m vault from the McCravy meet. 
Jumps 
Freshman Luke Brown has shined in the triple jump for Kentucky all season long, breaking the school record three times. 
He broke Dwight Phillips' former school record in his first competition as a Wildcat, jumping 51'8.25″/15.75m for an event win.  
Brown's most recent school record jump was at Clemson where he jumped 53'5″/18.28m. 
In the men's high jump, Rahman Minor has UK's highest mark with a 7'0.5″/2.15m jump from Lubbock. He currently holds the second all-time spot for UK in the event from a jump in Lexington in 2019. 
Throws 
Joshua Sobota has highlighted Kentucky's throwers on the men's side this season while Molly Leppelmeier has been the best on the women's side. 
Sobota, the indoor shot put school record holder, is currently ranked 20th in the NCAA this season with his season best put (63'5″/19.33m) from the Virginia Tech Challenge on February 18. 
Leppelmeier ranks 22nd in the NCAA this season in the weight throw with a personal and season best throw of 69'11″/21.31m from the McCravy in January that ranks her as the second-best weight thrower indoors in UKTF history. 
Closely behind Leppelmeier in the weight throw is Jade Gates, who ranks 26th in the NCAA this season with a personal best throw of 68'11.75″/21.02m at Clemson. 
Previous SEC Championship Success 
Last year, Kentucky's women finished fifth at SEC Championships with 57 points and the men's team finished seventh with 47 points. 
Steiner and Peare are Kentucky's most decorated SEC Indoor Championship student-athletes, both being two-time defending gold medalists in their best events. 
Steiner earned gold in 2020 in the 200m with a time of 22.57 and again in 2021 with a time of 20.50. She is the only Wildcat to win the SEC 200m. 
Peare won the 2021 SEC pole vault title with a vault of 17'9.75″/5.43m and the 2020 gold with a vault of 17'11.00″/5.46m. Peare is the only Wildcat to win back-to-back golds in the pole vault at SEC Championships. 
Lang earned bronze in the 200m at SECs in 2021 (20.79) and was also a member of the silver medal-winning 4x400m relay (3:04.67) accompanied by Smith, Dwight St. Hillaire and Kenroy Williams with what was then the school record time in the event. 
Lang also earned silver in the 60m at 2020 SEC Championships (6.66). 
The women's 4x400m relay of Megan Moss, Steiner, Russell and Miles also earned silver at last year's SECs (3:28.82). 
Russell and St. Hillaire both finished fourth in the 60m hurdles and 400m in 2021, respectively. 
In 2020 SEC Championships, Holmes won gold in the 400m (52.08), Minor earned bronze (7'2.5″/2.20m) in the high jump, as did Sobota in the shot put (64'5.75″/19.65m). 
Follow Kentucky Track and Field and Cross Country on Facebook, Instagram, Twitter and at UKathletics.com.