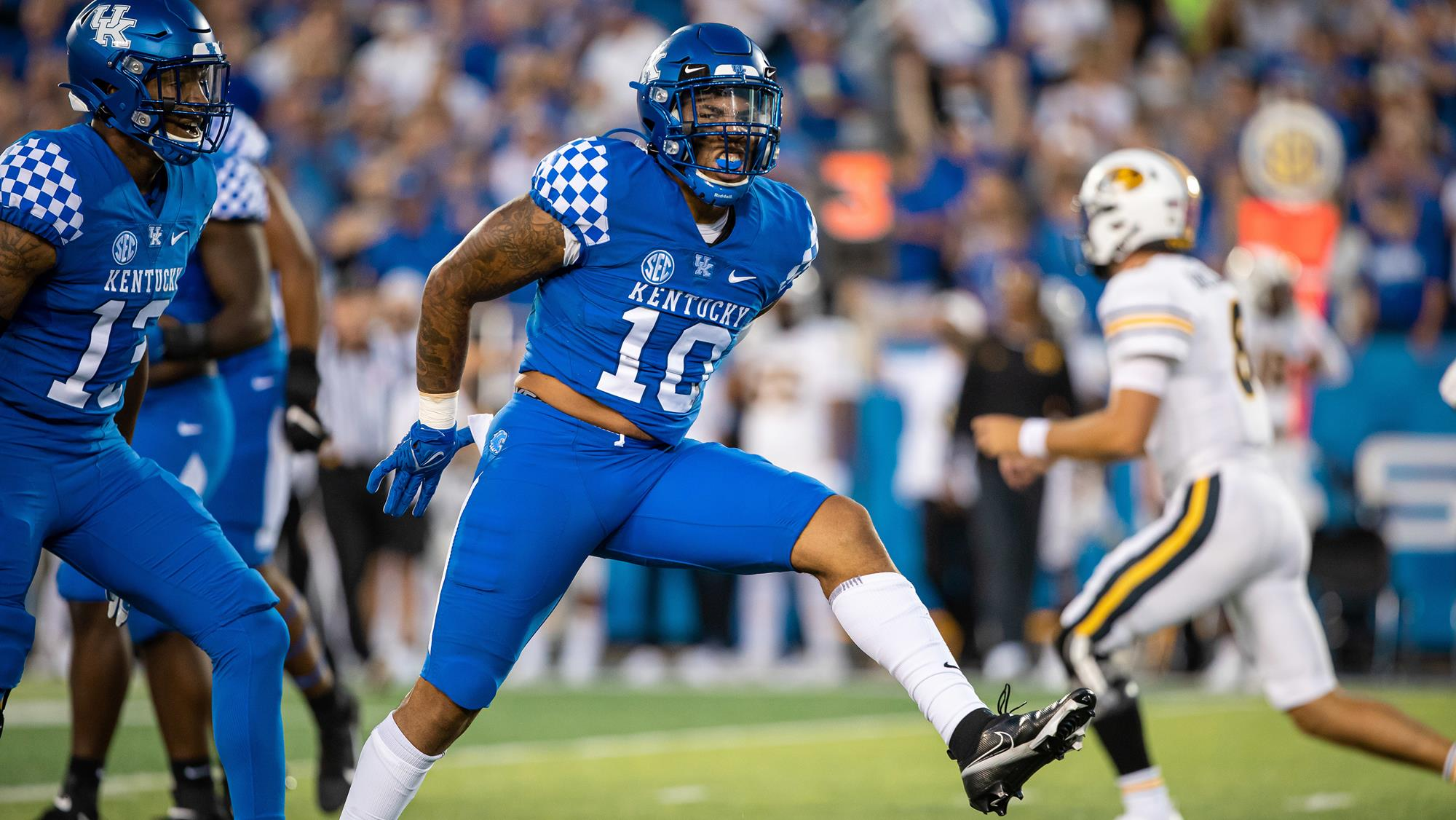 Linebacker Jacquez Jones was destined to be playing in a big game this weekend. And he's excited for both his current team and his former team as they both head into important contests.
Jones played his first three seasons at Ole Miss before transferring to Kentucky during the summer. It turns out that his former team, the Rebels, and his current team, the Wildcats, both face important games on the same weekend.
No. 23 Kentucky welcomes ninth-ranked Florida to Kroger Field on Saturday night for an SEC East showdown. Jones knows it will be a challenge.
"Being undefeated is great but we're going against Florida, who is obviously ranked Top 15, so I feel like it's going to be a big challenge for us," Jones said. "Especially since they like to run the ball and we're a good run defense."
Jones was known as a run-stopper at Ole Miss and, he admits, he likes to play against running teams.
"That's my favorite, when Coach (Mark) Stoops tells us on Monday that they love to run the ball, me and Marquan (McCall) start clapping," Jones said. "That's our type of game. We like to stop the run. And that's what it's going to be, who can stop who, and I feel like we've got an edge."
Jones made the decision to leave Ole Miss and to transfer to Kentucky, and he's glad he did.
"I have. I love it here," Jones said. "I wouldn't trade it for the world."
What was it about Kentucky that made Jones want to play for the Cats?
"Really, just to take my game to the next level," Jones said. "To be coached by some great coaches in Coach (Brad) White, Coach (John) Sumrall and Coach Stoops. And I feel like I'm doing that."
He was hoping to show his versatility, which he has done so far through four games at UK. He has shown the ability to do multiple things for the Cats this season. Jones leads the team in tackles with 24, has three pass breakups, two quarterback hits and an interception this season.
"I just wanted to prove that I'm a three-down linebacker," Jones said. "I came and got an interception and that opened a lot of eyes. At Ole Miss, in the pass game, I was non-existent. So I kind of wanted to change that."
Having played in the SEC West for three years, Jones has played in a ton of big games against the likes of Alabama, Texas A&M, LSU and others. His advice to his current teammates, some of whom will be playing in their first game against a ranked opponent, is to keep it simple.
"Really, for me, my best advice is to play it as a regular game," Jones said. "Of course, it's a ranked game but just play as a regular game. Just play football as you know it and everything will come."
Meanwhile, Jones' former team has a big game, facing top-ranked Alabama in Tuscaloosa. While Jones is focused on the task in front of him, he will be thinking about his former teammates on Saturday as well.
"I've been talking to them all week, asking what they think the outcome will be," Jones said. "I wish those boys luck as they go play 'Bama."
While he will have his thoughts on that game, Jones is focused on helping the Cats stop the Gators Saturday night.