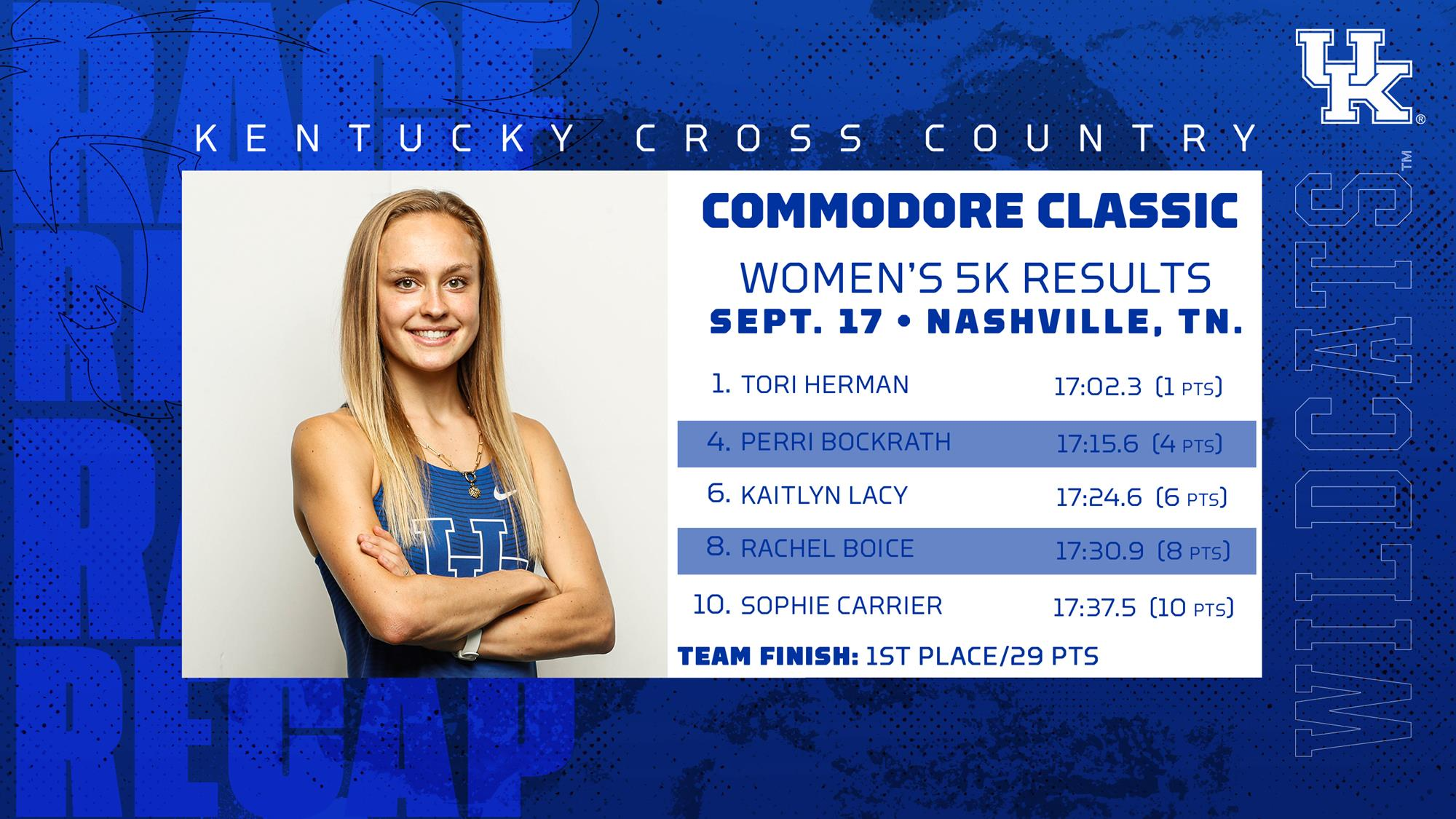 September 17, 2021 - 12:10 PM
UKXC Women Win Commodore Classic
NASHVILLE, Tenn. — Sparked by individual victories by Tori Herman and Andre Bollam-Godbott, University of Kentucky women's cross country placed first and the men's team finished second in the Commodore Classic hosted by Vanderbilt University on Friday morning.  
Bollam-Godbott, a graduate transfer from Akron, won the 8K with a time of 24:41.2, while Herman, a sophomore from Hilton Head, S.C., won the 5K in 17:02.3 at her first race of the season.  The women's team score was 29 while the men's team score was 57. 
Perri Bockrath and Kaitlyn Lacy closely followed Herman with fourth (17:15.6) and sixth-place (17:24.6) finishes, respectively.  
Rounding out the top 10 for the women were Rachel Boice in eighth (17:30.9) and Sophie Carrier in 10th (17:37.5). 
For the men, Aaron Withrow and Harper Moore finished in 10th (24:59.8) and 11th (25:00.1), respectively. 
The men's team tied with Middle Tennessee for first in points, but the Blue Raiders won the tie-breaker for first place. 
Bollam-Godbott also had a strong finish at Missouri two weeks ago, finishing eighth in under 18 minutes. 
Herman's last cross country race was 2020 SEC Championships, in which she finished 15th and was named to the SEC All-Freshman Team for her performance. 
This meet marked the Wildcats' second team win in two meets after the men's team won the Missouri Opener. 
Next up, Kentucky cross country will travel to South Bend, Indiana to compete in the Notre Dame Invitational on Friday, October 1.