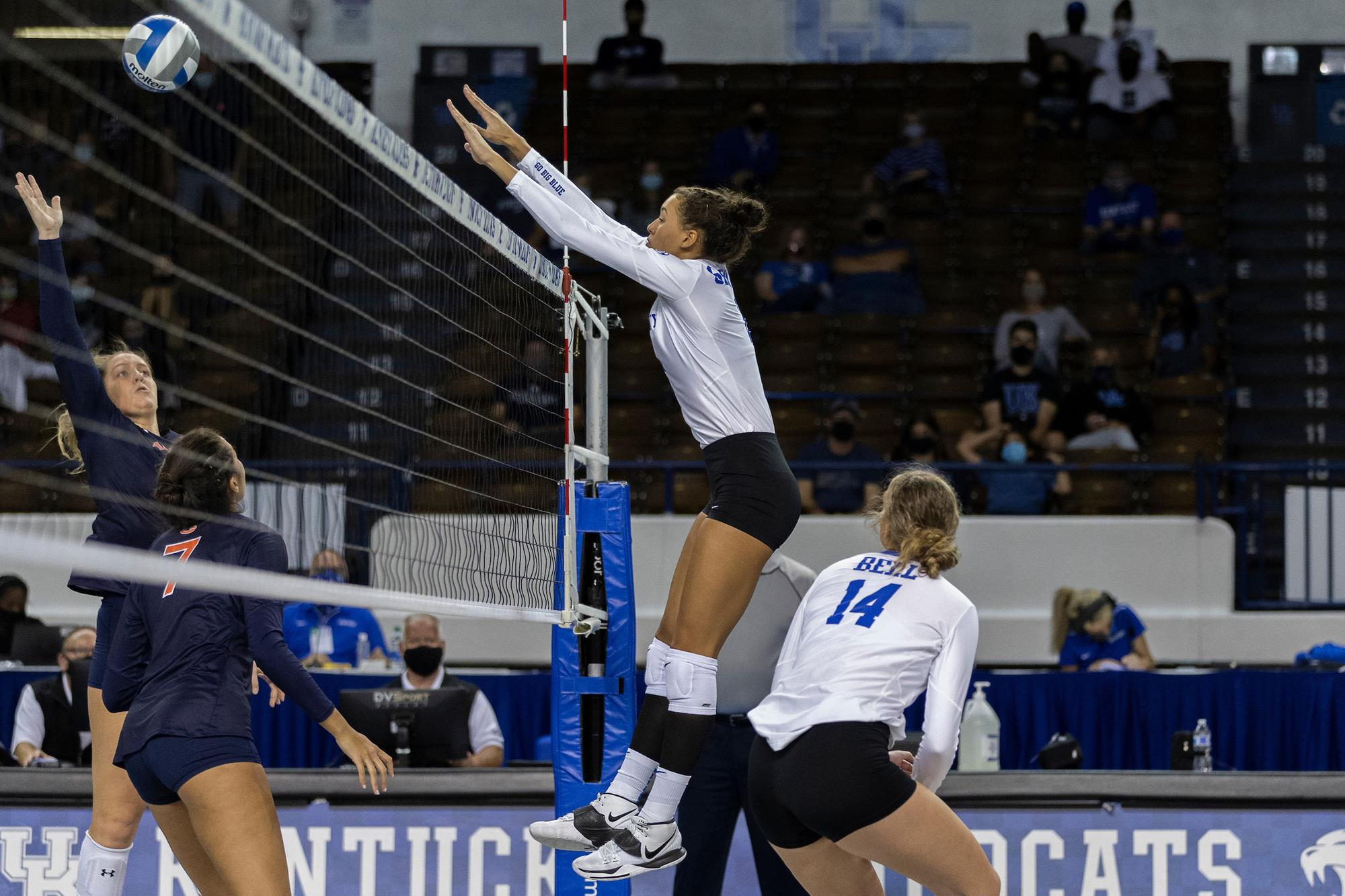 April 25, 2021 - 12:19 AM
Madi Skinner Has Career Night in NCAA Championship Match
Madi Skinner came to Kentucky as the number two recruit in the country and with a world of potential. But she also came with a ton of expectations, some of which were hard for her to live up to early in the season.
Skinner, the younger sister of UK senior outside hitter Avery Skinner, showed some flashes early in the 2020-21 campaign. On Nov. 13 against Mississippi State, she had 12 kills and just one error on 17 swings. It was by far her best performance of the early season.
After the Cats took a two-month break in the middle of the season, Skinner was solid in the first match back on Jan. 29 at Arkansas. She had nine kills and just one error on 12 swings. It appeared that she was on her way to living up to that potential.
But over the next five matches, Skinner seemed to take a step back. She had no more than six kills in any match and wasn't even finding the floor for every set.
However, when the Cats hosted Ole Miss in mid-March, Skinner seemed to find her groove. She had 10 kills in the first match against the Rebels, followed by nine the next night.
Then, when UK went to Florida to face the No. 7 Gators, Skinner was outstanding in consecutive matches. She had 11 kills in what turned out to be UK's only loss of the season, a five-set loss in Gainesville. The next day, Skinner came back with 13 kills as the Cats swept the Gators.
As Kentucky started its NCAA Tournament run, Skinner was crucial to what the Cats were doing on offense. In the second-round win over UNLV, Skinner had 11 kills and three errors on 15 swings (.503). In the Sweet 16 win over Western Kentucky, Skinner had 11 kills and three errors on 20 swings (.400). She also had nine kills against Purdue in the Elite Eight.
In the Final Four, Skinner was crucial to the UK attack. Facing Washington, Skinner had 13 kills and four errors on 25 swings (.360) helping the Cats make the national championship match for the first time in school history.
But she saved her best for last. In the national championship match against Texas, which happens to be Skinner's home state, she was phenomenal.
Skinner came up with a career-high 19 kills in the match. As a freshman, playing for the national title, she had just four errors on 33 swings. Her hitting percentage was .455. She and junior Alli Stumler were the key cogs in UK's offense, which hit a sparkling .349 on the night.
UK head coach Craig Skinner, no relation, loved what her freshman did on this night.
"Incredible job," Craig Skinner said. "She had more hands in her face than she's had all year and produced. She hit shots that she hasn't hit before in matches and wanted the ball and was confident and aggressive."
Skinner appreciated the contributions that Skinner made on this night, which helped UK claim the title.
"Very hard to do as a freshman," Craig Skinner said. "She was big-time."
Madi Skinner picked a great time to come up with the best match of her young career. And she's now a national champion.