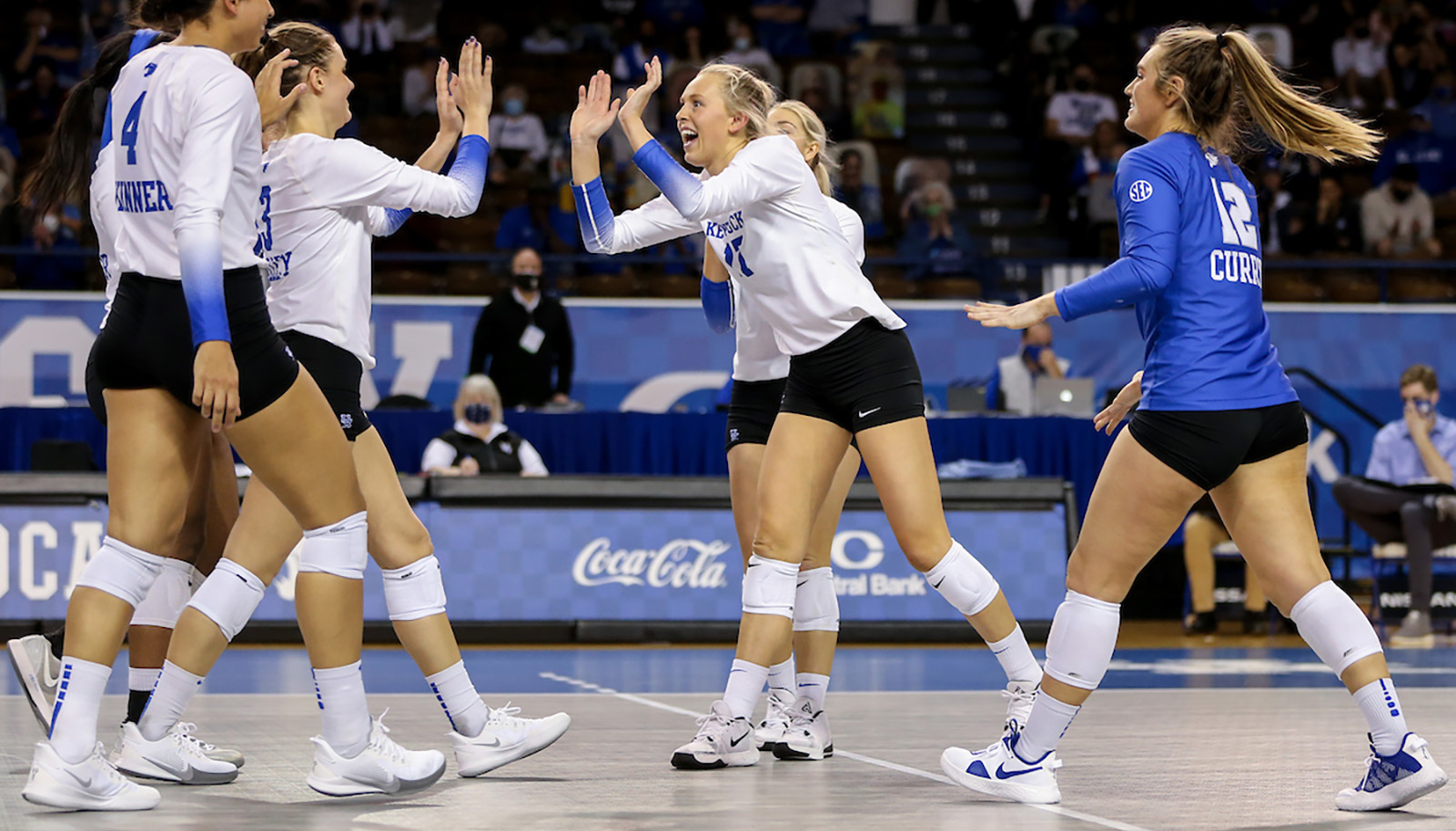 April 25, 2021 - 01:08 AM
Alli Stumler Unstoppable in NCAA Title Match
Alli Stumler came into the 2020-21 volleyball season as an All-SEC performer who was expected to take the next step forward in her progression. But after Saturday night's national championship match performance, Stumler is now a true star of the game.
Stumler saved her biggest match of the season for last, just when the Wildcats needed her most. She had 26 kills and just two errors on 51 swings (.471) while adding five digs, two service aces and a solo block as Kentucky topped Texas in four sets to win the school's first national championship in volleyball.
Her previous high this season was 22 kills against Missouri in October. She came up one short of her career high of 27 kills, which happened last season at Florida.
In Saturday's match, it wasn't that Stumler did it in spurts. She was consistent all night long. The Floyds Knobs, Indiana, native had six kills in the first set, six in the second and six in the third. She capped her night with eight kills in the final set as the Cats sealed their first national title.
How good was Stumler on this night? Senior setter Madison Lilley tried to put her performance in perspective.
"I mean, as good as ever," Lilley said. "I don't know if Alli got one in-system ball from me actually. She hit high hands better than any other game, I think. We've been working on that in practice so it definitely showed tonight. And Texas is a big block, so to be able to be a little undersized, which I don't believe Alli is but sometimes it might seem like that, to be able to hit high hands is everything. Alli is a baller and she's going to lead this team amazingly next year."
For Stumler, she was simply trying to be the best version of herself.
"When you come to the realization that I'm going to be the best Alli Stumler today that I can be, that feeds to other people," Stumler said "And when everyone is just their best self and giving to the team, that's when great things happen."
When asked if she was "in the zone" in Saturday's match, Stumler did admit that she might have been but that it was fueled by more than just Saturday's match.
"I think you kind of get in the zone and whenever you have the confidence that you're going to win, and you're going to bring it all home, I think there's not a moment or a doubt that you should have confidence on the court," Stumler said. "I think that's what made this team win. All 15 of us, especially the six on the court, know and have the confidence that this is the team to make history."
Now, she's a first-team All-American and a national champion. At the post-match press conference, that was all still settling in for Stumler.
"I keep just covering my mouth. I'm just in awe of what's happening," Stumler said. "I really have no words. It just doesn't feel real yet that we're the number one team in the country, we're the national champions and that I get to play with such an amazing group like this. You just can't beat it."
And on this night, no one could beat Stumler, either.