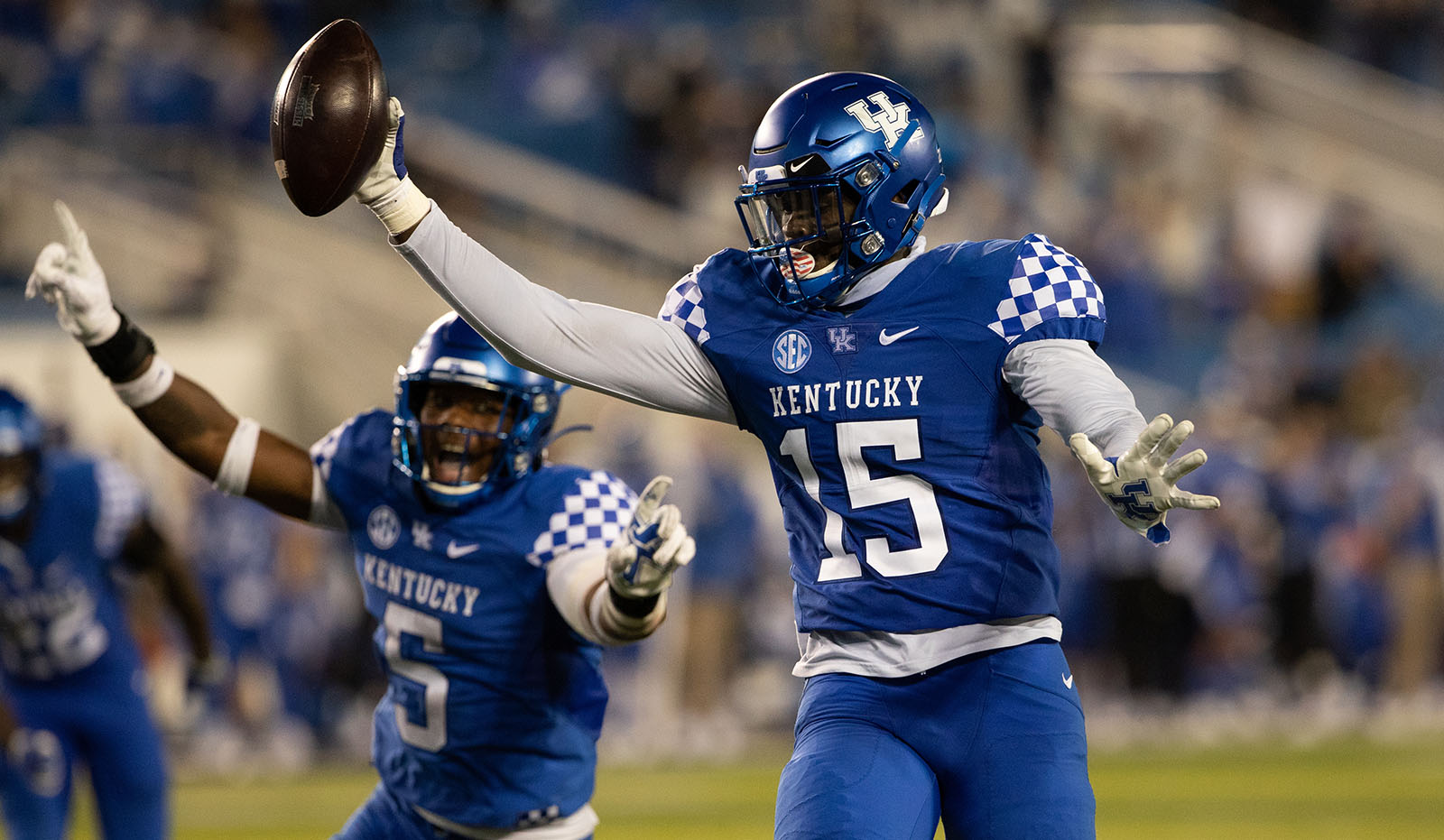 During his career with the Kentucky football team, Jordan Wright has proven to be a player with a nose for the ball. UK fans will undoubtedly remember a couple of his biggest plays.
On the final play of the 2019 Belk Bowl, Wright scooped up a fumble and returned it 28 yards for a touchdown to put an exclamation point on UK's win over Virginia Tech.
Last season, Wright picked off a pass against Mississippi State and returned it for a score. He also forced three fumbles last season and recovered two.
Now, with the departure of Jamin Davis to the NFL, Wright will be counted on to be an even bigger part of the UK defense. He's ready for that challenge that was posed to him by defensive coordinator Brad While.
"We had the talk right after the bowl game when we came back and he said you've got to take it up a notch, you're the leader of the room and everybody's looking up to you and they praise you a lot," Wright said. "So I took that and just fed on with it, make sure I come in every day with a positive attitude every day to put in work so everybody else can know we all need to put in work and be happy we're here."
White has high praise for Wright's ability.
"When he's healthy and his body feels good, he can be as dominant a player that's on our team," White said. "He has difference making ability. He changed the momentum of the South Carolina game when he took the ball out of the running back's hands. He ended the Mississippi State game. It was over when he had the pick six. He's got that ability. He knows it's about building mass and sturdiness within his frame because he's so long."
White also notes how Wright has become more consistent in his play.
"He's a guy who really has a great grasp of this defense and understanding and awareness and position flex to play Sam, to play Jack, he can play all over," White said. "The thing that we have discussed is the consistency of being available. And he was better last year. In years past, a ding might have put him out a little bit. Last year, he pushed through it.
Wright has slimmed down a bit to help with his consistency of being available. That has also come with an added bonus.
"I just felt like I could be quicker than I was," Wright said. "Just try to tone up and add more muscle."
Wright is being inspired by former teammate Jamin Davis, who is rising up the NFL mock draft boards. Wright hopes that he can build on some of the things that Davis taught him.
"Just watching Jamin on film the past year, seeing how he was so explosive moving lateral, I tried to take that and build that to my game more," Wright said. "Because that can help you out in the long run, being able to run sideline to sideline, it really means a lot."
With Davis heading to the pros, Wright will be counted on to make more plays this season. And he's ready for that challenge.