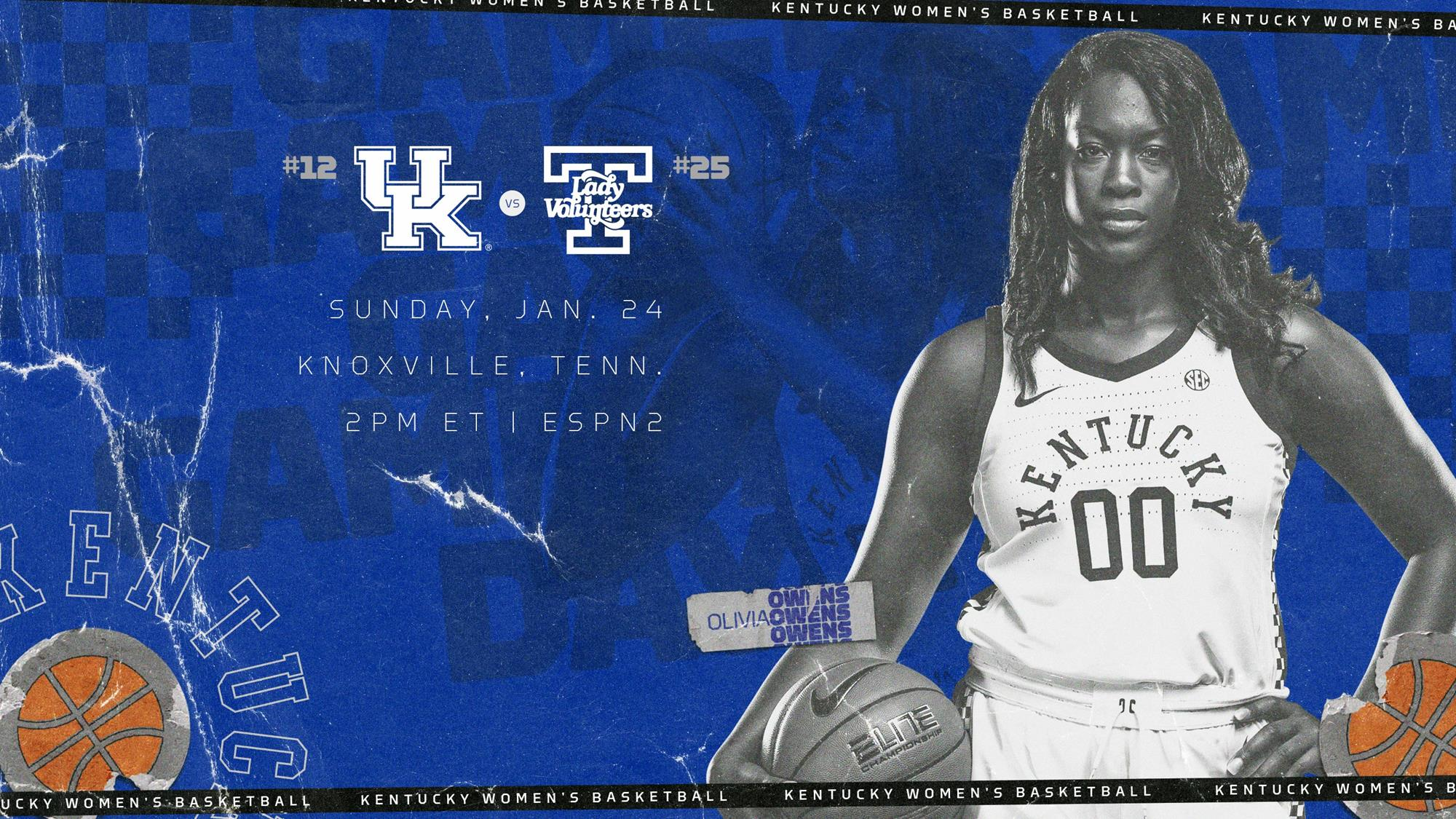 January 23, 2021 - 08:49 AM
Battle at the Border: No. 12 Kentucky Squares Off with No. 25 Tennessee in Knoxville
KNOXVILLE, Tenn. – The University of Kentucky women's basketball team will make up its second postponed game of the season this weekend, traveling south for Knoxville, Tennessee, to square off with No. 25 Tennessee on Sunday, January 24 at 2 p.m. ET. The game will be televised on ESPN2, with Courtney Lyle and Carolyn Peck on the call.                   
 
The action can also be seen through WatchESPN on computers, smartphones or tablets. Darren Headrick will have the call on the UK Sports Network on 630AM WLAP in Lexington and on SiriusXM SEC Radio (Ch. 374). Live stats and free live audio will be available online at UKathletics.com.
 
Kentucky boasts an 11-3 record this season, including a 4-2 mark in the Southeastern Conference. The Wildcats are coming off their third road win of the season, earning a 76-71 triumph over Auburn in Auburn, Alabama, in a rescheduled game on Thursday evening. For the second straight game, junior guard Blair Green paced the team in scoring, this time shooting an impressive 77.8 percent from the field on 7-of-9 shooting, including 2-of-3 from long range. The Harlan County, Kentucky, native is shooting 58.8 percent from the arc in league action this season, making 10 of her 17 three-point attempts.
 
Chasity Patterson continues to lead the nation in steals, forcing 55 this season, including 15 through six league games. The senior guard is also averaging 9.7 points per league game and 3.0 rebounds per league game. Both Green and Rhyne Howard are averaging double figures during conference clashes, as Howard averages 25 points per league game and Green averages 10.5 points per league game. Meanwhile, Howard, KeKe McKinney and Dre'una Edwards are balancing the rebounding efforts, as Howard paces the squad with 38 in conference action, followed by Edwards' 37 and McKinney's 30.
 
Kentucky is shooting at about 45.7 percent from the field and about 38.1 percent from the arc in the SEC. The Wildcats are averaging 75.5 points per game in the conference, while holding its opponents to a close 74.3 points per game in the conference.
 
Sunday's game will mark the 70th meeting between the two programs. The Wildcats trail the Lady Volunteers in the series, 55-14, and in Knoxville, 25-4. However, UK has won four of the last six meetings in the series, including the last three straight, which is the longest streak Kentucky has held over Tennessee in the 69-game stretch.
 
Tennessee (9-3, 3-1 SEC) is coming off a tight race to No. 3 Connecticut at home on Thursday night, dropping to the Huskies, 67—61. The Lady Volunteers matched or outscored the Huskies in every quarter of the game but the last, when UCONN went on a 22-12 scoring spree to earn the triumph in Knoxville. UT's No. 12, Rae Burrell, scored 18 points in the contest, nabbing eight rebounds, two assists and one block.  
 
Two players for Big Orange are averaging double figures on the season, including Burrell (16.8) and Rennia Davis (13.9). However, four UT players are averaging double figures through the conference schedule, including Davis (17.5), Burrell (17.0), Jordan Horston (11.8) and Tamari Key (10.8). Davis is also leading the squad in rebounds on the season, grabbing about 8.3 off the glass each game. Jordan Horston is a hustle player around the floor, leading Tennessee in 47 assists and 20 steals.
 
The Big Orange have victories over two top-15 teams this season, including then-No. 15/15 Indiana on the road (66-58) on Dec. 17 and then-No. 13/13 Arkansas (88-73) at home on Jan. 7, two opponents Kentucky has clashed with, too, earning wins over each inside Memorial Coliseum.
 
In their last meeting, the Wildcats defeated the Lady Volunteers in the quarterfinals of the 2020
SEC Tournament on Friday, March 6, 86-65. In that game, then-sophomore Howard
scored a game-high tying 24 points, going 8-of-15 from the field and 5-of-8 from long range,
and nabbed eight rebounds. Kentucky defeated Tennessee on its last trip to Knoxville, 73-71, on Jan. 10, 2019. Then-senior guard Maci Morris scored a game-high 27 points on 10-of-16 shooting and 4-of-6 from long range. It marked the first time UK defeated UT in Knoxville since 2014.
 
For more information on the Kentucky women's basketball team, visit UKathletics.com or follow @KentuckyWBB on Twitter, Instagram and Facebook.