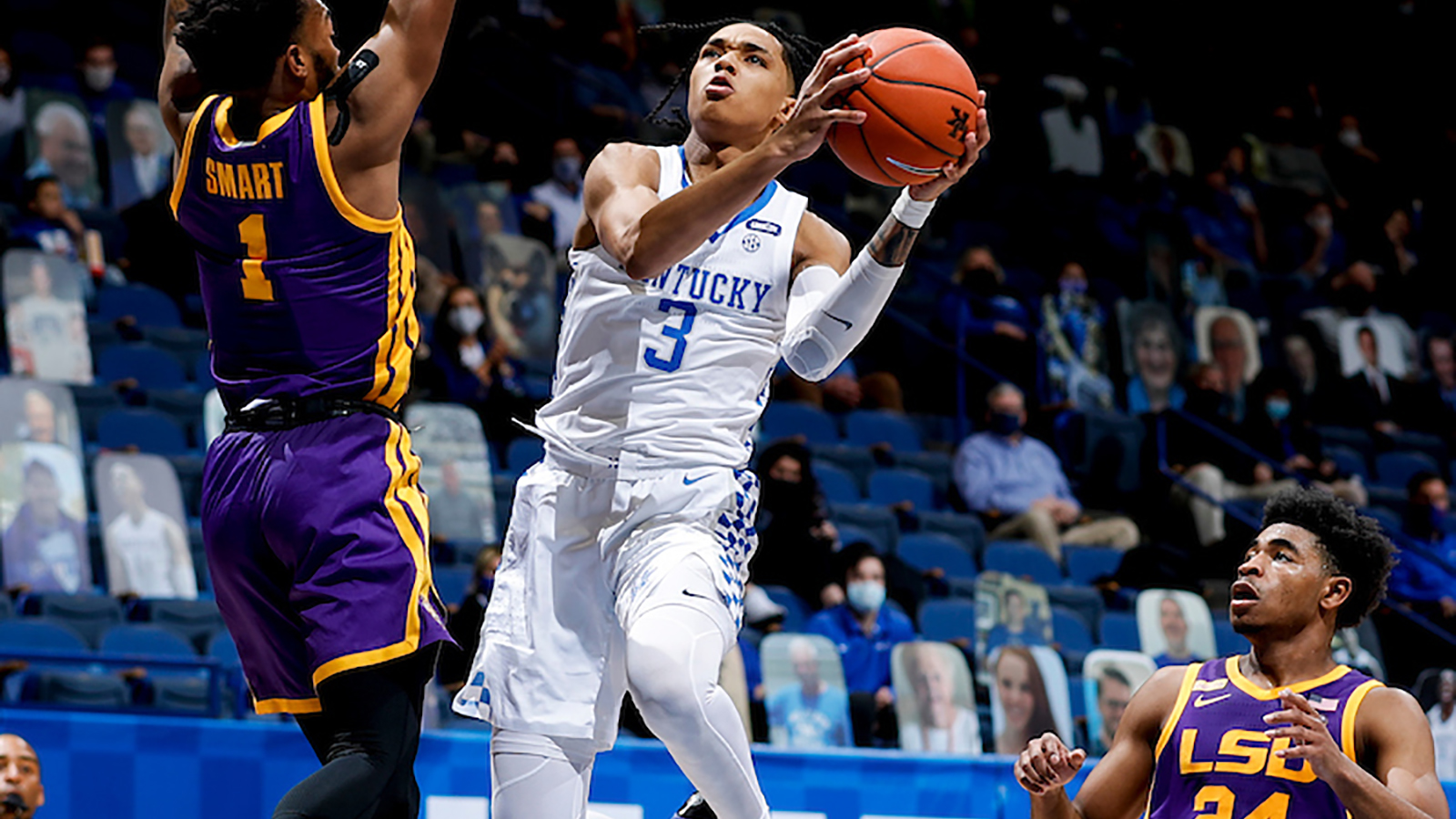 January 23, 2021 - 09:50 PM
Offense Shines as Cats Down Tigers in Rupp
For the most part, the Kentucky offense has struggled to put points on the board this season. The Cats entered Saturday's home game against LSU averaging 67.0 points per game, which was 13th in the Southeastern Conference.
But Saturday was a different story, especially in the first half. Kentucky came out firing on all cylinders on its way to a 49-point first half. Boosted by that output in the first 20 minutes, the Cats would go on to beat LSU 82-69, snapping a three-game losing streak in the process.
It was the most points Kentucky has scored in a game this season, topping the 81 that the Cats scored in a season-opening win over Morehead State.
UK head coach John Calipari pointed to one big statistic that helped the Cats get to a season-high point total.
"Well, we've been saying the biggest thing is turnovers," Calipari said. "So today, we had nine turnovers, and probably four of them or three of them were shot clock violations."
And how did that change come about?
"Because everybody was playing for each other instead of themselves," Calipari said. "When you're out there trying to make heroes plays, you're turning it over. When you're out there not setting a great screen, not getting open with timing, the play is not yours so you go half speed. You're playing for you instead of us. There are going to be turnovers."
Going into Saturday's game, UK's game plan included the three-point shot more than normal and the Cats took full advantage, making their first three shots from long range and five of their first eight.
"Our game plan was you're going to be shooting more threes this game than you've shot," Calipari said. "We also wanted to play a little bit faster. At the end, let's try, if you can't get it, get one for somebody else. That's kind of how we played. Any time you make shots, it's contagious."
Calipari was also happy with how his team shared the ball, especially in the game's first 20 minutes.
"Assists today, 15. We had 13 at halftime, or whatever," Calipari said. "Why? We had open shots."
Calipari continues to push his team to be the best versions of themselves and, in the process, the best team they can be.
"I'm just trying to get these guys to play together, to be better with the ball, to execute when it's not your play," Calipari said. "It's kind of like the wishbone. What if only two guys that knew they were getting to play did it? You can't run it. You got to execute when it's not for you. We're getting better that way."
Freshman Brandon Boston Jr., who led the Cats with 18 points, knows that he and his teammates have bought into the team concept, which has helped Boston individually.
"I was able to do that because I believe the two games that we lost that we shouldn't have, we should have won, we honestly beat ourselves with turnovers and other things that helped us lose games," Boston said. "But, coming out here you just have to come with a new mindset knowing that we're going out here to win and just play for each other."
This season being what it is, LSU got back into the game in the second half. The Tigers would get within five on two occasions, but the second time they did, the Cats responded with an 8-0 run to build the lead to 13. LSU would fight back to within seven, 70-63, but Kentucky again answered, this time with a 7-0 run that put the game away.
Kentucky will now face four straight opponents who are currently ranked, starting with Alabama on Tuesday night in Tuscaloosa. The Tide whipped the Cats 85-65 just two weeks ago. Calipari knows that his team must carry over its play from Saturday into that game.
"We needed to win a game. We needed to win this," Calipari said. "Now, we're going and playing the best team in our league. They beat us here, now we go down there. They're good. They're a top 10 team."
The Cats will turn their focus to the Tide on Sunday. For now, they will enjoy the fruits of a win, one in which the offense rose to the occasion.