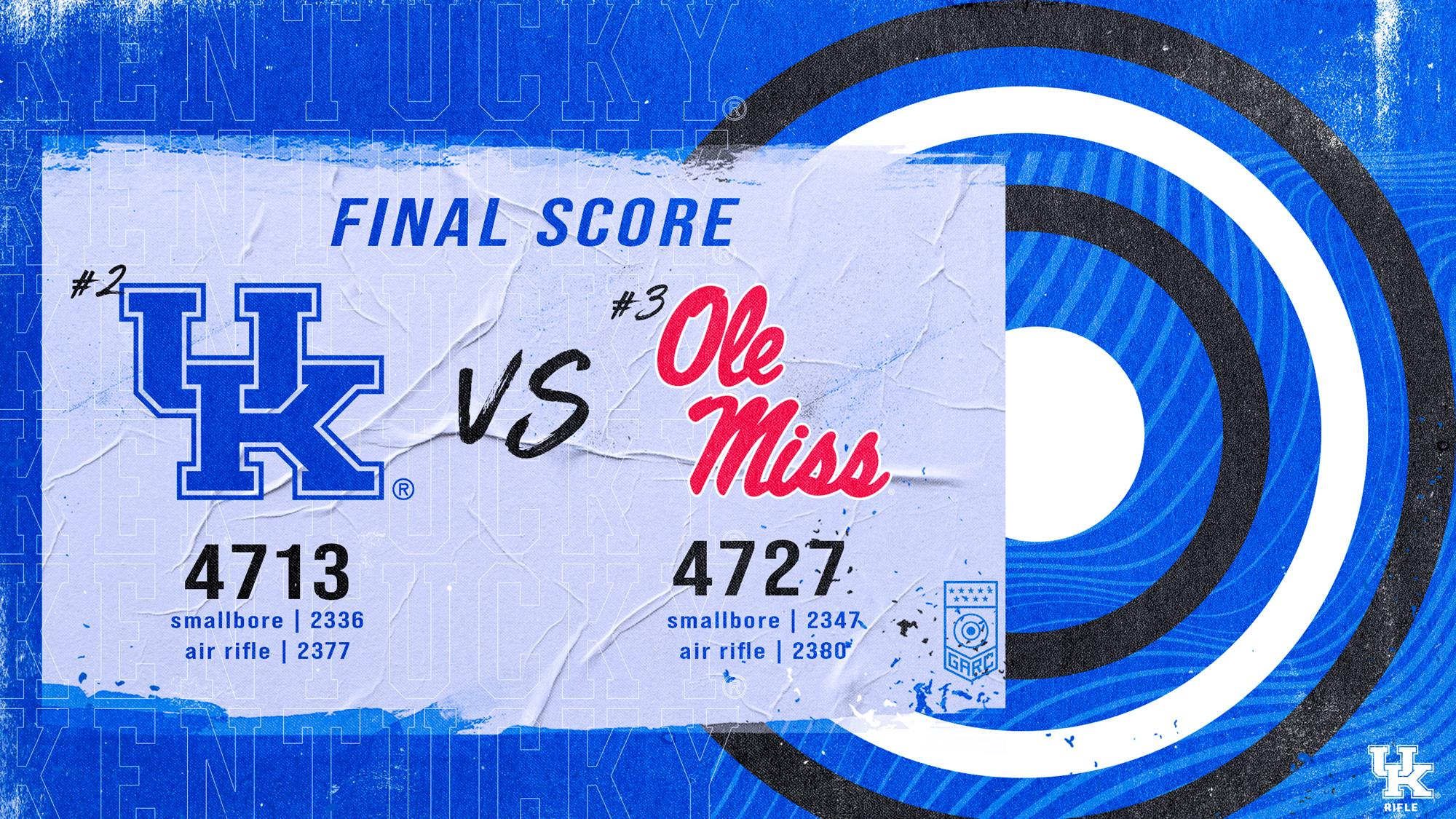 OXFORD, Miss. – In a matchup of undefeated teams, No. 3-ranked Ole Miss defeated No. 2 Kentucky, 4727-4713, on Monday at the Lamar National Guard Readiness Center in Oxford. 
 
Ole Miss (6-0) began by taking the lead in smallbore, 2347 to 2336.  The Rebels also won in air rifle, 2380 to 2377.
 
"It is always disappointing when you do not perform the way you want or feel you should have," said Coach Harry Mullins, whose team is now 8-1 on the season. "Ole Miss is a very good team.  They were able to weather the storms very composed.
 
"I felt that our performance was good, under the conditions, and showed us the things that we need to work on.  This weekend is the start of a long month and now we will have to correct our errors and move forward."
 
Sophomore Mary Tucker paced the Wildcats with 591 in the smallbore and 596 in the air rifle for an aggregate of 1187.  Juniors Will Shaner and Richard Clark were next.  Shaner shot 586 in smallbore and his 599 was the top air rifle performance for either team, totaling 1185.  Clark shot 584/590 for an 1174 aggregate.  Soph Jaden Thompson had 575/592 for a total of 1167.  Senior Hailee Sigmon came in at 572/589 and a total tally of 1161.
 
Ole Miss' Lea Horvath won the individual smallbore with 592, adding 598 in the air rifle for the top aggregate of the day, 1190. 
 
Today's match was the first of five in a busy two-week stint for the Wildcats.  On Saturday, Kentucky will play host to Nebraska before traveling to Murray, Ky., for the Withrow Open on Sunday.  On January 30 and 31, the Wildcats will take on Memphis State and Ohio State, respectively. 
 
For the latest on the Kentucky rifle team, follow @UKRifle on Twitter, Instagram and Facebook, as well as on the web at UKathletics.com.