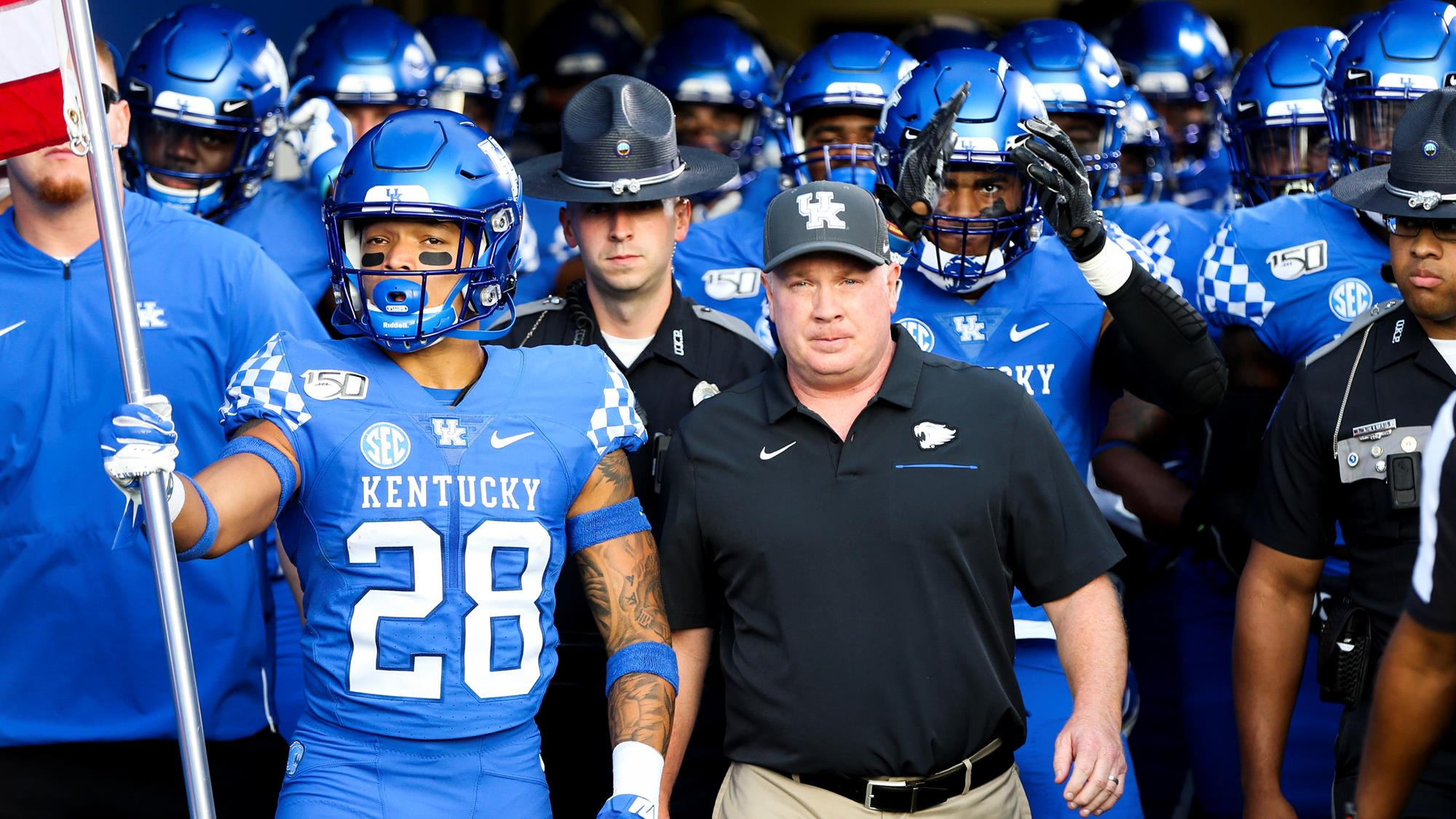 As the Kentucky football team begins its fall practice on Tuesday, head coach Mark Stoops is glad to be back on the field. The 2020 Cats are a veteran team with a number of experienced leaders. That has seemed to bode well for the team as they have navigated a spring, summer and preseason unlike any before, due to the COVID-19 pandemic.
"I appreciate the efforts in staying as safe as we possibly can," Stoops said. "Our players have worked really hard this summer. I think these are different times, I don't think there's any denying that. The policies and procedures we have in place are different. I know, to date, that our players have done everything we've asked them to do."
Stoops met the media on Tuesday, prior to the team's first fall practice, and he likes the fact that he has a mature team.
"I'd like to believe it helps," Stoops said of the experience. "Our team, we've worked hard the last seven years at developing leadership in our program. This is another example of a program that I want to be player-led. This group of guys that are older have certainly set the tone and hopefully that will continue to trickle down to the rest of our team. It does help that we have a veteran group and they are anxious to play."
The team is ready to get the fall started despite the ongoing pandemic and the uncertainty it creates.
"Our team has been very consistent. If you polled each of our guys, they would have different answers," Stoops said of players' reactions to the pandemic. "I know collectively, as a group, I try to communicate with them often and I want to hear what they have to say. In my conversations with them, they have been very matter of fact. They are preparing the best they can."
Players at other schools, and in other sports, have elected to opt out of the season. Stoops has not heard any of that from his team.
"Our players have been told from myself and from Mitch Barnhart directly that they have every opportunity to opt out with no repercussions and no penalties and at this point, I have not had one person come to me and talk to me about opting out," Stoops said.
At this point, the UK head coach likes the chances that the season starts as scheduled, with the Cats visiting Auburn on Sept. 26.
"I'm personally optimistic that we're going to get started on time," Stoops said. "Again, it's a very fluid situation and we'll take it day-by-day."
The 10-game, SEC-only schedule will be a challenge for each of the league's 14 teams, but Stoops again cited maturity, as well as depth, as reasons that his team should have an advantage with such a rugged slate.
"I do feel like this is the deepest team since I've been here," Stoops said. "We are a deep team with some experience and that has to help when we're playing 10 conference games because we all know how difficult that will be. But we do have a deep team and a mature team and that has to help us."
And when that season starts, Stoops hopes that his team's maturity, especially in navigating the COVID-19 pandemic and subsequent regulations, can produce solid results on the field.