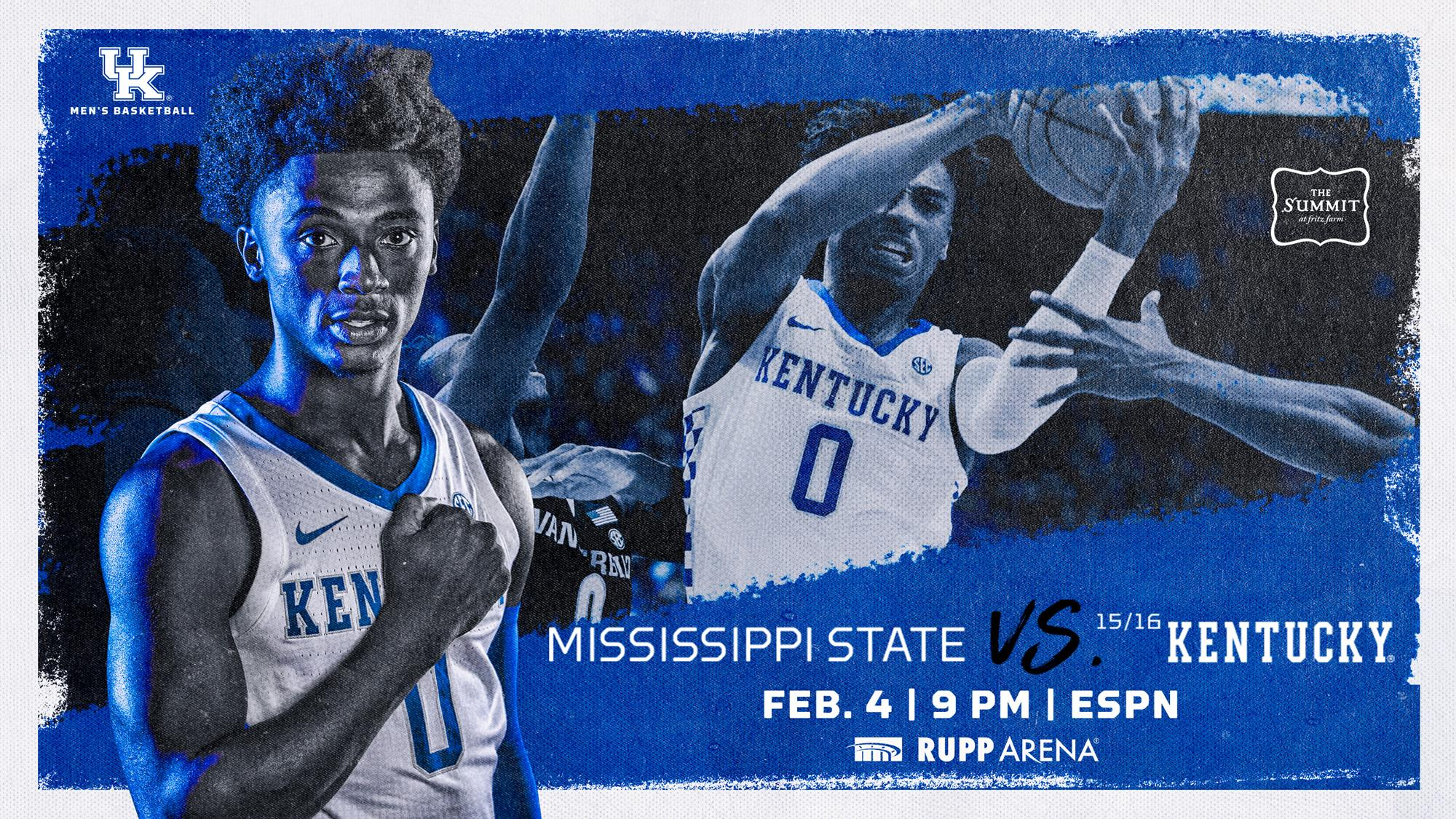 February 3, 2020 - 04:53 PM
Cats Hope to Bounce Back with More Aggressive Effort Against MSU
As Kenny Payne sees it, the formula for victory is simple for Kentucky.
 
In fact, it comes down to just one choice.
 
"No question I think if you look at our season, the success, the games that we've won, we were the aggressor," UK's associate head coach said. "When you look at our losses, we were on our heels."
 
It was undisputedly Auburn that was the aggressor this weekend, leading 44 free-throw attempts and 17 offensive rebounds for the Tigers. All that – unsurprisingly – added up to Kentucky's second loss since Dec. 21.
 
A mere three days later, No. 15/16 UK (16-5, 6-2 Southeastern Conference) will face another similar test at 9 p.m. on Tuesday: an opponent against whom making the choice to be the aggressor is just a little bit more difficult. That's the Mississippi State Bulldogs (14-7, 5-3 SEC) – winners of five of their last six – a team Payne calls "probably the most physical in the SEC."
 
"I think it's a good test for us going into the game knowing that they pride themselves on that," Nate Sestina said. "That's something that we have to get in our head, is that we have to pride ourselves on being tough. We have tough guys. We just have to prove it."
 
Kentucky vs. Mississippi State

Tue., Feb. 4 – 9 p.m. ET
Rupp Arena
Lexington, Ky.
Game Notes: UK | MSU
UK Athletics App

Coverage

TV: SEC Network
Radio: UK Sports Network
Watch
Listen
Live Stats

UK
Stats
MSU
16-5
Record
14-7
6-2
Conference Record
5-3
75.0
PPG
73.6
65.5
Opp PPG
65.5
.460
FG%
.467
.387
Opp FG%
.417
38.0
RPG
38.6
.326
3PT FG%
.341
.288
Opp 3PT FG%
.317
14.2
APG
13.5
5.0
SPG
5.9
5.1
BPG
5.0

Nick Richards had spent a solid month proving his toughness before that trip to Auburn, averaging 17.3 points and 9.9 rebounds over nine games and inserting himself into All-America conversations in the process. But over the weekend, Richards managed only seven points and seven rebounds while his Auburn counterpart, Austin Wiley, had a double-double in just 18 minutes.
 
"Not aggressive enough, not physical enough, not quite ready for the battle," Payne said. "In this game, similar to the Mississippi State game that we're going to see tomorrow, you better be the aggressor. If not, you will be on your heels the whole night which was a great lesson for him. Thought Wiley, the kid Austin Wiley, really played hard against him. Really tried to be physical with him, and in return he had a double-double, that kid did. We're not going to win if Nick Richards isn't playing well."
 
At 6-foot-10, 250 pounds, Reggie Perry is nearly identical in size to Wiley. The Mississippi State sophomore and reigning SEC Player of the Week, however, is even more productive. Perry is fourth in the SEC in scoring (17.2 ppg), first in rebounding (10.0 rpg) and averaging a double-double.
 
"The kid is an NBA player," Payne said. "There will be a bunch of scouts coming here to see him. There is a challenge there."
 
Clearly, the Wildcats have a healthy respect for Perry and the Bulldogs, who rank second nationally in offensive rebounding percentage according to kenpom.com. Even so, the challenge Richards will face is a lot more about himself than it is about Perry.
 
"I'll say this to you: It has nothing to do with the opponent," Payne said. "It always has to do within Nick and his mental (approach) and how he approaches the game. Yesterday I sat down with him and said, Do you remember a year ago? Do you remember two years ago? When you were saying, 'I just want to play man. I'll do whatever. Just let me play.' Well, not only are you getting a chance to play, how you play determines if this team is going to win or lose. So that's a lot of responsibility. You better mentally come in this thing every single day and prepare for war." 
 
Richards is hardly alone in that.
 
"These games, wins and losses aren't coming down to strategies and defensive plays and offensive strategies and what you want to do, and defensive strategies and how you want to guard this," Payne said. "This is your will to win. Battle by battle. Possession by possession. What are you willing to do to fight to help this team win?"
Kentucky Comes Up Short at No. 17 Auburn
AUBURN, Ala. – For the first time in three weeks, Kentucky couldn't overcome a hostile road environment.
Samir Doughty scored 23 points while making 14 of 15 free throws and No. 17/16 Auburn finished strong in a 75-66 win over 13th-ranked Kentucky on Saturday in an NCAA Tournament rematch. Isaac Okoro made a key 3-pointer and scored 14 points for the Tigers (19-2, 6-2 Southeastern Conference), who dominated the final four minutes to close out the win.
Kentucky, which entered the game winners of eight of its last 10, including two previous Saturday showdowns on the road, dropped its second conference game of the season and second in a row to Auburn. The Tigers defeated the Wildcats (16-5, 6-2) in last season's Elite Eight.
Many of the faces from that game have since moved on, but Auburn used a downhill driving approach to get to the foul line and outrebounded a much bigger UK squad by 14.
"Rebounding is just toughness," said Kentucky sophomore guard Immanuel Quickley, who helped the Wildcats stay in the game in a hostile environment at Auburn Arena with a big 23 points. "They out-toughed us today."
The smaller Tigers grabbed 17 offensive rebounds and took the fight to UK, earning 29 foul calls for a 33-for-44 performance at the foul line.
"I don't know if that's the most free throws taken against my team, but it might be," Kentucky head coach John Calipari said. "But let me just tell you: They put their head down and they go, and that's what they do. And we were trying to do the same without the same result, but we were trying to do the same. The difference was the offensive rebounding, and that came down to toughness. … We didn't play well, but give them credit because they did what they had to."
The minus-14 rebounding margin was one of the worst of the Calipari era, as was the free-throw disparity.
It was the most free throws a UK opponent has taken in a game since Kansas shot 47 — making 30 — on Jan. 30, 2016. The last time an opponent shot at least 44 free throws vs. Kentucky in regulation was Dec. 14, 2013, when North Carolina took 45 attempts — and made 26 — in Chapel Hill, North Carolina. No opponent has made as many free throws as Auburn did in the Calipari era at Kentucky.
The common denominator in all of them: They all came on the road and they all resulted in losses. Calipari wasn't using the fouls as an excuse.
"We all had a bad day, me included," he said. "We all had a bad day, because there's not one guy in our room I would say played well. But give Auburn the credit. They were more physical. They created more fouls than us, obviously, and the crazy thing is we had our chance: 62-60 with the ball, we're OK, let's go and we don't do what we need to."
Freshman Tyrese Maxey added 22 for the Wildcats but the rest of the cast outside of Quickley and Maxey largely struggled.
Nick Richards, a leading candidate for SEC Player of the Year after a recent tear, was limited to seven points and seven rebounds. The rest of the frontcourt combined for just six points and seven rebounds.
Sophomore point guard Ashton Hagans got in foul trouble early and could never get in a rhythm. He mustered just five points and three assists in 21 minutes, ending his 17-game streak of five or more assists. He had six turnovers before fouling out with the game still on the line.
Auburn outscored Kentucky 16-6 down the stretch after trailing much of the way. Danjel Purifoy started that hot streak with a 3-pointer and Okoro buried another for a 68-62 lead with 2:36 left. UK didn't make a field goal over the final 2:15.
Of note …
• Auburn has won four of the last seven games vs. Kentucky but the Wildcats still own a 94-21 all-time advantage
• Kentucky was an efficient 20 of 24 from the free-throw line, including a 10-for-12 day for Maxey (both career highs) and a 9-for-10 evening for Quickley (both career highs)
• The Wildcats limited Auburn to 35.3% from the field, falling to 197-19 (.912) under Calipari when keeping the opponent at 40% or less
• UK dropped to 15-2 this season when outshooting the opponent
• Kentucky dropped to 0-4 when getting outrebounded by the opposition and 2-2 when the opponent grabs 15 or more offensive rebounds
• UK fell to 62-33 against Associated Press 25 foes under Calipari, including 3-2 this season
• Ther were 17 lead changes, most of any UK game this season
Bounce Back
 
Kentucky doesn't lose very often during the John Calipari era, but when the Wildcats do, they almost always bounce back and its extremely rare for the Wildcats to drop more than one in a row. UK is 53-13 under Calipari following a loss (record does not count end-of-season losses).
The Wildcats' back-to-back losses to Utah and Ohio State marked just the 13th time UK lost consecutive games during the Calipari era and the most recent since dropping four in a row from Feb. 3-14, 2018. That stretch was the first four-game losing streak under Calipari and the only time Kentucky has lost more than two games in a row under Calipari.
Previously, the last time UK lost four games in a row was in February 2009, when the Wildcats dropped four straight games to end the regular season. It was the first time Calipari had lost four straight since the end of the 2004-05 season at Memphis.
UK has never lost back-to-back home games under Calipari.