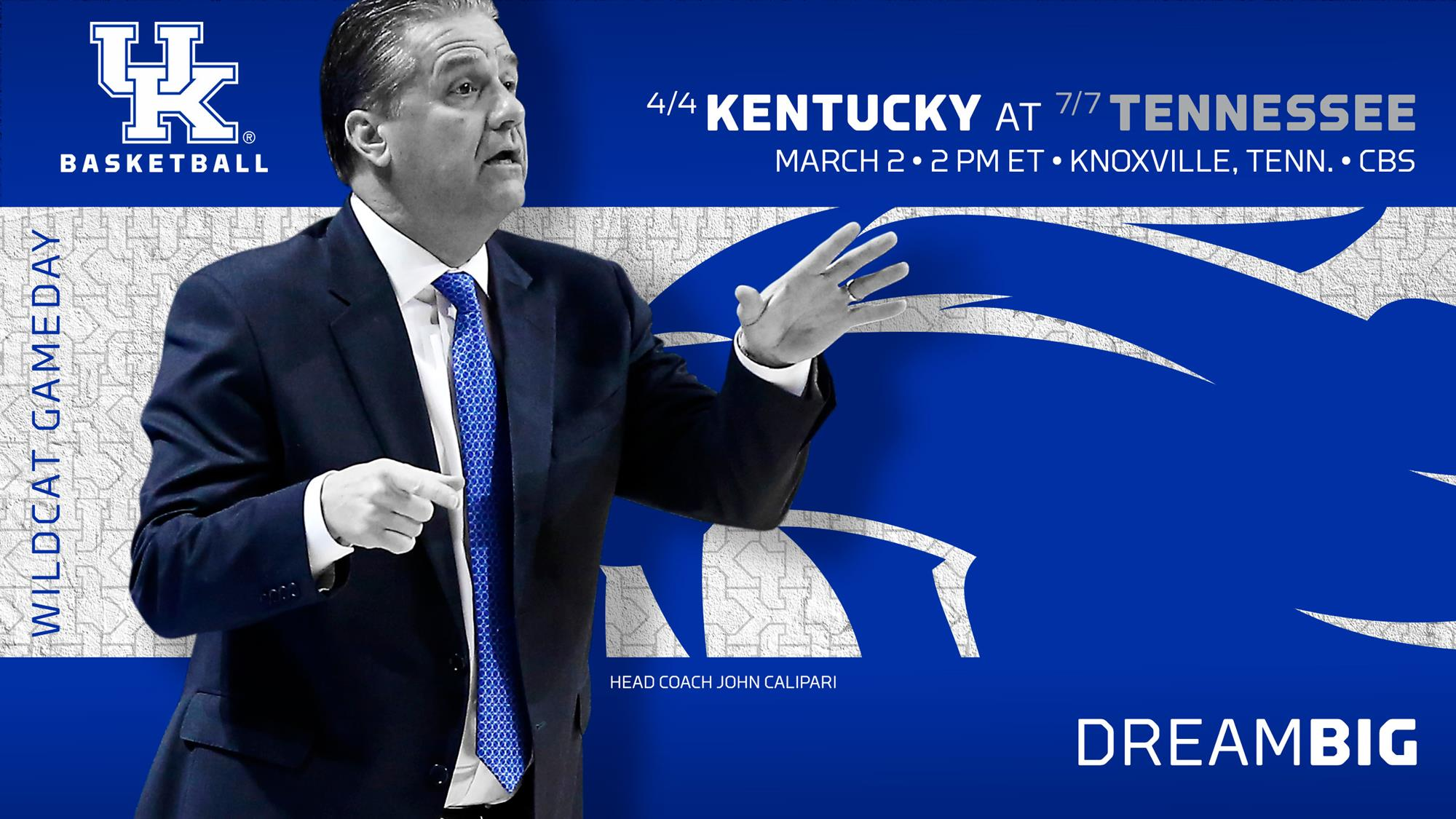 Cats Understand Challenge They Face in Knoxville
John Calipari loved the way his team came back, without question.
 
It's just that, as he looks ahead, he knows winning games like Kentucky did against Arkansas this week is not a sustainable strategy.
 
"If they play like that first half they will be down 20 in an NCAA Tournament game and you won't be able to come back because as you make a run the other team is a good enough team," Calipari said. "That's why they're in the tournament. They will make another run at you and you'll still be down 18."
 
Coach Cal was thinking about March Madness when he said all that, but Kentucky would be well served to learn the lesson sooner. The No. 3/3 Wildcats (24-4, 13-2 SEC) are headed to Knoxville, Tennessee, to face the No. 7/7 Volunteers (25-3, 13-2 SEC) Saturday at 2 p.m.
 
"We can't dig ourselves into a hole like that against a great team like Tennessee," PJ Washington said. "They won't let us back into the game. If we do that, it's going to be a long night. We just gotta come and play hard from the get-go."
 
That's certainly what UK did two weeks ago in dismantling Tennessee in one of the Cats' most impressive performances of the season. The Vols jumped out to a 2-0 lead, but Washington knocked in a 3-point lead on the next possession and Kentucky led the rest of the way en route to an 86-69 victory.
 
Kentucky at Tennessee

Sat., March 2 – 2 p.m. ET
Thompson-Boling Arena
Knoxville, Tenn.
Game Notes: UK | UT
UK Athletics App Digital Guide

Coverage

TV: CBS
Radio: UK Sports Network
Watch
Listen
Live Stats

UK
2018-19 Stats
UT
24-4
Record
25-3
13-2
Conference Record
13-2
78.0
PPG
83.2
64.9
Opp PPG
68.1
.480
FG%
.505
.402
Opp FG%
.394
38.8
RPG
37.7
.362
3PT FG%
.357
.352
Opp 3PT FG%
.334
.744
FT%
.765
14.0
APG
18.9
6.4
SPG
5.8
5.0
BPG
5.4

"It was our game plan to be the more aggressive team and we came out really aggressive at the beginning of the game and kept that pace the whole 40 minutes," Washington said. "If we can do that in Knoxville, I feel like we have a great chance of winning the game as well."
 
Of course, the site of the game will be different this time around. Back on Feb. 16, UK and Tennessee played in front of a raucous Rupp Arena crowd. This Saturday, the atmosphere will be similar, though far less blue.
 
"It's like playing in Rupp Arena if you're an opponent," Calipari said of Thompson-Boling Arena. "And it's one thing playing in Rupp Arena, but when you're really play against a good team in Rupp Arena – in other words you're a good team, now you're playing in their building and they're really good – that's a hard deal."
 
A deal made harder by the potential absence of Reid Travis, the player to whom Calipari gave more credit than anyone for the way UK played last time against Tennessee. Travis embraced the challenge of guarding reigning SEC Player of the Year Grant Williams, holding him to just four field-goal attempts in the process and freeing up Washington to explode for 23 points.
 
Travis, who has missed each of UK's last two games with a sprained knee, hasn't yet been ruled out for Saturday's game, but Calipari says he is doubtful.
 
"What kids try to do is convince you that they can do this, and my whole thing (is) this is about the long season, not the short season," Calipari said. "This will be a hard game whether he plays or not. This is a team that doesn't beat themselves. This is a team that's physical. This is a team that is a veteran team that's been through everything."
 
Those veterans will put Kentucky to the test, particularly the big men who will try to fill Travis's void should the graduate transfer be unable to suit up.
 
"Just guys gotta step up," Washington said. "Me, Nick (Richards) and EJ (Montgomery) gotta play a bigger role than we did in the first game, on the defensive end especially, and just try to be physical with them and not let them get easy baskets."
 
UK was outstanding defensively in the first game against the Vols, holding the nation's 13th-leading scoring team 14.6 points below their average on the season. The Cats also outrebounded Tennessee, 39-28. Repeating that feat, though UK has outrebounded opponents by a combined 32 in two games without Travis, won't be easy.
 
It's a challenge Kentucky embraces.
 
"They're a great program, great team, great coach," Washington said. "They're always going to fight, so I just love games when it's physical like that. Going into a competitive environment and just trying to get a win, that's the best the thing when you can beat a team on the road. That's obviously our plan. We're going to try to go up there and execute that."
 
Though Saturday is by no means an elimination game, the stakes will be high. UK and Tennessee are currently bunched with LSU in a three-way tie atop SEC standings and the Cats and Vols are both jockeying for a potential one seed in the NCAA Tournament.
 
That will make for a welcome change from the normal dynamic when UK hits the road in SEC play,
 
"We play games and the other team has nothing to lose," Calipari said. "They're launching shots, they're making banks, they're hitting lights. The ball's are going in. They're playing, they're back-slapping and they're going nuts. It's nice when you play North Carolina, Louisville or somebody else that has as much to lose as you do. But they're good and they're a terrific team."
Herro's Career Day Lifts Cats Past Hogs
Tyler Herro couldn't miss in the second half, and he didn't have much margin for error as he helped bail out No. 4/4 Kentucky against Arkansas.
Herro had career highs of five 3-pointers and 29 points, including two free throws with five seconds remaining, and Kentucky rallied from a 15-point deficit to beat Arkansas 70-66 on Tuesday night.
Out of sorts for 22 minutes, the Wildcats (24-4, 13-2 Southeastern Conference) quickly regrouped behind Herro, who finished 5 of 6 from behind the arc and 9 of 10 overall. His long-range baskets 43 seconds apart sparked an 18-3 run over 7:43, and the freshman guard capped the spurt with another 3 for a 54-51 lead.
Herro made all five attempts after halftime and all six shots from the foul line to top his previous high of 24 points against rival Louisville in December.
"The shots were just falling tonight," Herro said.
Arkansas (14-14, 5-10) stayed within a couple of possessions over the final seven minutes but couldn't break through. Kentucky got clutch free throws in the last 26 seconds from PJ Washington, Herro and Immanuel Quickley, who made two with 1.3 seconds left to seal the Wildcats' fourth consecutive victory and 14 in their last 15 games.
Kentucky's seventh straight series win over Arkansas also helped it maintain a share of the SEC lead.
Keldon Johnson added 13 points, and Nick Richards came off the bench to grab 15 rebounds for the Wildcats, who shot 50 percent from the field. The Wildcats made 12 of 22 after the break (54.5 percent) and converted 15 of 20 from the foul line.
"We couldn't really hit anything in the first half and they were hitting everything," Johnson said. "But we just knew we had to stay together and we'd be fine."
Isaiah Joe had five 3s for 19 points and Desi Sills 15 for the Razorbacks, who shot 31 percent in the second half and lost their sixth in a row.
"I thought we kind of panicked a bit," Arkansas coach Mike Anderson said. "But Kentucky's a great team and you know they're going to make a run. … It was a fight to the end."
Herro's night at the line extended his run of perfect games to 11 of the last 16 and has made 52 of 53 over that stretch. He was 8 of 9 in a win against then-No. 1 Tennessee two weeks ago.
"I feel like it's going to go in every time I shoot a free throw," said Herro, who has made 69 of 74 (93 percent) this season. Kentucky improved from committing 12 turnovers in the first half to making just three in the second. Arkansas had six after the break after committing just one in the first 20 minutes.
• The rally from 15 points down is UK's biggest comeback of the season. It was the largest comeback for any UK team since a 17-point comeback at West Virginia on Jan. 27, 2018
• Arkansas shot 37.7 percent from the field. UK is 178-15 (.922) under Calipari when keeping the opponent at 40 percent or less, including 13-0 this season
• Kentucky registered its 12th game of the season shooting at least 50 percent. The Wildcats are undefeated in those games
• UK won the rebounding 40-27 and points in the paint 24-22. UK is now 21-2 on the season when winning or tying the battle of the boards
• UK is 15-0 this season when Herro scores 15 or more
• Richards' 15 boards marked his third career effort of double-digit rebounds. He also contributed seven points. UK is 12-0 when he scores four or more this season
• Kentucky is 242-40 under Calipari against unranked Associated Press foes
• UK has won seven in a row in the series and improved to 15-3 when the game is played in Lexington
Three-Way Tie for First in SEC with Three to Go
The race for the Southeastern Conference regular-season championship appears as though it will come down to the very end with Kentucky, Tennessee and LSU locked in a three-way tie for first place with three games to go. Every remaining game will have significant implications in the SEC title race.
To stay in the race won't be easy. Of Kentucky's three remaining regular-season games, two are against opponents currently ranked or receiving votes in the Associated Press Top 25 and both of those are on the road.
All of Tennessee's games are against teams ranked or receiving votes in the AP Top 25. LSU doesn't have any but several against teams vying for NCAA Tournament seeding.
LSU's victory over Tennessee on last weekend further complicated things. With the three teams now tied for first, the pecking order of the SEC Tournament seeding — if the season ended today — would be LSU, UK and Tennessee based on the best winning percentage of games played among the tied teams. LSU defeated both Kentucky and Tennessee in their lone regular-season matchups and the Wildcats beat the Volunteers in mid-February. Of course, UK's game on Saturday in Knoxville, Tennessee, will break up that three-way tiebreaker one way or another for the time being.
UK is in search of its 49th SEC regular-season championship and sixth under head coach John Calipari.
Calipari Moves into Second Place on UK's All-Time Wins List
A 66-58 win on the road at Missouri may have seemed like business as usual for the Wildcats, but it served as a major coaching milestone for head coach John Calipari. The win signified No. 297 as UK's head coach, which tied him with Joe B. Hall for the second most by a Kentucky head coach. He moved past Hall last week with an 80-53 win over Auburn.
Now, only Adolph Rupp owns more victories as UK head coach than Calipari.
Having coached 367 games to date with the Wildcats, he would become the fourth fastest coach to 300 wins at one program in NCAA history with a win vs. Tennessee. Bill Self at Kansas won his 300th game in the fastest time span of 358 games. Rupp owns the mark at Kentucky. He achieved win No. 300 in just 366 career games.
Travis Out at Least Two Weeks With Right Knee Sprain
Forward Reid Travis is expected to miss at least two weeks after spraining his right knee vs. Missouri on Feb. 19. An MRI conducted after the team returned to Lexington confirmed the sprain. No other damage to the knee was detected.
"I just feel so good that it was more of a sprain than anything else because you just get worried about that stuff when you see someone go down," UK head coach John Calipari said. "We are going to be very conservative with this so he may be out a couple weeks. We hope he will be ready for around the conference tournament or maybe even a little bit before, but I'm happy for Reid that we're going to get him back."
Travis sprained his knee midway through the second half vs. Mizzou when a teammate attempting to rebound a ball inadvertently fell into Travis' right knee. Travis stayed in the game for two possessions before walking gingerly under his own power off the court and into the locker room.
He began physical therapy on Monday and ditched precautionary crutches after just a couple days.
The graduate transfer from Stanford has been one of the key components to Kentucky's 24-4 start, which includes a 5-2 record vs. Associated Press Top 25 teams and has positioned the Wildcats for a potential top seed in the NCAA Tournament.
Travis is averaging 11.3 points and 6.9 rebounds for the Wildcats while shooting 51.6 percent from the floor and 73.0 percent at the free-throw line. He's started 23 of 25 games he's played, scored in double figures in 14 of them, and posted four games with 20 or more points. He's also recorded two double-doubles