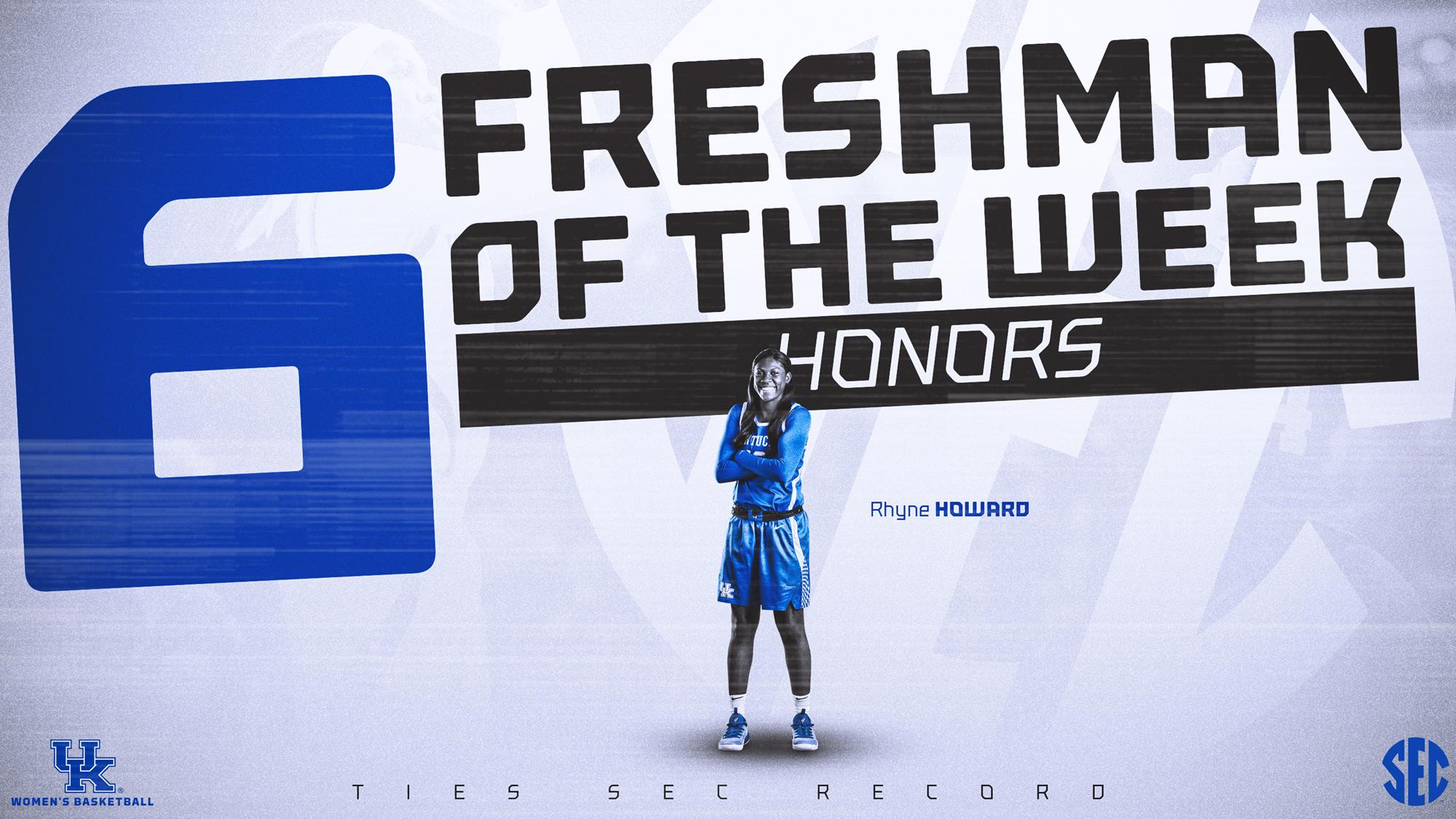 February 12, 2019 - 11:30 AM
Howard Ties SEC Record With Sixth Freshman of the Week Honor
LEXINGTON, Ky. – For a league record tying sixth time, University of Kentucky freshman guard Rhyne Howard has been tabbed the SEC Freshman of the Week after impressive performances last week in Kentucky's two road wins at Auburn and Alabama.
 
Howard becomes only the second player in league history to earn freshman of the week six times during a season, tying Missouri guard Sophie Cunningham for the prestigious honor. Howard is only the second Kentucky men's or women's basketball player to earn six freshman of the week honors, joining Brandon Knight who claimed six honors during the 2010-11 season.
 
The native of Cleveland, Tenn., began her dominance of the award this season by winning the title on Nov. 13 after scoring 15 points in her collegiate debut and 29 a few days later against Southern. She also claimed the award on Nov. 27, Dec. 11, Dec. 23 and Jan. 8.
 
Howard earned the honor this week after impressive performances in UK's road wins over Auburn and Alabama. The rookie started the week with 19 points against Auburn hitting five 3s with six assists, four rebounds and three steals. She ended the week with a game-high 23 points last night at Alabama, going 4-of-6 from long range with three rebounds, three steals and an assist.
 
Howard is the first UK freshman in the Matthew Mitchell era to score at least 10 points in each of her first 10 games and currently ranks first on the team in points per game with 16.8 and leads in rebounds per game with 6.6. She sits second in 3-pointers made with 60 and ranks second in steals with 53. Howard has scored in double figures in 20 games and has four double-doubles. She has scored 20 or more points in eight games.
 
Howard ranks high in the league in several categories, including fifth in field-goals made, 11th in field-goal percentage, fifth in points, seventh in points per game, fifth in steals, fourth in 3s, fifth in 3s per game and sixth in 3-point percentage. She is also all over nearly every UK freshman single-season record, sitting fourth in points, second in points per game, fourth in rebounds per game, first in 3s, second in 3PFG%, sixth in steals, fifth in double-figure scoring games and fifth in double-figure rebounding games.
 
For more information on the Kentucky women's basketball team, visit UKathletics.com or follow @KentuckyWBB on Twitter, Instagram and Snapchat, or Kentucky Women's Basketball on Facebook.