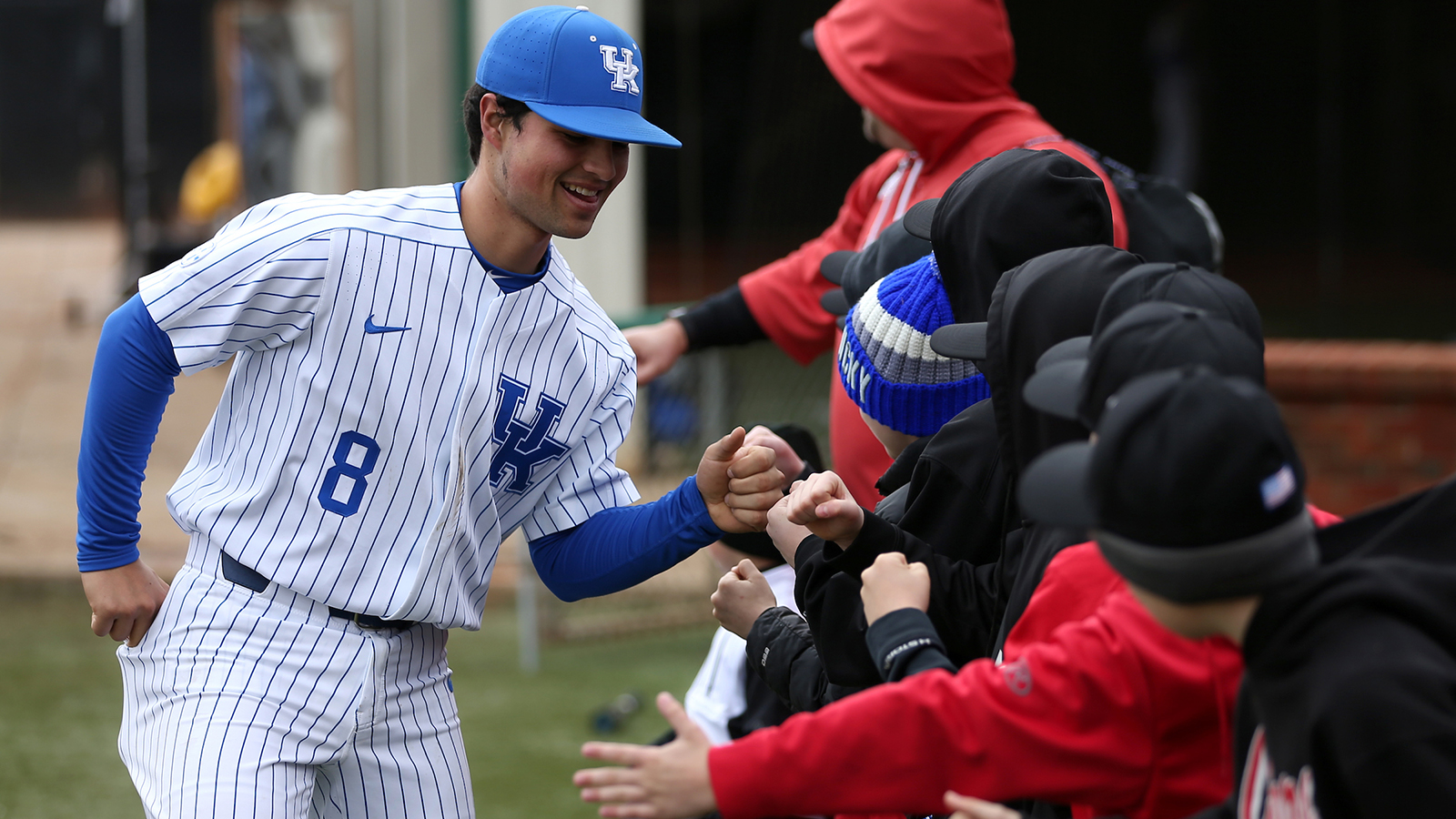 Kentucky baseball head coach Nick Mingione is fond of the phrase "the strength of our team is our team". Mingione means that each player on the squad has a particular role to play, whether it be big or small.
During Mingione's time in Lexington, perhaps no player has been more indicative of that phrase, and has filled a particular role for the team, than Marshall Gei. Now in his fifth year in the program, Gei has a total of 13 at-bats in his career. He has spent time behind some other UK standouts during his time in Lexington, thus limiting the number of chances he has gotten on the field.
But Gei's role on the team the past four seasons cannot be understated. He has served as the bullpen catcher for the team, helping UK's pitchers in a variety of ways. From extra throwing before and after games to warming up pitchers who are coming into games, Gei's role is one of great importance.
"That role has kind of evolved as I kept going through the years here," Gei said. "My third year, the year we won the regional, my role on that team was just to be the biggest servant I could be. We had Kole Cottam and Troy Squires ahead of me and, not trying to downplay any part of my game, but they were the guys behind the plate. So, I just had to help any bullpen guys, and starters, just to help them out."
Mingione also loves to speak of servant leadership and how a player or a coach can lead by serving the needs of others. Gei is a prime example of that concept.
"To have that in the catching position is crucial," Mingione said. "Because that's the guy, when we throw a breaking ball in the dirt, they have to block it. His heart is definitely right. There's a reason why our pitchers love throwing to him. It's because of his servant leadership."
Mingione knows that Gei has paid his dues, and now is the time for him to take advantage of the opportunity before him.
"The way he has just served, it's his time," Mingione said. "This is his fifth year. He already has one degree and he's working on another one."
Gei played in 10 games last season, notching two hits, including a double, in eight at-bats. The Mount Juliet, Tennessee, native has always been known as a contact hitter, something he takes great pride in having on his resume.
"Just putting the bat on the ball is one thing I have prided myself on," Gei said. "What I'm trying to get at more now is just making sure I'm getting my best swing off. Even if you swing through a ball or foul a ball off, it's not necessarily a bad thing. Just trying to be a line drive hitter, but also a situational hitter."
Gei knows he will be given a chance to compete for playing time behind the plate this season.
"I don't know how the playing time is going to work out," Gei said. "Coach Minge has talked to me and Coltyn Kessler about sharing time behind the plate because he doesn't like the concept of one catcher. Playing time is going to be what it is, but that leadership role is going to be more impactful."
Gei, who already has a bachelor's degree in physics and is working on a master's degree in medical physics, also spends time volunteering at UK's Markey Cancer Center.
"It's a rotation for my grad school that I'm in," Gei said. "Basically, I'm observing everything going on, whether it's consults with people who are hearing for the first time that they have cancer, or it can be CT simulation. Then, finally, you get into the treatment part of it."
In 2017, Gei learned an important lesson from a former teammate, something that has stuck with him.
"Justin Lewis was my roommate two years ago, and he was the person who brought out the concept to me that you have to love a challenge," Gei said. "His big thing, that he brought out in me and what I would love to bring out in other people, was that you have to love that challenge. So, if we can make that part of our culture, that would be awesome."
Gei has stepped up to every challenge and continually helped others during his time in Lexington. His role as a servant leader at UK will ultimately benefit those around him as he begins his work in the medical physics field.