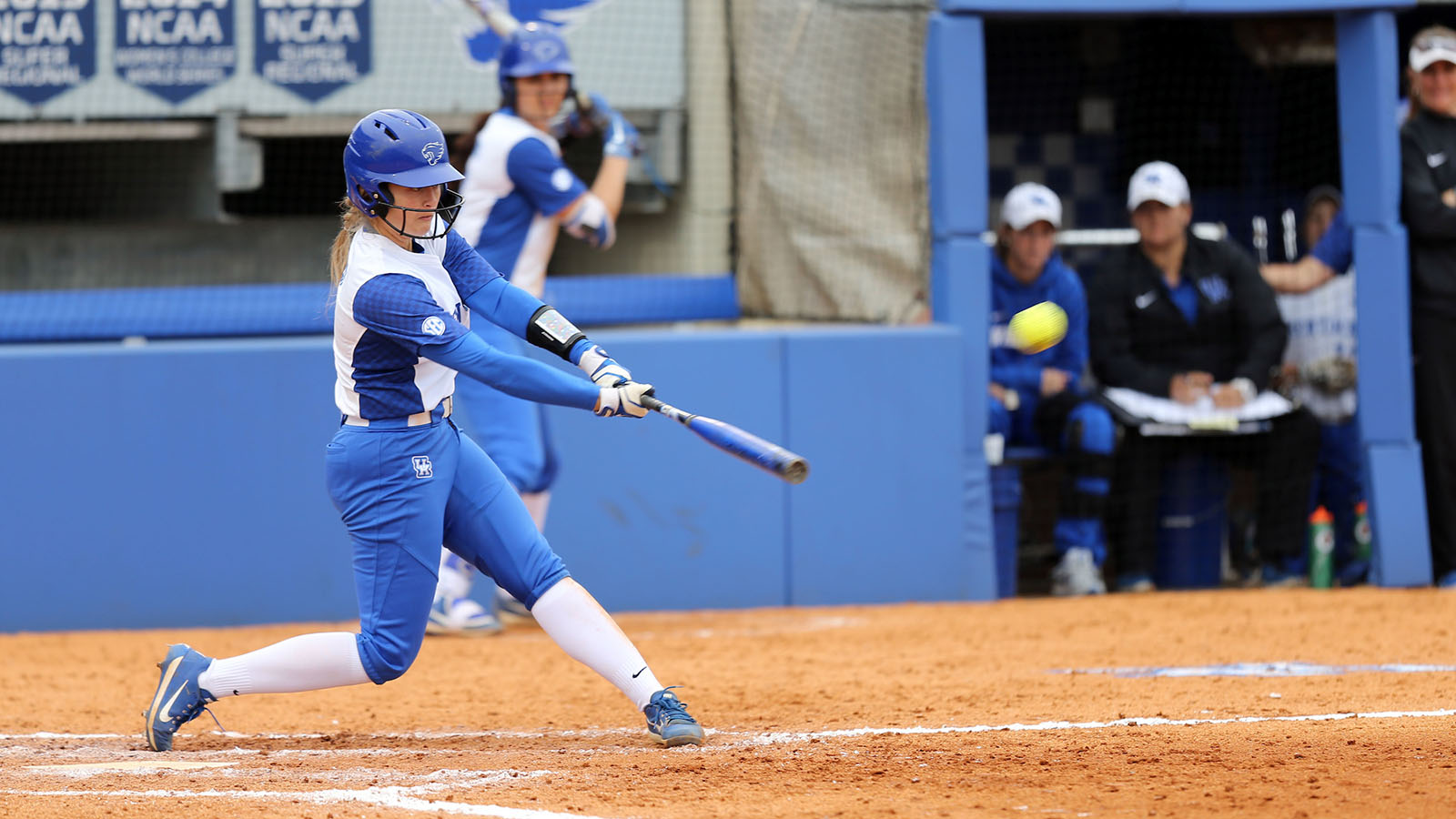 February 11, 2019 - 11:07 AM
Schaper Looking Forward to Big Senior Season for UK Softball
During Rachel Lawson's 11 seasons as head coach of the Kentucky softball team, one thing has been a constant – solid play from the catching position. Lawson knows how important catchers are, and when she's recruiting a catcher, she knows exactly what she wants.
"First, I recruit smart catchers," Lawson said. "Number one, this sounds shocking – but they not only have to be talented, but they also have to have a high GPA. I look at the intangibles. I look at their parents. I see how they speak with their parents. They have to come in smart and mature and then because of that, all that you have to teach them when they come in is the skillset. If they already have the mentality, then they can do that. We put such a high premium on defense."
For the last three seasons, Jenny Schaper has been the starter behind the plate for the Cats. Heading into the 2019 campaign, Schaper has played in 170 games at Kentucky, with 158 starts. Schaper exhibits the intelligence and the intangibles that Lawson is looking for in a catcher and the senior knows it all starts with her play behind the plate.
"I think my thing has always been defense," Schaper said. "I think that's kind of the reason I was recruited in the first place and came here was because of my defensive ability. To work with the pitchers and be in harmony with them and lead an infield."
While defense may be her calling card, Schaper had a breakout season offensively last year. She hit a career best .323 with six home runs and 35 runs batted in for the Cats in 2018. She knows the reason for her offensive surge last year was a tweak in her swing.
"Breaking down the holes in my swing and once I figured out my weaknesses and focused more on, not necessarily turning them into strengths, but no longer have them as a weakness, per se, really changed my whole game," Schaper said. "Then, I could do more with the pitches that I was given than just be predictable."
Schaper spent some time last season hitting in the leadoff spot, something that most catchers don't do. But she enjoyed being at the top of the lineup.
"I actually loved hitting in the leadoff spot," Schaper said. "I kind of like being the first person out there. I'll take the hit. I had a pretty good on-base percentage. I'm pretty good at balls and strikes, seeing the ball, all of that. If I just had a little bit more speed, it would be ideal."
Lawson knows how important it is to have the right catcher, someone who not only plays great defense, but can contribute offensively and provide leadership to the entire team. Schaper has proven to be that type of leader during her three seasons in Lexington, and she has one more season to add to her legacy.