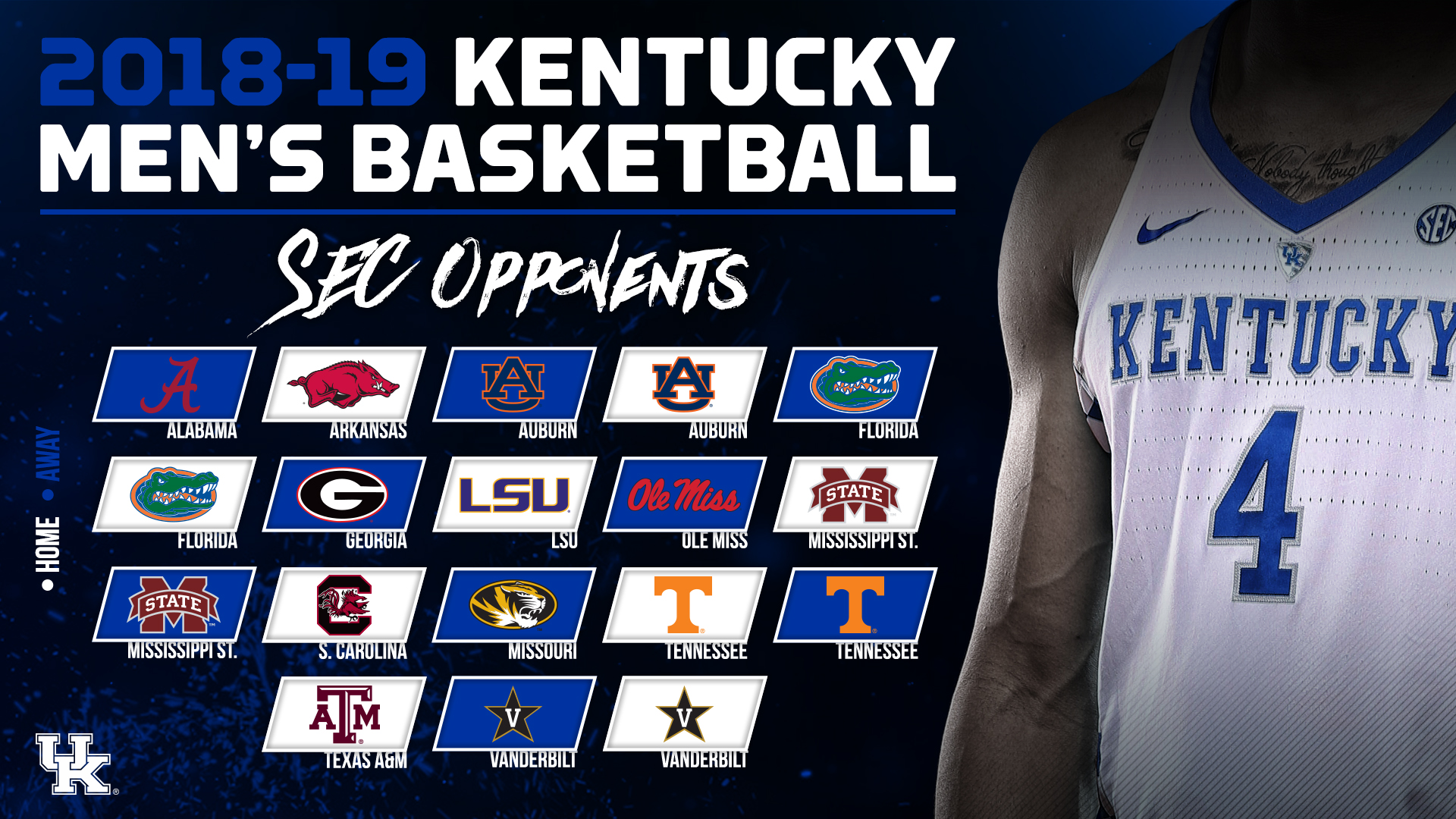 UK Men's Basketball Conference Opponents Announced for 2018-19
BIRMINGHAM, Ala. – Kentucky's path for a 49th Southeastern Conference regular-season crown has taken shape with the announcement of the 2018-19 home-and-away designations for the entire league's schedule. On Wednesday, the SEC announced designations for all 14-member institutions, including revealing the home-and-away opponents for each team.
 
As announced prior to the 2015-16 season, Kentucky's permanent home-and-away opponents include Florida, Tennessee and Vanderbilt. This upcoming season, the Wildcats will add 2017-18 regular-season co-champion Auburn and Mississippi State
 
Kentucky's league home schedule will include the five aforementioned teams as well as Arkansas, LSU, South Carolina and Texas A&M. UK's road matchups will come against Alabama, Georgia, Ole Miss and Missouri in addition to Auburn, Mississippi State and the three permanent home-and-home opponents.
 
Times, dates and television information will be announced at a later date.
 
The league is coming off a banner season in 2017-18. A record eight SEC teams participated in the 2018 NCAA Tournament and the conference defeated the Big 12 6-4 in the annual SEC/Big 12 Challenge. Four league teams are in ESPN.com's way-too-early top-25 rankings and five are in the CBS Sports way-too-early rankings.
 
UK is slated to play three of the teams in the CBS rankings – Auburn, Mississippi State and Tennessee – twice. The other two – Florida and Vanderbilt – are expected to be in the mix as well. The Gators are annual title contenders and will return 2017 All-SEC First Team member KeVaughn Allen and Jalen Hudson. The Commodores are welcoming in arguably their best recruiting class in school history.
 
All told, 20 of ESPN.com's Top 100 recruits having signed with SEC schools. The SEC boasts six of ESPN.com's Top 25 in-coming recruiting classes.
 
Kentucky's three-year run of SEC regular-season championships came to an end last season, but the SEC Tournament streak marched on. UK won its fourth straight league tourney title and sixth overall in nine seasons under John Calipari.
 
UK's 2018-19 schedule is shaping up to be one of the best in the country. In addition to a difficult path through the SEC, UK's nonconference schedule is filled with bluebloods, marquee home games and exciting road trips for fans.
 
The Wildcats now have seven regular-season nonconference games on the books, plus the annual rivalry game vs. Louisville (date to be determined) and the preseason foreign exhibition tour in the Bahamas.
 
Aug. 8-12 – Big Blue Bahamas Tour | Atlantis Imperial Arena | Atlantis, Paradise Island, Bahamas
Nov. 6 – vs. Duke | Bankers Life Fieldhouse | Indianapolis | State Farm Champions Classic
Nov. 28 – Monmouth | Rupp Arena | Lexington
Dec. 1 – UNCG | Rupp Arena | Lexington
Dec. 8 – vs. Seton Hall | Madison Square Garden | New York | Citi Hoops Classic
Dec. 15 – Utah | Rupp Arena | Lexington
Dec. 22 – vs. North Carolina | United Center | Chicago | CBS Sports Classic
Jan. 26 – Kansas | Rupp Arena | Lexington
 
Additional nonconference opponents, as well as a detailed SEC schedule will be unveiled at a later date.
 
For the latest on the Kentucky men's basketball team, follow @KentuckyMBB on Twitter, Facebook, Instagram, Snapchat and on the web at UKathletics.com. 
 
2018-19 SEC Home Games                                2018-19 SEC Away Games
Arkansas                                                                Alabama
Auburn                                                                    Auburn
Florida                                                                     Florida
LSU                                                                          Georgia                                                               
Mississippi State                                                   Ole Miss
South Carolina                                                        Mississippi State
Tennessee                                                               Missouri
Texas A&M                                                              Tennessee
Vanderbilt                                                                Vanderbilt