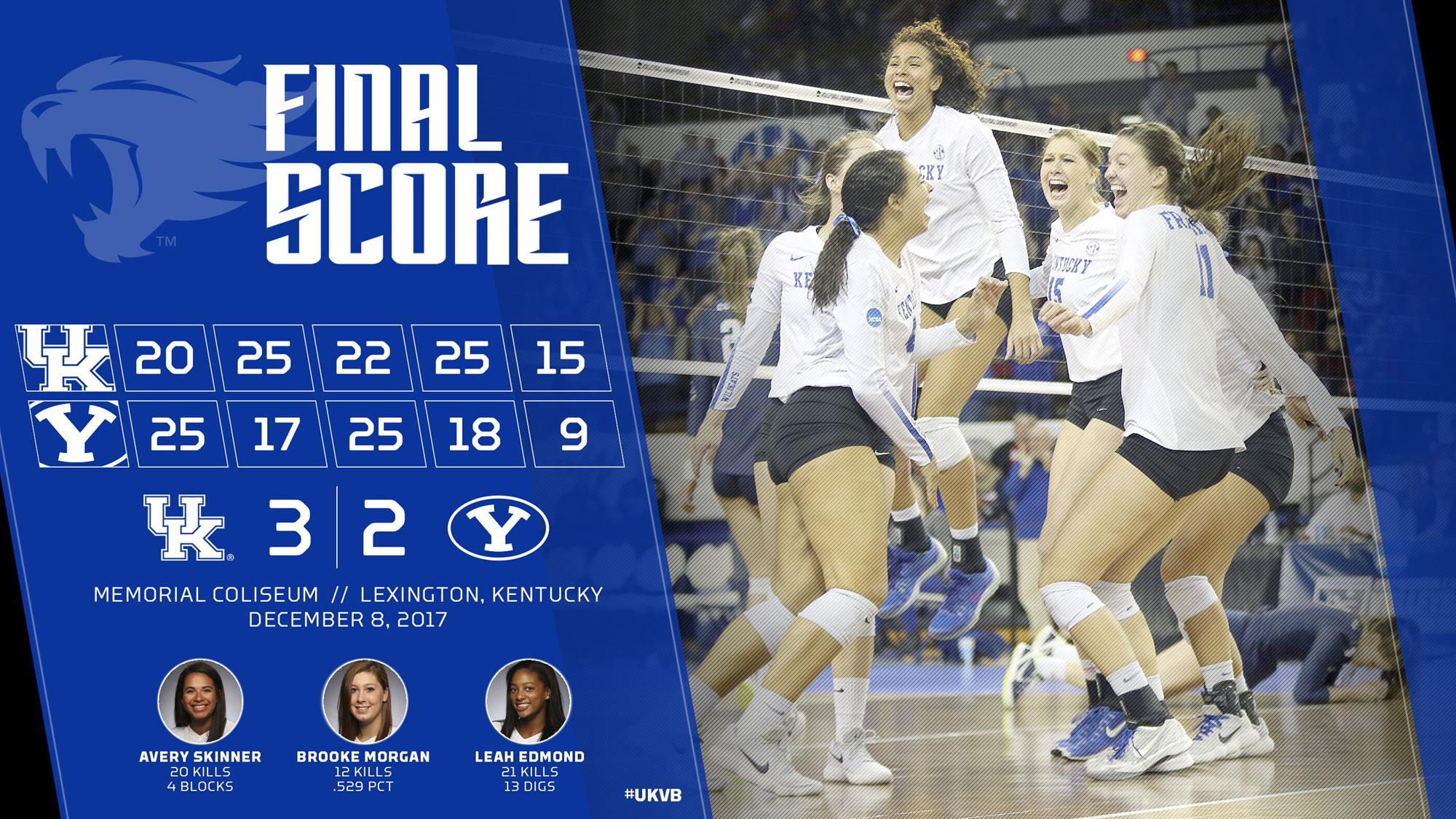 December 8, 2017 - 04:20 PM
Comeback Cats Prevail Again: On to the Elite Eight
LEXINGTON, Ky. – Powered by a masterful 14-4 run in the decisive fifth set the sixth-ranked Kentucky volleyball team marched on to the Elite Eight behind a 3-2 (20-25, 25-17, 22-25, 25-18, 15-9) win over No. 7 BYU in front of 3,219 fans in Memorial Coliseum on Friday. Kentucky trailed 2-1 in the match and then 5-1 in the deciding fifth frame before mounting comebacks to earn the win and a bit of history.
 
For the first time in program annals, UK has now won three matches in a single tournament. It also marks the first appearance in the Regional Finals under 13th-year head coach Craig Skinner. With the win, the 2017 senior class earned its 100th career victory and more importantly lives to see another day.
 
"For us to get through that match, I have to credit two groups of people for toughness," head coach Craig Skinner said.  "One, obviously, is our team for battling back the way that they did in a couple different situations, being down 2-1 and then going on a 13-3 or 14-4 run in the fifth. Also our fans for being tough enough to get here at noon, parking, figuring out a way to get here and support us and be behind us the entire time. That takes a lot of energy, effort, and commitment from our fans. I'm just really proud to be representing Kentucky when people come like that."
 
Kentucky improved to 29-3 overall on the season, while BYU fell to 30-3 on the year. UK will play the winner of the Nebraska-Colorado match at 4 p.m. ET in Memorial Coliseum on Saturday. The match will also air live on ESPNU. For ticket and parking information, please visit the tournament central site.
 
In the decisive fifth frame, BYU jumped out to a quick 2-0 lead before freshman Avery Skinner put the Cats on the board with a kill. The Cougars continued the run and pushed the lead to 5-1, prompting a timeout by Kentucky. Following the break, senior Kaz Brown and freshman Madison Lilley teamed up for a much-needed block. UK continued to fight and pulled to within one at 6-5 behind consecutive kills from sophomore Leah Edmond forcing the Cougars into a timeout.
 
BYU snapped the spurt by the Cats out of the timeout, but Edmond came right back with another kill and then the Cougars committed an erroneous attack to tie thing at 7-7. Edmond and senior Emily Franklin combined for a Big Blue block and the Wildcats took an 8-7 edge into the switching of sides.
 
Franklin's touch shot lifted the home team to a two-point advantage. After BYU was unable to win the coach's challenge, Edmond came up with another crowd-pleasing kill to increase the lead to 10-7. The Cougars attempted to suppress the momentum by taking their final timeout.
 
The Cougars managed just that with a kill of its own. Kentucky fired right back with back-to-back kills from Edmond and Franklin making it 12-8. A triple block from the team of junior Brooke Morgan, Franklin and Lilley extended the stretch by the Cats. Franklin gave Kentucky match point at 14-9 when she utilized the block to her advantage. Skinner's 20th kill of the night would clinch the win on the next play. 
 
Although a cliché, it really was a total team effort.
 
"I think the biggest thing was relax and play how we know we can play," Avery Skinner said. "You can't really do anything extra in the moment; you just have to trust your training. I think another big thing is we're playing for a higher purpose. Our other teammate who can't be with us, we all really want to play well for her and also just to get the win."
 
Edmond and Skinner combined to form a 1-2 punch on the outside with 21 and 20 kills, respectively. Edmond has notched 20 or more kills in consecutive NCAA matches, while Skinner's total marked a new career high. She's boasted 14 or more kills in all three NCAA Tournament appearances. Edmond also contributed 13 digs, while Skinner added four blocks. It is the eighth double-double of the season for Edmond, while Skinner's block total matched a career high.
 
Freshman setter Madison Lilley dished out 63 assists, the third time she has achieved the feat this season. She's the only player in program history during the 25-point rally scoring era to have 60 or more assists in at least three career matches. Lilley added 12 digs and a career-high seven blocks. She directed UK's offense to the tune of 75 kills and a .317 attacking clip, including 10 kills on a .368 percentage in the final stanza.
 
Morgan posted a season-high 12 kills, just one shy of matching her career-high total. She did her damage on a sizzling .529 attacking percentage and added a pair of blocks.
 
Franklin and Brown teamed up for 20 kills and were in on all 16 of UK's blocks in the match. Franklin had 12 kills on a .500 hitting clip while adding seven blocks. Brown had nine rejections and eight hammers. Brown has logged nine blocks in back-to-back matches – which is a season-high mark. Brown also reached 1,000 kills for a career during the third set of the match.
 
Defensively, five players reached double digits in the digs' column. Edmond and senior Ashley Dusek both had team highs in the category with 13. Lilley, junior McKenzie Watson, Lilley and freshman Gabby Curry all had 12. In 13 NCAA appearances under Skinner, he's never directed a defensive effort in which five different players had 10 or more digs until today's win.
 
Three other Wildcats posted a dig in the win. Junior Merideth Jewell came up with four digs, while Franklin matched that total. Morgan had two scoops of her own.
 
"She is always the first person in the huddle giving us information and I think she is really aware of what is going on," Edmond said, on Jewell. "I think that's a big reason why she makes such an impact when she comes in because she knows everything that is going on and she comes in and does her job. It's really amazing to have a player like that."
 
SET RECAPS
 
Set One
Skinner laced a kill off the block to begin the match, but BYU earned the point right back benefiting from a UK service error. From there the teams exchanged points until BYU shook loose for three straight and a 5-2 lead. Edmond snapped the spurt with her first kill of the match. The Cougars were able to stretch their lead to five at 9-4. Kentucky made a run behind a kill from Morgan and a block from Skinner and Brown to get to within three at 10-7. BYU responded with a run of its own to earn a 12-7 lead, forcing UK into a timeout. The run extended following the break and the visitors were able to take their largest lead of the set at 14-7, before Skinner's second kill of the day ended the threat. BYU's lead stretched to eight at 16-8, and UK opted for another timeout. A kill from Edmond, a block from the Lilley-Franklin duo, followed by an ace from Dusek and another kill from Edmond ignited the crowd and enabled Kentucky to pull to within four at 16-12. BYU scored two-consecutive points to re-earn a comfortable cushion. Franklin then helped push another Kentucky run with a kill and then she combined with Morgan for a block to make the score 19-15 in favor of BYU. The Cougars chose to take a timeout. An ace from Franklin, followed by a huge dig from UK's middle blocker capped by a kill from Morgan enabled UK to get to within two at 20-18. BYU responded with a 2-0 run of its own and eventually earned a 25-20 win to take a 1-0 lead in the match.
 
Set Two
BYU scored the second set's first point, but UK answered with a sizzling kill from Skinner. Brown and Lilley then teamed up for a block and UK earned a lead at 2-1. Play seesawed until Franklin had consecutive kills for a 5-3 lead for the Cats. The visitors fired right back and tied things at five before Edmond was able to tool the block and quell the run. The teams traded points once again until Skinner scored two straight off kills for another two-point advantage for the home team at 8-6. The Cougars clawed back and eventually earned a 10-9 edge. UK's answer was another kill from Skinner and that sparked another run and another two-point lead at 12-10. Edmond tooled the block after a magnificent dig from Watson to push the lead to three, and then followed with another kill off BYU's hands. A kill from Brown gave UK a 15-11 lead at the media timeout. BYU pulled to within two on two occasions and both times the Cats were able to fend off the threat. Franklin had an ace and then Morgan put down her sixth kill of the match for a 20-15 Kentucky advantage. After a BYU timeout, the visitors strung together two straight – but Skinner ended that spurt with back-to-back explosive hammers and a 22-17 Kentucky lead. Following another BYU timeout, Brown and Lilley teamed up for a rejection to add to UK's lead. Lilley then won a joust at the net to set up set point. Brown and Skinner's block lifted Kentucky to a 25-17 second set win to even the match at 1-1.
 
Set Three
BYU jumped out to a 1-0 lead, but UK fired back with a kill from Skinner. The Cougars scored the next two before a one-handed dig from Curry led to an Edmond kill, followed by an ace from Dusek to knot the score at three apiece. Lilley and Franklin teamed up for a block to extend UK's run. The Wildcats eventually earned a two-point edge at 6-4 off another crafty kill from Edmond, but BYU exerted a run of its own to tie it at six. Morgan laced a kill cross-court to snap the spurt. BYU eventually knotted it up at nine apiece, but Brown and Skinner turned back a BYU attack for another Big Blue block to spell the run. From there the teams traded points until Brown laid down her 1,000th career kill for a 12-11 Kentucky lead. Another kill from Edmond lifted the Cats to a 15-12 edge at the media timeout. Back-to-back kills from Morgan and Skinner pushed the lead to four at 17-13 and BYU opted for a timeout. Following the break, BYU was able to pull back to within two on two occasions but both times the Wildcats had an answer. Eventually the Cougars inched back to within one at 19-18 and Kentucky chose to take a timeout. Out of the timeout, Brown converted off the slide to lift UK to a multi-point advantage. From there, however, BYU continued to chip at the lead and eventually earned a one-point edge off of an ace at 22-21. Kentucky used its final timeout. Edmond answered out of the break with her 13th kill of the match to tie the score yet again. BYU would promptly score the next three points for a 25-22 lead and a 2-1 edge in the match.
 
Set Four
Brown opened the scoring with a solo rejection followed by a kill to get UK on the board first. After an extended rally it was Brown and Lilley who teamed up for a massive block to increase the lead to 3-0. Consecutive kills from Edmond gave the home team a 6-2 advantage and BYU opted for an early timeout. Following the timeout, UK's lead stretched to five following a BYU miscue. The Cougars rallied back to within one on two occasions with Kentucky coming up with an answer in both instances. A Franklin solo block enabled UK to recapture a three-point lead at 10-7. Consecutive errors by BYU increased Kentucky's lead back to five at 12-7. After Morgan reached double-figures in the kills' column for the second time this season to stretch UK's lead to six at 14-8, BYU chose to take its final timeout. Kentucky maintained the extensive advantage and eventually increased it to seven at 20-13 after Edmond tooled the block. BYU rallied for a 3-0 run to pull to within four at 20-16 and Kentucky chose to take a timeout to regroup. Following the timeout, BYU committed a service error and then Morgan came up with another kill. The Cats would not let BYU get any closer and the Blue and White forced a decisive fifth frame behind a 25-18 fourth-set win with Brown and Lilley teaming up for the block and the winning point.
 
Follow along with the Cats on Twitter, Facebook and Instagram, and on the web at UKathletics.com.