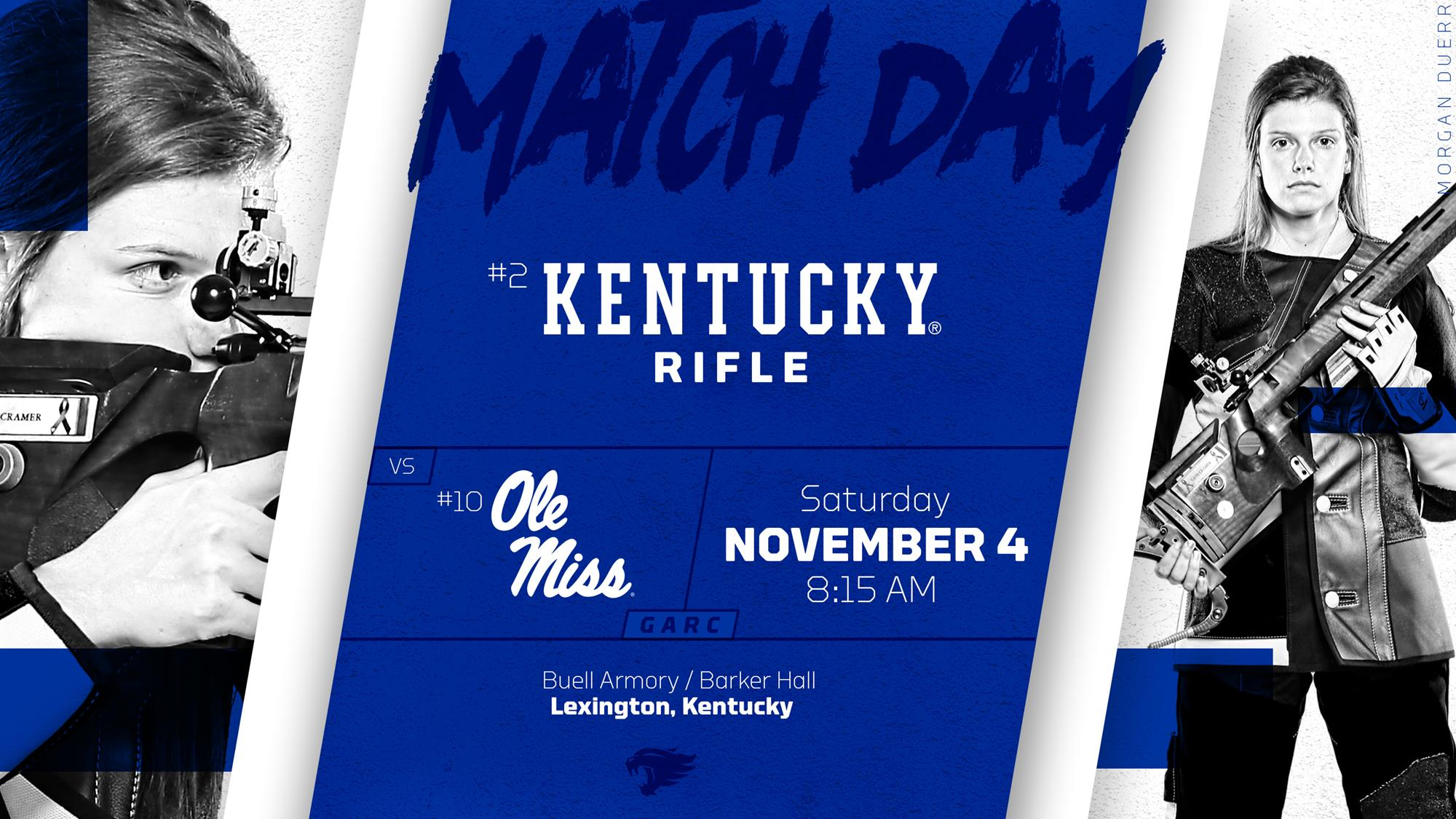 LEXINGTON, Ky. – Coming off a week where it received its third consecutive win and jumped another spot to No. 2 in the national rankings, the Kentucky rifle team is set to welcome tenth-ranked Ole Miss to Barker Hall and Buell Armory on Saturday for its final home match of the fall portion on the schedule. Match time is set for 8:15 a.m. ET.
 
Fans can follow the match with live targets and the UK Rifle Gameday Page.
 
"The team has been working hard all week to work out some of the issues that we saw in Akron," head coach Harry Mullins said. "This weekend will be a great opportunity to be able to test that."
 
UK will start the air rifle lineup of Billy Azzinaro, Hanna Carr, Cathryn Papasodora, Henrik Larsen, and Jenna Bethea. Bethea, a senior and native of Milledgeville, Georgia, will be competing in her final home match as Wildcat as she graduates in December. Over the course of her career, Bethea has fired her career-high air rifle score of 591 twice. Her best smallbore performance (583) came during her junior season at the Great American Conference Rifle Championships in Akron, Ohio. She also averaged 585.70 in air rifle during the 2016-17 regular season. Through two matches in the second relay this season, Bethea holds a 584 air rifle average.
 
"It has been a joy having Jenna on the team," Mullins said. "Now that she is going to graduate in December, I hope she continues on her path to great things in her life."
 
The Wildcats took down No. 11 Akron 4712-4638 on the road in their last match. Larsen led all shooters with an 1189 aggregate and his second-highest scores of the season in both disciplines. The Mysen, Norway, product holds a nation-leading 593.25 smallbore average, while his 596.75 air rifle average is just 1.1 points out of the top spot.
 
Carr enters Sunday's contest following her best smallbore score of the 2017-18 season – 588. A native of Versailles, Kentucky, Carr ranks ninth nationally in smallbore average (584.5) and 11th in air rifle (593.5). Both numbers also rank second on the team.
 
Papasodora and Azzinaro both cleared 590 at Akron in air rifle with 593 and 591, respectively. Both average just over 590 in air rifle and sit comfortably inside the top 25 in terms of smallbore average.
 
For the latest on the Kentucky men's golf team, follow @UKRifle on Twitter and on the web at UKathletics.com.