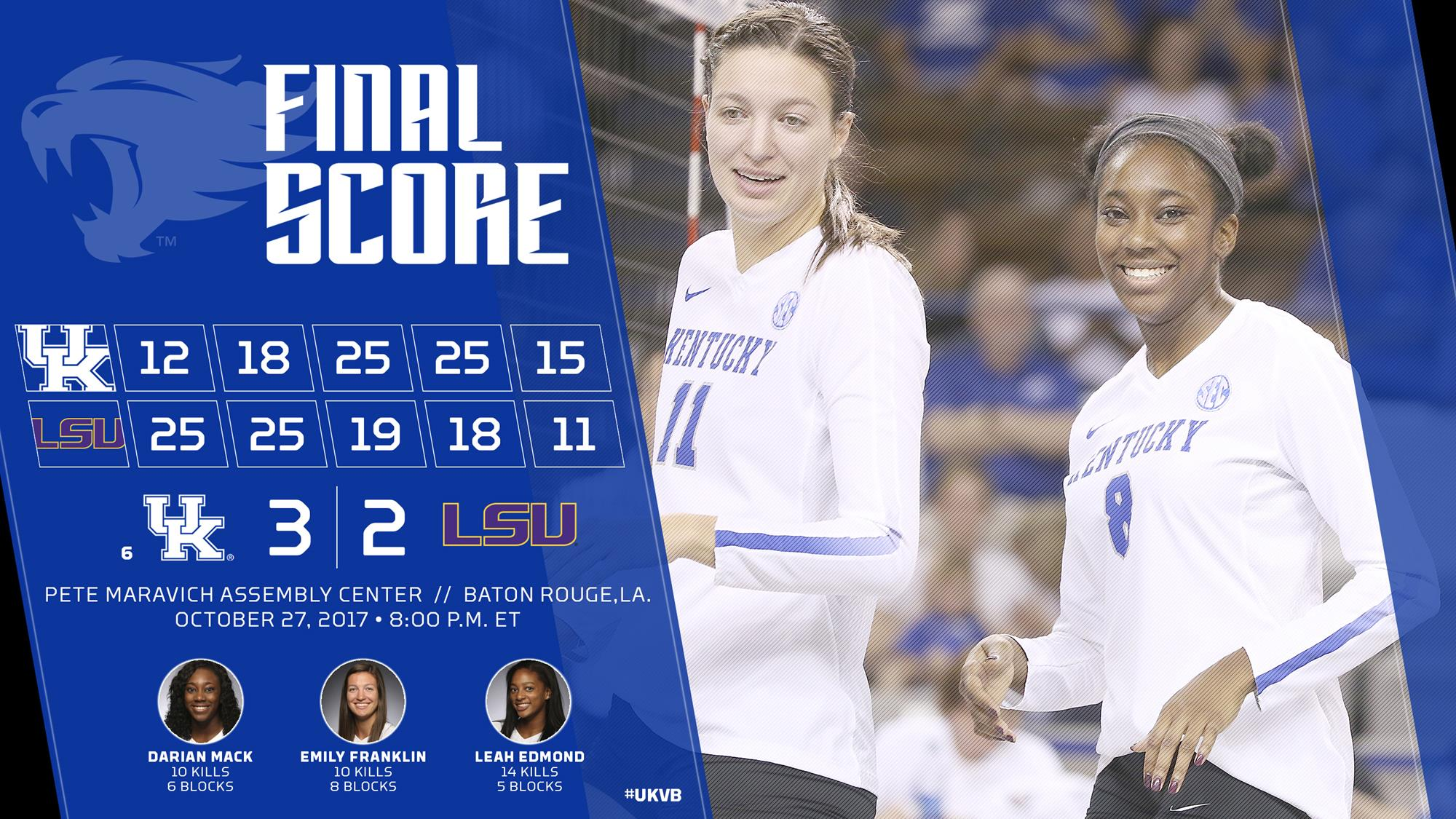 October 27, 2017 - 11:52 PM
No. 6 Kentucky Claws Back to Beat LSU, 3-2
BATON ROUGE, La. – The No. 6 Kentucky volleyball team completed a comeback from down 2-0 to beat LSU, 3-2, inside the Pete Maravich Assembly Center on Friday night. With the win, Kentucky improves to 18-2 and 9-0 in the Southeastern Conference, while LSU falls to 16-5 and 6-3 in the league.
 
"We need to be in situations like that and must know what that feels like," head coach Craig Skinner said. "Each time you're able to come back when you're not playing well and pull out a win on the road adds another layer of confidence. None of us want to play like we did the first set but it happens. It happens to the best teams in the country and anybody who plays volleyball."
 
The Wildcats were led on offense by five players with double-digit kills. Sophomore Leah Edmond led the way with 14, while seniors Kaz Brown, Emily Franklin and Darian Mack and freshman Avery Skinner each posted 10. Kentucky hit .199 as a team.
 
"I think we all had to wipe out those first two sets," Edmond said. "We had to focus on our side –not the errors – and keep going and making adjustments, like keeping balls in."
 
Kentucky recorded 14 blocks in the match. Franklin paced the Cats with eight stuffs, tying her season high. Mack had six blocks, including one solo stuff, which tied her career high. Edmond tied her season high as well with five, while Brown produced four. Skinner had one solo block and one block assist, while freshman Madison Lilley also had one.
 
"In our talks in the huddle, we just had to embrace the challenge," Mack said. "We've been put in situations like this in practice. We just had to remind ourselves that we've been here before and we can pull it out, we just have to take it one point at a time."
 
Lilley had 47 assists in the match and helped the Cats produce 58 kills as a team. She now has 12 matches in her career with 40 or more assists, and was one dig short of a double-double with nine.
 
Serving played a major role in the comeback. Lilley and Edmond each had two aces, while Franklin, freshman Gabby Curry, senior Ashley Dusek junior McKenzie Watson and senior Harper Hempel all had one. Hempel's won the match in the fifth set.
 
Curry led the way in digs at 14, while Dusek had 12.
 
Kentucky will continue its road trip on Sunday when it takes on Texas A&M at 2:30 p.m. ET in College Station, Texas. The match can be streamed live on Watch ESPN and SEC Network+.
 
Set 1
LSU grabbed the first three points of the set but Franklin got UK on the board with a kill and an ace to cut the Tiger advantage to 3-2. The Tigers rattled off two more points before a Mack kill got the lead down to 5-3. After an LSU error, the Tigers went on a four-point run and forced UK to use its first timeout down 9-4. Out of the timeout, LSU scored one more before back-to-back kills from Brown put UK back on the board and cut the Tiger advantage to 11-6. Kentucky got the lead down to 12-8 after a Skinner termination, but LSU fired back with three of its own to force UK to use its second timeout. Franklin and Lilley got a stuff out of timeout, and play seesawed until 16-10, when LSU fired off five-straight to go up 21-10. The Wildcats managed two more points – kills from Franklin and Nyberg – before falling, 25-12. Brown, Mack and Franklin all led with two kills in the set.
 
Set 2
Brown got UK the first point of the set. After LSU answered, Edmond had a kill and an ace to go up 3-1. Play rocked back-and-forth until 5-4, when UK went on a four-point run, capped by a block from Mack and Franklin, to force an LSU timeout. Out of the break, LSU had a kill and an ace but Edmond ended the small Tiger run to put UK up 10-6. LSU managed to tie the set at 10-10, forcing Kentucky to burn a timeout. Kentucky stopped the run with an Edmond hammer, but LSU put three more on the board to go up 13-11. Another Edmond kill cut the Tigers advantage to 13-12. At 17-13, Kentucky used its second timeout of the set. The Cats got the lead down to 19-15 after an error and kill from Nyberg, but LSU won the set, 25-18.
 
Set 3
Kentucky started the set on a 3-0 run that included two blocks from Franklin and Mack. LSU grabbed a kill before UK went on another 3-0 run that was capped by a solo stuff from Mack. The Tigers trimmed the advantage to 6-5, but UK responded with three straight to go up 9-5. UK went up 11-7 after an Edmond kill and an ace. LSU stopped the mini-run but UK had three more, capped by a stuff from Franklin and Skinner to take a 14-8 advantage. The teams traded points and UK led 15-9 at the media timeout. Edmond had an ace out of the timeout and then a block from Franklin and Mack gave the Cats a 17-9 advantage. UK pushed forward to 19-10 with a Franklin termination. UK went up 10 at 22-12, but four straight from LSU forced UK to burn a timeout. Kentucky grabbed two out of the timeout after a kill from Edmond and a block from Skinner, and would win the set 25-19.
 
Set 4
UK won the first two points of the frame after a termination from Franklin and a block from Brown and Mack. Play seesawed until LSU was able to tie the set at 4-4. Kentucky got out to an 8-5 advantage with the help of a Lilley ace, but LSU answered to tie the set at 8-8. Neither team could gain a significant advantage until Edmond and Brown earned terminations, while Watson had an ace to go up 13-10. Kentucky went up 16-12 after another Brown kill. Teams would trade points until UK was able to find a 20-14 lead after a Curry ace and force LSU to use a timeout. A Mack termination and block from Brown and Edmond would give UK a 23-16 advantage. UK won 25-18 after a ball handling error.
 
Set 5
Kentucky won the coin toss and served first, but LSU won the first point. A Tiger attacking error gave Kentucky the first point of the set and the Tigers managed a 3-1 early lead. UK won an important challenge to go up 4-3. UK went up 8-6 on a Franklin kill that was helped from a diving dig from Watson. LSU had the lead down to 10-9, but a Skinner kill, block from Franklin and Edmond and an Edmond hammer got the lead up to 13-9 and forced LSU to burn its last timeout. LSU rattled off two straight out of the timeout to get the UK advantage to 13-11 and force Kentucky to call timeout. Kentucky won the set, 15-11 on a Hempel ace that went off the net.
 
Follow along with the Wildcats on Twitter, Facebook and Instagram, and on the web at UKathletics.com.