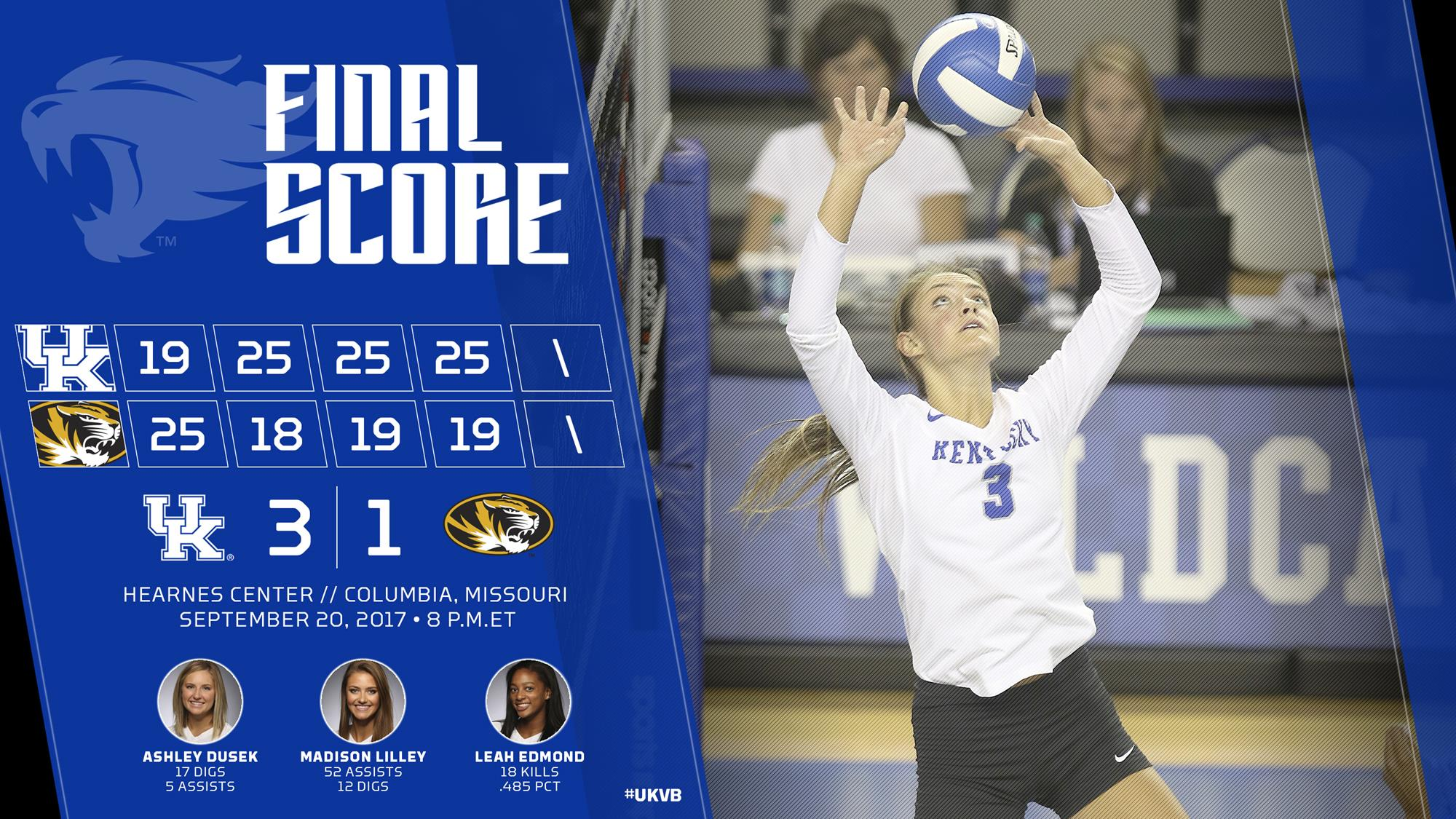 September 20, 2017 - 10:37 PM
No. 10 Kentucky Rallies to Beat Missouri, 3-1
COLUMBIA, Mo. – Behind a career offensive day from sophomore Leah Edmond and the fifth double-double of the year from freshman Madison Lilley, the No. 10 Kentucky volleyball team opened Southeastern Conference action with a 3-1 (19-25, 25-18, 25-19, 25-19) win at Missouri on Wednesday.
 
Kentucky improves to 10-2 overall and 1-0 in league play. Missouri drops to 7-7 and 0-1 in the SEC. UK will return to action on Sunday with a home date against LSU at 1:30 p.m. ET.
 
"I'm really pleased with the mental toughness after set one," UK coach Craig Skinner said. "Gabby's (Curry), (Darian) Mack's play off of the bench and our middles patrolling the net were difference makers while the match went on. Missouri is always tough at home and it was great to play better and better throughout the match."
 
Edmond shined for the Wildcats after posting 18 kills on a career-best .485 hitting percentage. Edmond committed just two errors on her 33 swings en route to the productive night. In an all-around effort, Edmond finished just two digs shy of a double-double with eight. She also had four total blocks.
 
Lilley added her fifth double-double of the season behind 52 assists and 12 digs. The freshman setter matched her career high in digs with 12 and posted 50 or more assists for the third time in her young career. She helped UK hit .313 over four sets and produced 63 kills.
 
Freshman Avery Skinner produced her eighth double-digit kill total of the season behind 14 hammers on 37 attacks. Seniors Kaz Brown and Emily Franklin both totaled eight kills. Franklin was a beast on the frontline with a match-high eight blocks. It marked the fifth time in her career she has totaled eight or more blocks in a single match.
 
Senior Darian Mack made her presence felt with eight kills on a .333 attacking clip. Junior Brooke Morgan contributed three kills to the winning cause.
 
In addition to Lilley and Franklin's stellar defensive play, senior libero Ashley Dusek led all players with 17 digs. It was a season-high for the two-time SEC Libero of the Year. Freshman Gabby Curry chipped in with five scoops, while junior McKenzie Watson added three. Curry also contributed three service aces.
 
Set 1
Missouri earned the first two points of the set. Franklin put the Wildcats on the board with a kill. Teams traded points until Mizzou went up 5-2 after rattling off two straight. After going down 10-7, Kentucky tied the set thanks to a Brown termination and two attacking errors. UK grabbed the lead at 13-12 on the back of Skinner. Mizzou fired back and led 15-13 at the media timeout. Out of the media timeout, Kentucky was forced to burn one after Mizzou went on a 3-1 run to go up 18-14. Kentucky couldn't cut the lead, and Missouri won the set 25-19.
 
Set 2
Kentucky earned the first point of the set, a block from Morgan and Franklin. After Mizzou tied it at 3-3, UK went on a 5-0 run, capped by an Edmond kill after the helper from Lilley. MU scored to make it 8-4, then the Cats went on another run, this one 3-0, helped by kills from Brown and Lilley to go up 11-4. Mizzou cut the lead to 12-8. Kentucky got back out to a 16-10 lead after a kill and a block from Franklin, forcing MU to burn its second timeout. Lilley grabbed an ace out of the break to extend the Wildcats' advantage to 17-10. Play seesawed until MU was able to cut the lead to 21-16. Kentucky ended the run on a Brown kill with the help of Dusek. Kentucky won the set, 25-18 after kills from Brown and Skinner.
 
Set 3
Kentucky grabbed the first two points of the set after kills from Skinner and a block from Franklin and Mack. Mizzou tied the set, and then UK went on a four point run after kills from Skinner, Franklin and Mack and a Curry ace. Play seesawed until 10-8, where the Cats swung the set with three straight. Missouri answered with three of its own, and then UK did the same to go up 16-11after kills from Edmond and Mack to force a Tigers' timeout. Both teams traded points until the Cats finished the set with two kills from Edmond and Mack to win 25-19.
 
Set 4
Kentucky took the first three points of the set from Skinner kills and back-to-back blocks from Mack and Franklin. A Curry ace made it 5-1. The Tigers earned the lead down to 6-5, and tied the set at 7-7. After play alternated a bit, Kentucky went on a three-point spurt to go up 12-0 after kills from Skinner and Mack. Mizzou scored out of a timeout, but then UK rattled off three more to take a 15-10 advantage. UK grabbed its largest lead of the set at 16-11. Missouri was able to cut the lead 18-15, forcing a Wildcats' timeout. Missouri got the lead down to two at 20-18, but UK would score five of the final six points for the 25-19 win. The match was capped with a kill from the hand of Franklin.
 
Follow along with the Cats on Twitter, Facebook and Instagram, and on the web at UKathletics.com.