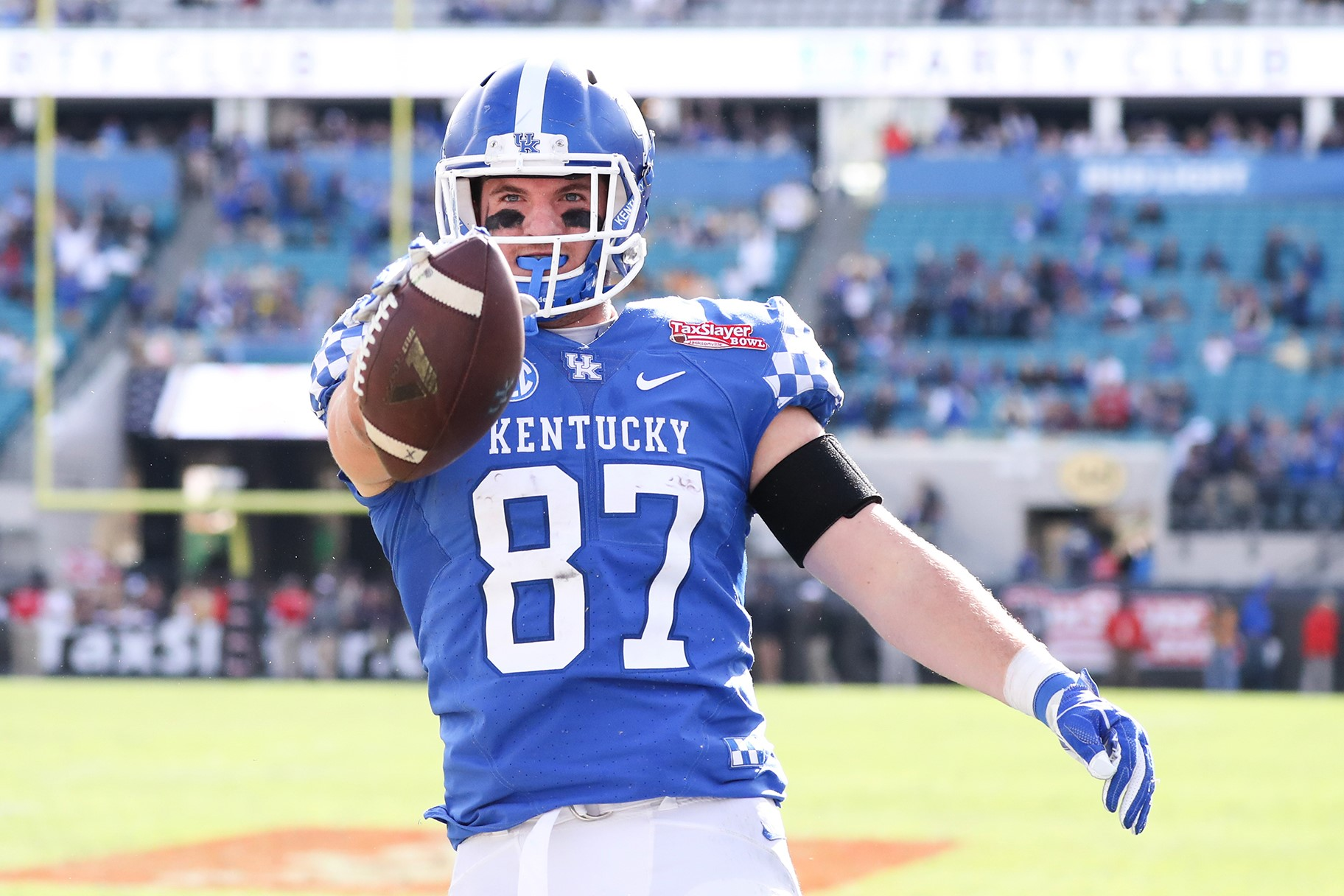 Buy the Kentucky Football Yearbook at Kroger Field and at Kroger stories across the state or by clicking this link
UK recently announced a new plan for honoring teams that produce memorable seasons for themselves and the Big Blue Nation. On paper, there are many reasons to think this year's Kentucky football team can have one of those campaigns worthy of celebration a decade from now.
Look at some of the best football seasons for this program since Bear Bryant left town in the early 1950's and you see that several of them were preceded by seasons that were much better than anyone anticipated.
The 10-1 team in 1977 came on the heels of a Peach Bowl championship. That squad stood 4-4 late in the '76 season before making a strong stretch run.
In 1984, Kentucky posted eight regular season wins and then captured the Hall of Fame Bowl. The year before, a UK team was winless in '82 scratched out six wins and a bowl trip in '83 and with most of the key players returning, that set the table for the success the next season.
And in 2007, when Kentucky upset two top 10 teams, including a win over a top-ranked opponent for the first time in over 40 years, that team could look back to '06 and tip a cap to the group that dug out of a 3-4 hole to finish strong and give the school its first bowl win in 22 years.
Last year's Kentucky team out-performed expectations in reaching the TaxSlayer Bowl and tying for second-place at 4-4 in the SEC East. And the level to which those Cats overachieved went up several notches when you recall the 0-2 start. Phil Steele's annual preseason magazine notes that only two teams in the nation return more starters than UK's 17 so the combination of that experience and continually improving recruiting done by Mark Stoops and his staff make it suddenly not so hard to envision that season serving that table-setting role for what the 2017 team can accomplish.
Steele predicts a fourth-place tie with South Carolina for the Cats in the SEC East. That's in part because he foresees significant improvement this season for Florida, Georgia and Tennessee, who are picked above UK in that order. Still, he wrote of Kentucky that an end of the long run of futility against those schools can enable Stoops and company to win the East.
Steele projects improvement on the 30-point-per-game average UK posted last season and he said during a recent appearance on my radio show that he thinks the defense will be better, too.
"There were 143 starts on defense last year and 115 of them are back. They have 78 percent of their tackles returning. Their defense gave up 434 yards per game and 31.3 points-per-game last year but I'm projecting they drop it down to 26.6 and that's saying something because everybody scores a lot more than they did five years ago. I think it's going to be a very good year. I do nine sets of power ratings and five of them say they will top last year's seven-win total."
Steele's analysis of every team always includes close inspection of the turnover margin stat. Kentucky ranked last in the SEC last season and still won seven games so that bodes well, given the nature of turnover numbers to change from year to year.
"Back in 1995, when I put the first magazine out, the first metric article I wrote is 'turnovers equal turnaround'," Steele said. "Teams that benefited from large 'plus' turnovers always had a weaker record the next year–and vice versa. (Kentucky's number from last year) is a good sign for the upcoming year. A lot of those (turnovers) were fumbles by (Stephen) Johnson and that should improve. If they turn that into a positive ratio, all of those close wins they had last year might not be so close (this year)."
Heading into last season, Stoops talked about an increased "capacity" for his players, in terms of what the coaching staff could demand of them. That increases this year and was buoyed by several weeks of extra practices in preparation for the bowl trip.
"That's a big part of the growth of the football team, during the offseason," Stoops said on "The Leach Report" radio show earlier this year. "You get 'em up early, work 'em out and attack that weight room and do the fourth-quarter drills. That's where you build the character of your team and we needed to endure more and handle the workload. Whether it's the little things like paying attention in the meeting room, or lifting longer or running harder–I feel like we are a stronger football team. We pushed them harder than ever this winter and I like how they responded. That's a sign that we're maturing.
"We'll stay on them and push them harder than they've ever been pushed since we've been here," Stoops continued. "Our confidence level needed to rise. I'm not into that false confidence stuff, where guys are chirping and all that nonsense. You have to earn the right to be confident from the work that you do and the preparation and I feel like we have made a giant step in that area. (But) we will stay on our players to stay humble and hungry."
UK wideouts coach Lamar Thomas played his college football at Miami before heading off to the NFL and the Hurricanes never lacked for confidence. Managing success and praise can be a much different challenge than battling through adversity and doubts and that's the challenge the Wildcats face this fall. Thomas says he stresses to his guys that leadership–"and not just one or two guys"–is crucial to navigating that path.
"Now that we've had some success, you gotta show these younger guys are going to help us," Thomas said of his message. "We're getting better players into the program and you have to be able to lead by example–on and off the field. That's where the program is starting to change. We're getting those guys in here. Getting a little taste of that success was great for the university and the athletic department but you got to want more. Now, it's time for the players to see that and go get it."
One common theme to Kentucky's best teams over the years has been the play from the quarterback position. One doesn't have to put up Tim Couch-like numbers but Kentucky needs a signal-caller who can at least minimize mistakes and capitalize on opportunities when they present themselves. Junior college transfer Stephen Johnson did lose some key fumbles but he threw only six interceptions versus 13 touchdowns. And his average of one interception per every 44 attempts was the fifth-best ratio in the league.
Johnson saved his best performances for the most crucial moments, such as making key completions in fourth-quarter comeback wins over Louisville and Mississippi State. According to cfbstats.com, Johnson completed 61 percent of his passes with only one interception in situations where UK trailed by one-to-seven points. The slender slinger demonstrated a keen ability to throw the deep ball, as Kentucky fashioned an offensive attack under his leadership that resembled the Oakland Raiders of the late 1960's and early 70's–power running attack complemented by frequent pass plays. Where Johnson must improve is in the intermediate passing game. Kentucky ranked second in the SEC in yards per attempt on first down runs (6.0) but despite those good starts to drives, the Cats finished 12th in third-down conversions.
"I thought that was an interesting situation when he had to come in," observed ESPN analyst Kirk Herbstreit. "He, himself, is a microcosm of the season. There are moments when you watch him play and think this guy is on fire and there are other times where he really struggled and then finished on such a high note against Louisville. (Last year) they had an idea what he could do but having to adjust in the middle of a season is a different from having a whole offseason to build around a certain player's skill set. To be able to have a quarterback that gained the experience he gained is invaluable."
One area where Johnson consistently excels is leadership and his junior college coach, Jack Steptoe, says no one should be surprised about that.
"He's a true leader. He's not a rah rah guy but people gravitate to Stephen because of his demeanor. He's just a down-to-earth guy and treats people like he wants to be treated," said Steptoe. "He's the kind of guy you want to have as a friend. I can't say enough about him."
Johnson figures to have the quarterback's best friend–a strong running game. Benny Snell set UK freshman rushing records with 1,091 yards and 13 touchdowns. A redshirt freshman, A.J. Rose, has generated an abundance of buzz among UK practice observers since late last fall and Sihiem King finally gets his chance to show what he can do, now that Boom Williams and Jojo Kemp have moved on.
C.J. Conrad leads a tight end corps that desperately needs Johnson to upgrade his mid-range passes. If that happens, Conrad might have that breakout year fans have been expecting. Big-play man Jeff Badet took his talents to Oklahoma but Kentucky has "go-to guy" candidates in returning wideouts like "Juice" Johnson and Dorian Baker.
On defense, Stoops acknowledges the need for an upgrade in production from the interior of his defensive line. But UK's back seven defenders stack up well against their SEC brethren. Linebacker Jordan Jones and safety Mike Edwards have received frequent All-SEC mentions this summer and outside linebackers Denzil Ware and Josh Allen ought to give Kentucky its best pass rush since 2008, when it ranked third in the SEC in sacks. In the secondary, the return of Darius West (a projected starter going into last season) can hopefully ease the sting of losing versatile DBs like Blake McClain, Marcus McWilson and J.D. Harmon.
As for special teams, Austin MacGinnis was Mr. Clutch, hitting game-winners against UofL and Mississippi State, but Kentucky ranked 13th in punting–and the spring game performance failed to bolster any confidence about a significant improvement. New special teams coach Dean Hood, however, remains optimistic that year two for highly-regarded punter Grant McKinniss will be better.
"He's inconsistent but he shows he can do it. In the spring game, it was reflective of the season where he was hitting some and not hitting some. We've got some guys coming in that have ability and that's going to help. Anytime you have competition, that's always good so I feel like we'll be in good shape when the season rolls around," Hood noted.
One thing's for sure about this season and beyond the competitive fire of the head man will not wane. Herbstreit can vouch for that.
"I've been around the whole Stoops family for a long time and if you've been around all the brothers, they are incredibly, off-the-charts competitive. I don't care if I'm playing Mark in bocce ball or ping pong or shooting darts or goofing around shooting pool, it's like we're playing for a million dollars. So when you put Mark in Lexington, in the SEC, with his background and the success he's had, it really allows him to open up and spread his wings," Herbstreit offered. "At 7-5, that's really a start to building some momentum. They (fans) should be proud of the direction this program is headed under Mark. I think the goal should be every year 'let's go to a bowl game'. And when the stars align right and you've got a good group of seniors, why not push to win the East. I think those are realistic goals they should be shooting for."
Here are four key stats that I will be following closely for improvement this season:
Turnover margin. It's rare to rank last in the SEC and exceed expectations. Kentucky did that last season but I would guess the odds of a repeat of that scenario would be slim at best;
Third-down completion percentage. Stephen Johnson completed 47.7 percent of his third-down throws last season, which ranked 14th in the SEC.
First-down defense against the run. Kentucky gave up a league-worst 5.4 yards-per-attempt on first down runs last season. Stoops has stressed the need to improve in negative yardage plays and getting the opponent into more second-and-long situations helps make that happen.
Punting. Kentucky ranked 115th in the nation in net punting last season at 34.59 yards per punt minus the return yardage. UK surrendered only one punt return of 20-or-more yards so the coverage unit was solid. Giving up field position in the exchange of punts and missing opportunities to pin an opponent near its own endzone are both key factors in losing close games (which only serves to underscore how resilient last year's team was in getting to seven victories).

There's every reason to believe any, or all, of the stats can improve and they more than do, the better chance for Kentucky to have one of those "special" seasons that make reunions extra festive