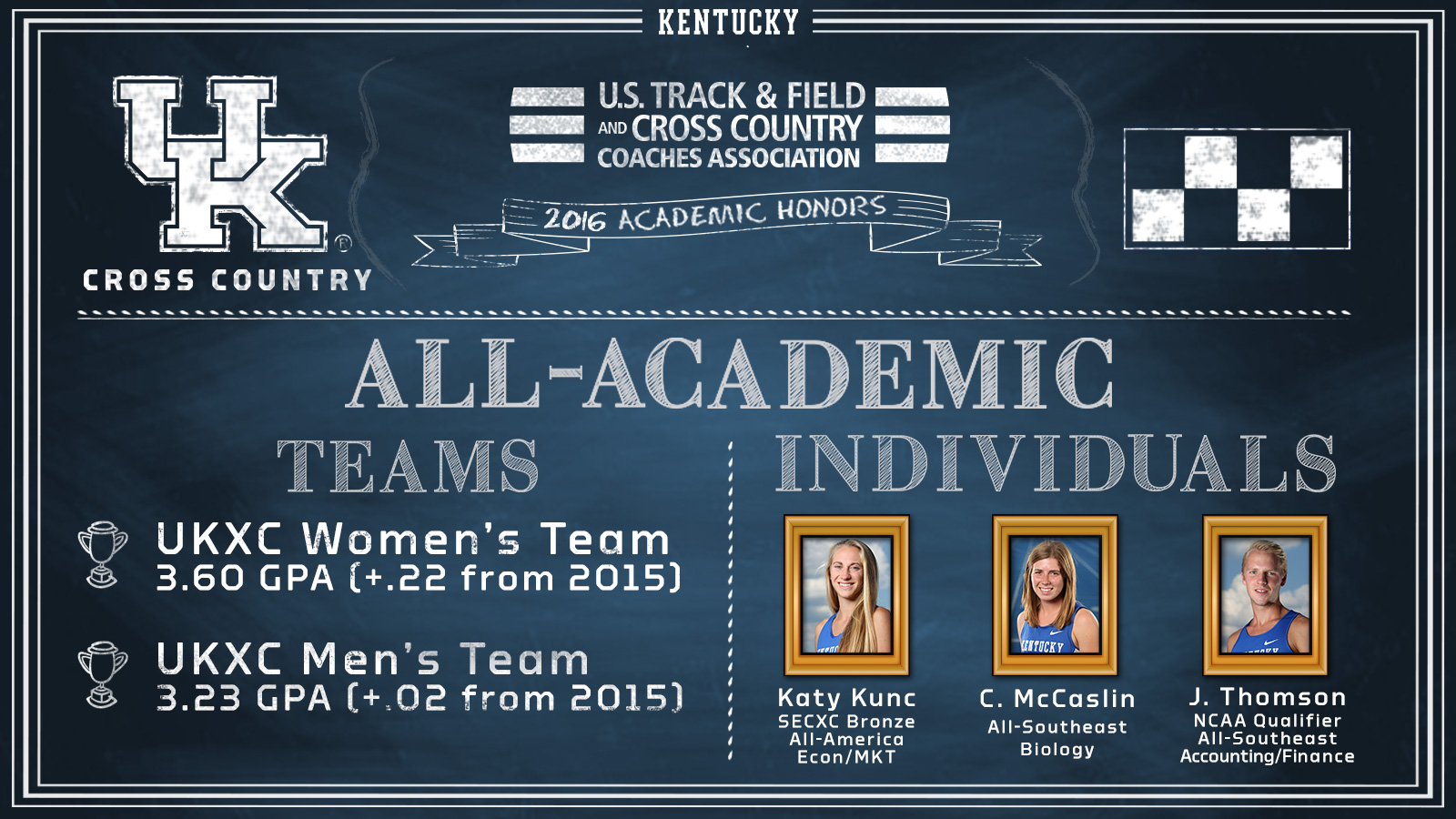 February 9, 2017 - 08:37 PM
UK Cross Country Earns Multiple Academic Honors
LEXINGTON, Ky. – For yet another season both Kentucky's men's and women's cross country teams earned
All-Academic honors
from the U.S. Track & Field and Cross Country Coaches Association.
The Kentucky women's team had a 3.60 GPA, an increase from the 3.38 they earned the same honor with last season. The UK men's team had a cumulative 3.23 grade-point average, up .02 from the year prior.
The UK men's and women's teams have both earned All-Academic honors from USTFCCCA in all of head coach Edrick Floréal's five years at the program's helm.
To be eligible for the All-Academic honors teams need a cumulative GPA better than 3.0 and to start at least five runners at the NCAA East Regional Championships.
To be eligible for the award, they needed a cumulative GPA of 3.25 or higher on a 4.0 scale in addition to being an All-American finisher or top 25 finisher (or top 10%) at an NCAA Regional meet. 
Thomson qualified for the NCAA Championships for a second year in a row. He was named Southeastern Conference Scholar Athlete of the Year.
Kunc placed 33rd at her first NCAA Championships in November, earning All-America honors. Kunc claimed the SEC Bronze Medal. She was an All-Southeast Region finisher for the second year in a row.
McCaslin placed 23rd in a 6k PR 21:07.10 at Southeast Regionals to earn All-Southeast honors.
—
The Kentucky cross country program placed
16 Wildcats – eight men and eight women
– on the 2016 Southeastern Conference Fall Sports Academic Honor Roll, Commissioner Greg Sankey announced Wednesday.
More broadly Kentucky's fall sports teams placed 85 student-athletes on the SEC Honor Roll.
UK's 85 student-athletes represented the third-highest number in the league.  A total of 1,029 student-athletes from around the SEC were named to the honor roll, covering the sports of cross country, football, soccer and volleyball.  The honor roll covers grades from the 2016 spring, summer and winter terms.  
Any student-athlete who participates in a Southeastern Conference championship sport or a student-athlete who participates in a sport listed on his/her institution's NCAA Sports Sponsorship Form is eligible for nomination to the Academic Honor Roll. The following criteria will be followed: (1) A student-athlete must have a grade point average of 3.00 or above for either the preceding academic year (two semesters or three quarters) or have a cumulative grade point average of 3.00 or above at the nominating institution. (2) If a student-athlete attends summer school, his/her grade point average during the summer academic term must be included in the calculation used to determine eligibility for the Academic Honor Roll. (3) Student-athletes eligible for the Honor Roll include those receiving an athletics scholarship, recipients of an athletics award (i.e., letter winner), and non-scholarship student-athletes who have been on a varsity team for two seasons. (4) Prior to being nominated, a student-athlete must have successfully completed 24 semester or 36 quarter hours of non-remedial academic credit toward a baccalaureate degree at the nominating institution. (5) The student-athlete must have been a member of a varsity team for the sport's entire NCAA Championship segment.
Name

 Major

UKXC Men's Team SEC Academic Honor Roll

Gabe Harm

 Economics

Spencer Hrycay

 Economics

Ian Jones

 Human Health Sciences

Tim Layten

 Journalism

Kendall Muhammad

 Human Health Sciences

Daniel Southard

 Marketing

Jacob Thomson

 Accounting/Finance

Ben Young

 Mathematical Economics

UKXC Women's Team SEC Academic Honor Roll

Aundrea Busse

 Human Nutrition

Avery Bussjager

 Biology

Amy Hansen

 Animal Sciences

Katy Kunc

 Economics/Marketing

Caroline McCaslin

 Biology

Michelle McKinney

 Human Nutrition

Devynn Miller

 Mathematics

Jill Weston

 Accounting/Mathematical Economics
—
For the most in-depth coverage of the UK cross country and track and field program follow the @KentuckyTrack social media channels on
Instagram
,
Twitter
and
Facebook
as well as on
UKathletics.com
.