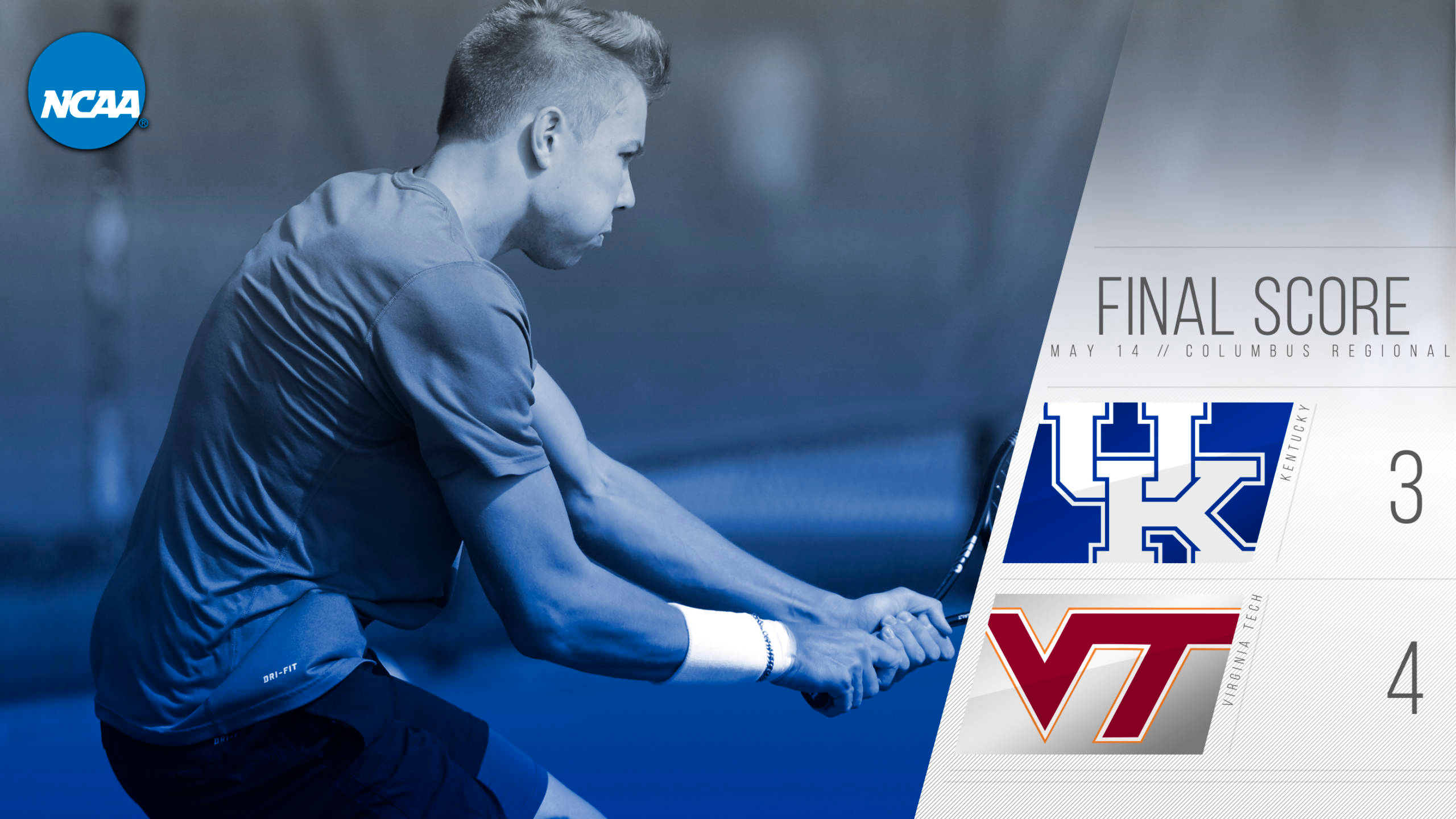 Kentucky Men's Tennis Fall in NCAA Tournament Heartbreaker
COLUMBUS, Ohio – Despite an incredible comeback from freshman Austin Hussey late in singles action, the Kentucky Wildcats men's tennis team saw itself exit the NCAA tournament earlier than it hoped, dropping a 4-3 decision to the Virginia Tech Hokies on Saturday morning at the Ohio State Varsity Indoor Tennis Center.
Trailing 3-1, Kentucky looked poised to retaliate with three singles matches remaining. Junior Nils Ellefsen began the swing for the Wildcats. The Oslo, Norway, native took the first set behind a gutsy, 14-12, tiebreak before clinching UK's second point with a 6-4 victory in the second.
With two matches remaining, things looked daunting for the Wildcats. After splitting the first two sets, freshman Austin Hussey trailed 2-5 in the third set. When defeat looked inevitable, the Kentuckian strung together three impeccable games to tie the set at 5-all. The sides split the next two games before Hussey stormed past Virginia Tech's Jai Corbett, 7-2, to tie the match at 3-3.
The efforts weren't enough, as freshman Ryotaro Matsumura fell in three sets, 6-4, 3-6, 6-3 to Andreas Bjerrehus for the final team point. 
Kentucky found itself in a disadvantage early on, falling in the eventually crucial doubles point. Early on the Wildcats looked in control, with two of three courts leading, including a 2-0 lead on the third court in which Matsumura and sophomore Jake Stefanik dropped just one point in the first two games. UK's luck would turn, however, as the Hokies claimed the top and bottom doubles courts, each by a 6-3 score. 
UK righted the ship after the doubles point, as sophomore Trey Yates earned the first singles point for the Wildcats. The Dunwoody, Ga., native ran Edoardo Tessaro back and forth, cruising to a 6-3, 6-3 win in just under an hour to tie the match at 1-1.
Kentucky then saw a pair of its own fall in quick succession. Sophomore William Bushamuka dropped the match on the top court, 6-4, 6-4, before freshman Enzo Wallart faced a 6-3, 6-4 setback on the fourth court for a 3-1 deficit. 
#33 Virginia Tech 4, #20 Kentucky 3
 Singles competition 
1. #14 Joao Monterio (VT) def. #29 William Bushamuka (UK) 6-4, 6-4
2. #72 Andreas Bjerrehus (VT) def. #42 Ryotaro Matsumura (UK) 6-4, 3-6, 6-3
3. Nils Ellefsen (UK) def. #107 Amerigo Contini (VT) 7-6 (14-12), 6-4
4. #77 Edoardo Tessaro (VT) def. Enzo Wallart (UK) 6-3, 6-4
5. Trey Yates (UK) def. Mitch Harper (VT) 6-3, 6-3
6. Austin Hussey (UK) def. Jai Corbett (VT) 3-6, 6-4, 7-6 (7-2)
 Doubles competition 
1. #21 Andreas Bjerrehus/Joao Monterio (VT) def. #43 Nils Ellefsen/Enzo Wallart (UK) 6-3
2. William Bushamuka/Trey Yates (UK) vs. Amerigo Contini/Edoardo Tessaro (VT) 4-4, unfinished
3. Jai Corbett/Mitch Harper (VT) def. Jake Stefanik/Ryotaro Matsumura (UK) 6-3
Match Notes:
Virginia Tech 17-8; National ranking #33
Kentucky 19-9; National ranking #20
Order of finish: Doubles (3,1); Singles (5,1,4,3,6,2)
NCAA Tournament First Round
Official: Jeri Banks  T-2:48