UK Athletics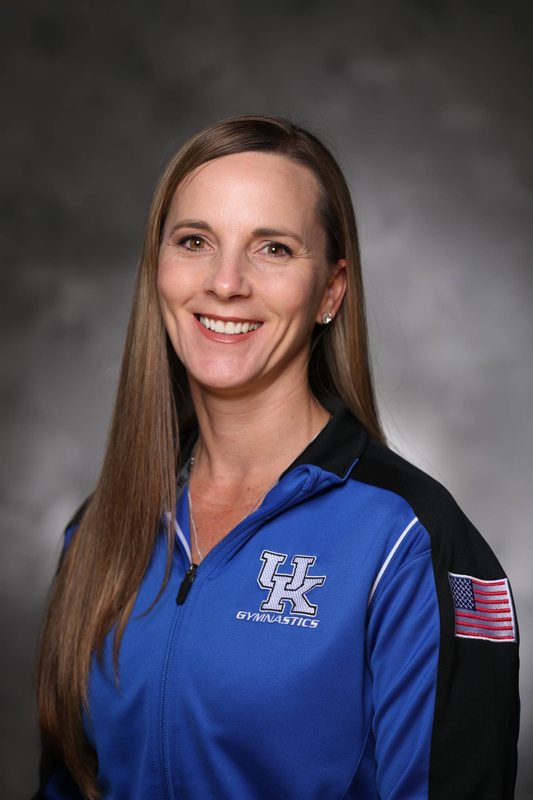 Rachel Garrison enters her fourth season as gymnastics associate head coach—after a four-year stint as assistant coach and four additional years volunteering with the program—at the University of Kentucky in 2022.
Garrison, a 2018 National Association of Collegiate Gymnastics Coaches/Women National Assistant Coach of the Year, has helped guide the Wildcats to over 100 wins while splitting duties as a recruiter and beam coach.
Kentucky set a new school record with a beam rotation of 49.525 in the NCAA Salt Lake City Regional final on April 3, 2021. The Wildcats finished the 2021 season ranked 13th on beam in the Road to Nationals Team National Standings, tying their highest ranking on any event that season.
All-Southeastern Conference performer Bailey Bunn competed as an individual on beam at the NCAA Championships, while Raena Worley was named a second-team Women's Collegiate Gymnastics Association Regular Season All-American on all-around.
Garrison oversaw a Kentucky beam rotation that finished among the nation's top 15 with a Team National Qualifying Score of 49.190 on the event in a 2020 season cut short due to the COVID-19 pandemic.
Garrison helped guide the Wildcats to their best national ranking of any event with a No. 8 finish on beam in 2019. Kentucky tied the second-best single-meet beam score in program history with a 49.425 total in an upset of No. 5 LSU on Feb. 18, then surpassed the mark with a 49.450 versus Central Michigan on March 8. Kentucky had an individual match or surpass the 9.900 benchmark on beam 15 times on the season.
Senior Alex Hyland was named a second-team WCGA All-American and All-Southeastern Conference on beam (as well as a WCGA All-American and second-team WCGA Regular Season All-American as an all-around competitor), while Josie Angeny was named SEC All-Freshman on beam.
In 2018, Garrison was part of a UK gymnastics staff named NACGC/W National Head and Assistant Coaches of the Year.
Garrison's coaching experience spans 20 years, as she developed gymnasts ranging from beginners to level 10 and elite status.
Prior to her time as a volunteer assistant for the Cats, Garrison served as a program director at the Nebraska School of Gymnastics for five years. While in Lincoln, Garrison guided gymnasts to qualify for Junior Olympic nationals in each of her five years. Garrison also produced a regional beam champion and played a critical role in recruitment, successfully increasing the enrollment in the program from 40 participants to over 170 members during her tenure with the School of Gymnastics.
Before heading to Nebraska, Garrison spent over a decade coaching at multiple clubs across California, with the most prominent being SCEGA in Temecula.
Garrison is a graduate of San Diego State University, where she earned a Bachelor of Science in Kinesiology with a specialization in pre-physical therapy in 1999. Rachel is married to UK gymnastics head coach Tim Garrison and the mother of three daughters and two sons.
Read more