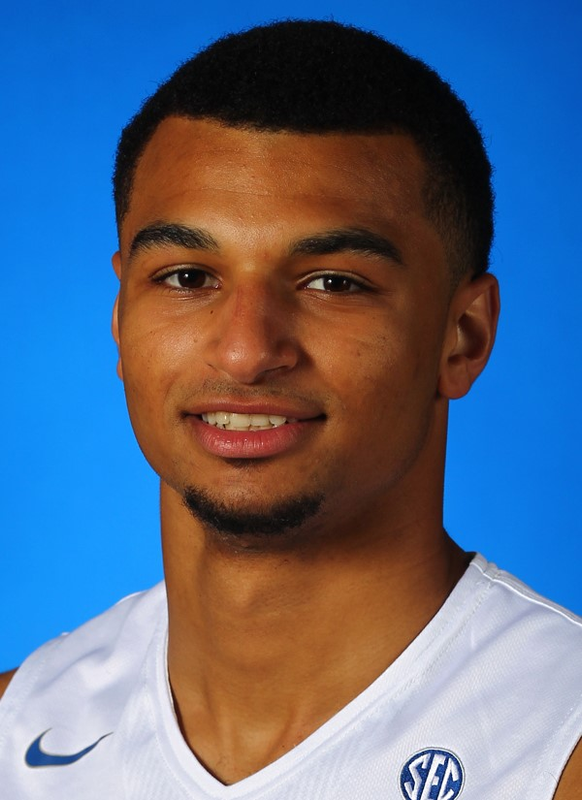 23
Jamal

Murray
height

6-4

Weight

207

class

Freshman

Hometown

Kitchener, Ontario

High school

Athlete Institute
Follow @BeMore27 on Twitter | Follow @jmglitxh27 on Instagram
2015-16
Freshman: Turned in one of the most prolific individual seasons in program history … Named a third-team All-American by the Associated Press, one of the four NCAA-recognized All-America teams … A freshman All-America selection by the Sporting News and the U.S. Basketball Writers Association … A second-team All-America pick by USA Today and Scout … Selected for CBS Sports' All-America Third Team … Also made the All-SEC First Team and an All-SEC Tournament team honoree … Selected for the SEC All-Freshman Team … USBWA Wayman Tisdale Freshman of the Year finalist … Tabbed to the NABC District 21 Team … Tied for the SEC high with five SEC weekly honors, including one SEC Player of the Week award and four SEC Freshman of the Week honors … Averaged 20.0 points, 5.2 rebounds, 3.14 3-pointers and 2.2 assists per game … His 20.0 points per game are the most by any freshman in program history and the most for any player in John Calipari's tenure … Scoring average was also the most by a Calipari-coached player since Dajuan Wagner averaged 21.2 points per game during the 2001-02 season at Memphis … Nationally, his scoring averaged ranked second among all freshmen … Strung together 12 games of 20 or more points which is tied for the second-longest streak in program history … He became the first freshman in school history to total three games with 30 or more points, including a 35-point performance against Florida, which tied the single-game freshman scoring record held by Terrence Jones …  First player in the Calipari era to score 700 or more points, and only Cotton Nash, who reached 700 points in 30 games in 1961-62, did it faster at UK … All-around scorer, but was incredibly productive behind the arc with 113 made 3-pointers on the year … That mark is the second-most in a single year in program history, just four shy of Jodie Meeks' record … It is the most for any freshman in SEC history … It is also the second most by a freshman in NCAA history, just nine shy of Stephen Curry's record set in 2006-07 … He made at least one 3-pointer in all 36 games this season, becoming the only player in program history to achieve that feat … His stretch of 36 games with at least one made 3-pointer broke Tony Delk's record of 34 consecutive games with a made 3, which was set over two seasons … Additional UK freshman records Murray set include: most games of 20 or more points (18), points in a single season (720) … Scored in double figures in 35 of 36 games and in 34 straight, while scoring 15 or more points in 31 contests … The 34 straight games in double figures are the most since Kenny Walker had 36-straight double-figure scoring games in 1985-86 … Became the first UK player to score at least 18 points in each of the first seven SEC games of a season since Meeks in 2008-09 and is the first freshman in school history to achieve the feat … He averaged 26.4 points per game in February, the highest scoring month for a Wildcat since Meeks averaged 28.0 points per game in January 2009 … According to ESPN, Murray was the nation's leading scorer at 25.8 points per game from Feb. 1 to March 3 … His eight 3-pointers against Florida tied Eric Bledsoe (March 18, 2010 vs. East Tennessee State) for the most in the Calipari era … One of only two players (Kyle Wiltjer) to hit seven or more 3-pointers twice in a game under Calipari … His .800 percentage from behind the arc against the Gators is the best 3-point percentage in a single game in school history with a minimum of 10 attempts … First freshman in school history to make at least five 3-pointers in consecutive games when he turned the trick against Florida and Georgia … Has the most games with three or more made 3-pointers in a game in the Calipari era with 20 such outings … Scored 27 second-half points vs. Ohio State, which are the most of any Wildcat in a half under Calipari … His 21 first-half points at Vanderbilt are the most in an opening half in the Calipari era … Had 30-point games against Florida (35), Ohio State (33) and at Vanderbilt (33) … Ranked among the SEC leaders in points per game, made 3-pointers, 3-point field-goal percentage and minutes played … During his 12-game streak of 20 or more points, averaging 25.3 points during that stretch … Strong rebounder for a guard, averaging 5.2 boards per game … Just missed out on a double-double with 33 points and nine rebounds at Vanderbilt … Also just missed out on a double-double with 28 points and nine boards at home vs. Tennessee … Had a career-high four steals to go along with 16 points and five rebounds in the win over No. 5 Duke … Dished out a career-high eight assists to go along with 19 points in his college debut vs. Albany … Led UK in scoring a team-high 17 times … Averaged 35.2 minutes per game, second most in the SEC … Made 67 3-pointers in SEC play, the most in the league … Averaged 22.4 points per game in SEC play, second most in the conference.
HIGH SCHOOL
Originally a member of the 2016 recruiting class but reclassified to the 2015 class … As a member of the 2016 class, he was rated a top-15 prospect by nearly every recruiting service and tabbed a consensus five-star recruit … Stock began to soar following a breakout performance at the Nike Hoop Summit against the USA Basketball Team where he scored 30 points, prior to a 29-point, 10-assist, eight-rebound effort in the BioSteel All-Canadian Basketball Game … He was named the most valuable player in both games … Ranked the No. 10 overall player in the updated 2015 247Sports rankings and No. 12 in the 2015 Scout rankings … Prior to his reclassification, he was ranked the No. 15 overall recruit in the 2016 class by Rivals … Was a standout performer for his native Team Canada during the 2015 Pan Am Games … Averaged 17 points and 2.4 assists per game throughout his first four games … Against the United States, Murray poured in 22 points – all coming in the fourth quarter or overtime – and added six assists in a triumph over the Americans to send Canada to the Pan Am Championship game. 
PERSONAL
Son of Roger and Sylvia Murray … Born on Feb. 23, 1997… Has a brother, Lamar … Chose Kentucky over Oregon, Michigan, Michigan State, Maryland, NC State and Indiana … If he wasn't a basketball player, he'd compete in track and field … Points to his dad as his greatest influence in life … Chose No. 23 because it represents the date of his birthday … Does not have a most memorable basketball moment because there are too many to list … He meditates before every game.
Read more