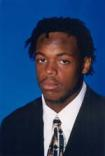 56
Dennis

Johnson
height

6-7

Weight

259

class

Junior

High school

Harrodsburg
? Freshman All-America (second team) by The Sporting News (1998)
? Freshman All-America (honorable mention) by Football News (1998)
? All-Southeastern Conference (second team) by The Associated Press (1999)
A two-year starter at defensive end ? Played very well in the spring, showing no ill effects from the injury that held him back last season ? His improving strength is helping make his remarkable speed and quickness even more effective ? Size and leaping ability make him a formidable kick blocker ? Has blocked four kicks in his career, three field goals and a punt, including a blocked field goal in the 1999 Music City Bowl ? Has played in 23 regular-season games, starting 18.
2000 (Junior): Sidelined by a high ankle sprain in the Louisville game ? Did not play the rest of the season ? Received a medical hardship and retained the year of eligibility.
1999 (Sophomore): Played and started every game … Garnered second-team All-SEC honors from The Associated Press … A big-play performer who had a quarterback sack, tackle for loss, or blocked a kick in every game but two … Totaled 39 tackles, leading the team in quarterback sacks with five (-33 yards) … Added six tackles for loss (-26), tops among the Wildcat linemen … Played his best game when the team needed it most in the bowl-clinching win over Vanderbilt … Had a career-high seven tackles against the Commodores, including two quarterback sacks and a tackle for loss … Combined with Otis Grigsby to pressure the quarterback into an intentional grounding call in the end zone … The play was ruled a safety and provided the margin of victory in Kentucky?s 19-17 win … Blocked a field goal at Arkansas, swinging the momentum back in favor of Kentucky … Blocked a punt at Mississippi State, setting up a UK touchdown … Had five tackles, including two for loss, and blocked a field goal in the Music City Bowl.
1998 (Freshman): Chosen second-team Freshman All-America by The Sporting News and honorable-mention Freshman All-America by Football News … Played in every game … Broke into the starting lineup at Arkansas and started the last six regular-season games, along with the Outback Bowl … Led the UK defensive ends with 26 tackles … Season high of four tackles came against Mississippi State and Tennessee … Made a number of big plays … Had three tackles for loss (-5) … His two quarterback sacks (-29) both came against Vanderbilt … One sack forced a fumble that Marlon McCree returned for a touchdown … Blocked a field goal at Arkansas … Recovered two fumbles … Bottled up a reverse on Indiana?s final possession of UK?s 31-27 win.
High School: Six-year starter in the defensive line and a five-year regular in the offensive line at Harrodsburg (Ky.) HS … National Player of the Year as chosen by Sports Illustrated, the Touchdown Club of Atlanta, and recruiting analyst Tom Lemming … National Defensive Player of the Year by USA Today, The Sporting News and Parade magazine … First-team All-America by Parade … Regional Player of the Year by the Gatorade Circle of Champions … Won the ?Mr. Football? Award and the Johnny Unitas/Frank Camp Award from the National Football Foundation and Hall of Fame as the player of the year in Kentucky … Also the Kentucky Player of the Year by USA Today and Ale 8 One/Kentucky Coaches … Senior season statistics include 150 total tackles, including 37 tackles for loss and 18 quarterback sacks … Also punted for a 39.2-yard average … Had an amazing and unusual career … Played his first high school game when he was in the second grade … Also played some in third grade, then a rule was passed banning elementary students from playing on the high school level … Returned to the high school field in seventh grade … Became the first eighth-grader in Kentucky history to be named first-team all-state, an honor he earned five consecutive years … All totaled, he played in eight high school seasons … During his last six varsity seasons, he amassed 521 tackles, 76 sacks, 140 tackles for loss, 42 fumbles caused, 25 fumble recoveries, and 19 blocked kicks … Also had 200 pancake blocks as an offensive lineman … Harrodsburg HS reached the state finals in Class A his senior and junior seasons … Harrodsburg went to the state semifinals the previous three years … Coached by his father, Alvis Johnson … Also a standout in basketball and track … Played five seasons of varsity basketball and won all-district, all-area, and all-region honors three times … Five-year letterman on the track team … Has won three state championships in the shot put, two state titles in the discus throw, and one state championship in the triple jump … Also a one-year regional champ in the high jump and has placed fifth in the state in the long jump … In 1996, Dennis and Derrick Johnson became the first brothers to be named first-team all-state in Kentucky in the same season … Honor Roll student who was also involved with Beta Club, Fellowship of Christian Athletes and the student council … Dennis chose Kentucky over Notre Dame, Florida, Miami (Fla.), and Colorado.
Personal: Full name is Dennis Alan Johnson… Born 12-4-79 in Danville, Ky. … Son of Alvis and Rosetta Johnson … Alvis played football at Western Kentucky and is now an assistant athletics director at UK … Dennis? uncle, Butch Cook, played football at Mississippi Valley State … An uncle, Terry Johnson, and a cousin, Eric Johnson, each played football at Kentucky State … Dennis? brother, Derrick, is a senior defensive lineman on the UK football team … Major is kinesiology.
The Cats? Cause: Guest speaker at Fellowship of Christian Athletes breakfast at the Music City Bowl (1999) ? Guest speaker at Collins Lane Elementary School (1999-2000).
Johnson Career Statistics
YearPositionG-GSTacklesTFL-Yds.Sacks-Yds.FRFCBlock1998Def. End11-6265-342-292111999Def. End11-113911-595-330122000Def. End1-1200000Totals23-186716-937-62223
Johnson Game-by-Game Statistics
1998Opponent TacklesTFLSacksLouisville31-30Eastern Kentucky100Indiana21-10Florida100Arkansas300South Carolina100Louisiana State100Georgia300Mississippi State400Vanderbilt33-302-29Tennessee400Totals265-342-29Penn State400(Outback Bowl)
1999OpponentTacklesTFLSacksBlockLouisville51-300Connecticut52-111-50Indiana3000Florida31-111-110Arkansas2001South Carolina42-91-70Louisiana State21-1100Georgia21-100Mississippi St.1001Vanderbilt73-132-100Tennessee5000Totals3911-595-332Syracuse52-901(Music City Bowl)
Read more