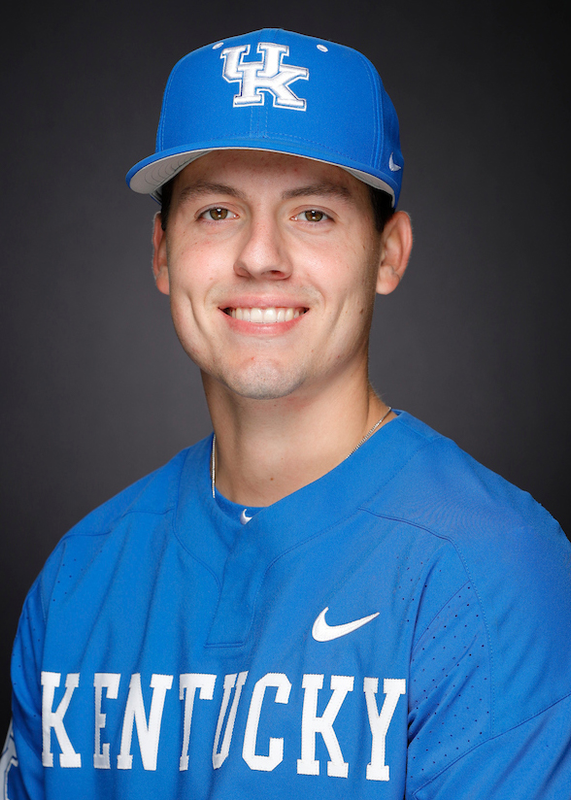 34
Sean

Harney
position

RHP

height

6-0

Weight

190

class

Graduate Student

Hometown

Natick, Mass.

Previous School

Massachusetts
Stopper of the Year Watch List (2022)
2021
Appeared in 18 games, starting six…Pitched to a 3.69 ERA in 46.1 innings…Recorded six saves…Struck out 58…Walked 17 and allowed 43 hits…Is the only player in school history to record at least six saves and also start six games in the same season…Struck out 40 in 32.1 innings against SEC opponents…Opened the season as the closer and recorded saves in five of the Cats' first 10 wins…Six of his last seven appearances were starts after being inserted into the rotation after the season-ending injury to Mason Hazelwood…The lone relief appearance over that time was a save at No. 2 Vanderbilt in the regular season finale…In his first six appearances he struck out 14, walked only one, allowed just two hits and no runs and recorded five saves.
CAREER at UMass
Pitched three seasons for Massachusetts, starting 21 of 27 games he appeared in…Posted a 3.49 career ERA in 136.2 innings…Allowed 109 hits, a strong rate of 7.18 hits allowed per nine innings…Struck out 100 and walked 74…Opponents have hit only .227 against him.
2020 (UMass)
Made three starts, going 1-2 before the remainder of the season was cancelled due to the COVID-19 pandemic … Recorded 12 strikeouts and had a 4.50 ERA over 16 innings … Went four innings in the season-opening win at Delaware State (2/22), allowing two earned runs on three hits and one walk, striking out three … Took the loss in a five-inning start at Navy (2/29) … Carried a shutout into the eighth inning in the opener at No. 4 Georgia (3/6), fanning seven and allowing just two runs (one earned) on six hits.
2019 SUMMER
Played for the Bourne Braves in the famed Cape Cod League…Went 1-1 with a 5.91 ERA in 11 appearances, including two starts…Pitched 21.1 innings, allowing 23 hits and striking out 15…Posted a 4.95 ERA in regular season…Allowed one earned run or less in eight of his 11 appearances.
2019 (UMass)
Started 11 games, pitching 66 innings and finishing with a 3-5 record plus a 3.27 ERA … Opponents hit .234 off of Harney … Totaled 48 strikeouts … Made his season debut in a win vs. Central Connecticut (3/2), posting a career-high 10 strikeouts in six shutout innings with five hits and a walk … Allowed just one run and received a no-decision at VCU (3/24), going 6.1 innings while walking five and allowing two hits with two strikeouts … Picked up the win at Dayton (3/31) after 7.2 innings of work; did not allow an earned run while walking two, striking out five and allowing six hits … Followed that up with a win vs. Saint Louis (4/7) after five innings, allowing four runs on five hits with four walks and five strikeouts … Went seven and allowed three runs in a tough loss to George Washington (4/14) … Received a no-decision, but logged six Ks in the finale at Maine (4/20) over 5.1 innings of two-run ball … Was the winner at La Salle (4/28) after a seven-inning start with two runs allowed on four hits and six walks with four strikeouts.
2018 (UMass)
Atlantic 10 All-Rookie Team … Went 2-3 with a 3.46 ERA over 12 appearances and 54.2 innings … Worked his way into the weekend rotation in mid-April, starting his final six outings … Both Harney's overall (3.46) and conference (2.53) ERA were the league's best among freshmen arms in the regular season … Held opposing hitters to a .216 average … Despite a loss, logged seven strikeouts and was responsible for only one earned run in 6.1 innings at Saint Joseph's (5/18) … Worked 6.1 innings in the middle game at George Mason (4/28), earning the win in a combined shutout with Casey Aubin … Allowed five hits and struck out three, walking none … Received a no-decision against La Salle (4/21), throwing 6.2 innings and striking out six batters while giving up two runs on six hits … Threw 5.2 innings in his second career start vs. Rhode Island (4/14), striking out five batters … Did not allow a hit in that outing … Threw six scoreless innings and struck out six out of the bullpen vs. St. Bonaventure (3/31) … Came in for three innings of scoreless relief to secure his first collegiate win at Albany (3/27) … Made his collegiate debut vs. Pittsburgh (3/3) and did not allow a hit while striking out three.
Read more