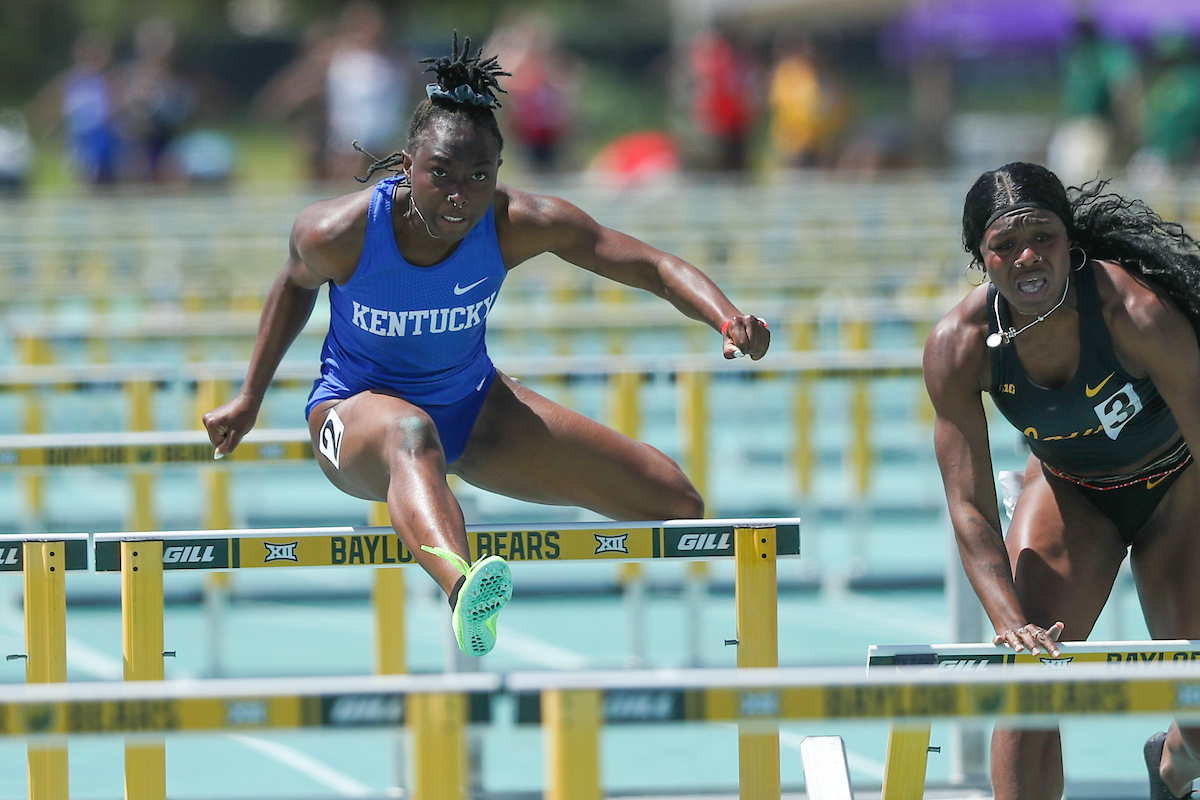 April 27, 2023 - 04:03 PM
UKTF Host Jim Green Invitational This Weekend With Senior Day On Saturday
LEXINGTON, Ky. — The University of Kentucky track & field program will host the Jim Green Invitational on Friday, April 28, and Saturday, April 29 at The University of Kentucky Outdoor Track and Field Complex.
The Teams
Kentucky will play host to Campbellsville (Ky.), Cumberlands (Ky.), Eastern Kentucky, Eastern Michigan, Georgetown (Ky.), Life (Ga.), Michigan, Morehead State, Murray State, Pikeville (Ky.), Toledo, Union (Ky.).
Spectator Information
Admission is free for all spectators for both days. All seating is general admission.
Parking is available in the lots adjacent to the outdoor track. Please be mindful of the track parking signage for specific locations. Parking will be free in any lot except PS7 on Friday.
Concessions and restrooms will be available.
Live results for the meet can be found at pttiming.com
Event Schedule and Senior Ceremony
Friday, April 28: Field events are scheduled to begin at 2:30 p.m. and track events will start at 4:30 p.m.
Saturday, April 29: Field events are slated to begin at 11:30 a.m. while track events will start at 12:40 p.m. after the senior day ceremony at noon.
Honoring the legendary Jim Green
The meet recognizes University of Kentucky trailblazer Jim Green, the first African-American student-athlete at Kentucky and in the Southeastern Conference to win NCAA and SEC Championships.
Green was one of the SEC's pioneers of integration and was a 2007 inductee into the University of Kentucky Athletics Hall of Fame. He's in fact an inductee into six Halls of Fame.
Green was the first UK African-American to serve as co-captain on the track team and in December 1971 became the first African-American student-athlete to graduate from UK.
Despite facing open hostility at many competitions, Green succeeded at the highest levels of collegiate sport. He was a three-time NCAA champion, winning the indoor 60-yard dash in 1968 and the 100-yard dash in both 1968 and 1971.
He earned All-America honors six times and won eight SEC individual events, including the indoor 60-yard dash (1968, 1971), outdoor 100-yard dash (1968, 1970, 1971), and outdoor 220-yard dash (1968, 1970, 1971).
Jim Green Invitational: Friday, April 28: ALL TIMES IN CENTRAL TIME
Women's Hammer Throw
2:30 p.m.
Prelim/Final
Leah Moore
Men's Hammer Throw
Immediately after the Women's competition
Prelim/Final
Daroyce Flemons

Ryan Avare

Michael Browning

Logan Coles

Dennis Ohene-Adu

Women's High Jump
2:30 p.m.
Final
Mallory Mullen
Men's High Jump
Immediately after the Women's competition
Final
Donsten Brown
Women's Long Jump
2:30 p.m.
Prelim/Final
Meg Wilson
Men's Long Jump
Immediately after the Women's competition
Prelim/Final
Jordan Turner

Robert Springfield III

Women's 400m Hurdles
4:30 p.m.
Final
Masai Russell
Men's 400m Hurdles
4:40 p.m.
Final
Beck O'Daniel
Women's 200m
5:00 p.m.
Final
Anthaya Charlton

Dajour Miles

Victoria Perrow

Megan Moss

Shadajah Ballard

Colleen Branch

Iantha Wright

Tamiia Fuller

Reynei Wallace

Seven Simms

Mahogany Mobley

Patrice Cornelius

Cierra Fogg

Men's 200m
5:25 p.m.
Final
Brandon Miller

Jordan Anthony

Myles Anders

Langston Jackson

Women's 1500m
5:40 p.m.
Final
Ally Kruger

Mollie Roden

Kaylie Kenne

Julz Williams

Mallory Liggett

Men's 1500m
5:55 p.m.
Final
Harper Moore

McLean Griffin

Dylan Allen

Aaron Withrow

Alex Alston

Women's 800m Invitational
6:15 p.m.
Final
Jenna Schwinghamer

DeAnna Martin

Bryanna Lucas

Phoebe McCowan

Sydney Steely

Men's 800m Invitational
6:20 p.m.
Final
Dylan Allen

Alex Justus

Justin Swann

Gabriel Robinson

Beck O'Daniel

Men's 3000m Steeplechase
6:45 p.m.
Final
McLean Griffin

Alex Alston

Jackson Watts
Jim Green Invitational: Saturday, April 29: ALL TIMES IN CENTRAL TIME
Women's Pole Vault
11:30 a.m.
Final
Kaitlyn Cain

Siobhan Szerencsits

Payton Phillips

Men's Pole Vault
Immediately after the Women's competition
Final
Jacob Sobota

Dalton Shepler

Keaton Daniel

Men's Discus
Immediately after the Women's competition
Prelim/Final
Michael Browning

John Kruzel

Dennis Ohene-Adu

Josh Sobota

Men's Shot Put
12:30 p.m.
Prelim/Final
Josh Sobota

Dennis Ohene-Adu

Women's Shot Put
Immediately after the Men's competition
Prelim/Final
Leah Moore

Simisola Akinrinsola

Women's 4×100 Meter Relay
12:40 p.m.
Final
Kentucky "A"
Men's 4×100 Meter Relay
12:50 p.m.
Final
Kentucky "A"
Women's Triple Jump
1:30 p.m.
Prelim/Final
Sophie Galloway
Men's Triple Jump
Immediately after the Women's competition
Prelim/Final
Luke Brown
Women's 100 Meter Hurdles
1:30 p.m.
Prelim
Yasmin Brooks

Shadajah Ballard

Masai Russell

Women's 100 Meter Dash
1:50 p.m.
Prelim
Anthaya Charlton

Tamiia Fuller

Colleen Branch

Victoria Perrow

Shadajah Ballard

Cierra Fogg

Men's 100 Meter Dash
2:00 p.m.
Prelim
Myles Anders

Kennedy Lightner

Langston Jackson

Jordan Anthony

Women's 400 Meters
2:15 p.m.
Final
Karimah Davis

Megan Moss

Christal Mosley

Katelyn Hutchison

Mahogany Mobley

Seven Simms

Jasmine Jackson

Patrice Cornelius

Men's 400 Meters
2:30 p.m.
Final
Brian Faust

Wayne Lawrence Jr.

Brandon Nyandoro

Women's 100 Meter Hurdles
2:50 p.m.
Final
Yasmin Brooks

Shadajah Ballard

Masai Russell

Women's 100 Meter
3:00 p.m.
Final
Anthaya Charlton

Tamiia Fuller

Colleen Branch

Victoria Perrow

Shadajah Ballard

Cierra Fogg

Men's 100 Meter
3:05 p.m.
Final
Myles Anders

Kennedy Lightner

Langston Jackson

Jordan Anthony

Women's 800 Meters
3:10 p.m.
Final
Ally Kruger

Eliza Scoggin

Julz Williams

Women's 4×400 Meter Relay
3:30 p.m.
Final
Kentucky "A"

Kentucky "B"

Kentucky "C"

Men's 4×400 Meter Relay
3:40 p.m.
Final
Kentucky "A"

Kentucky "B"