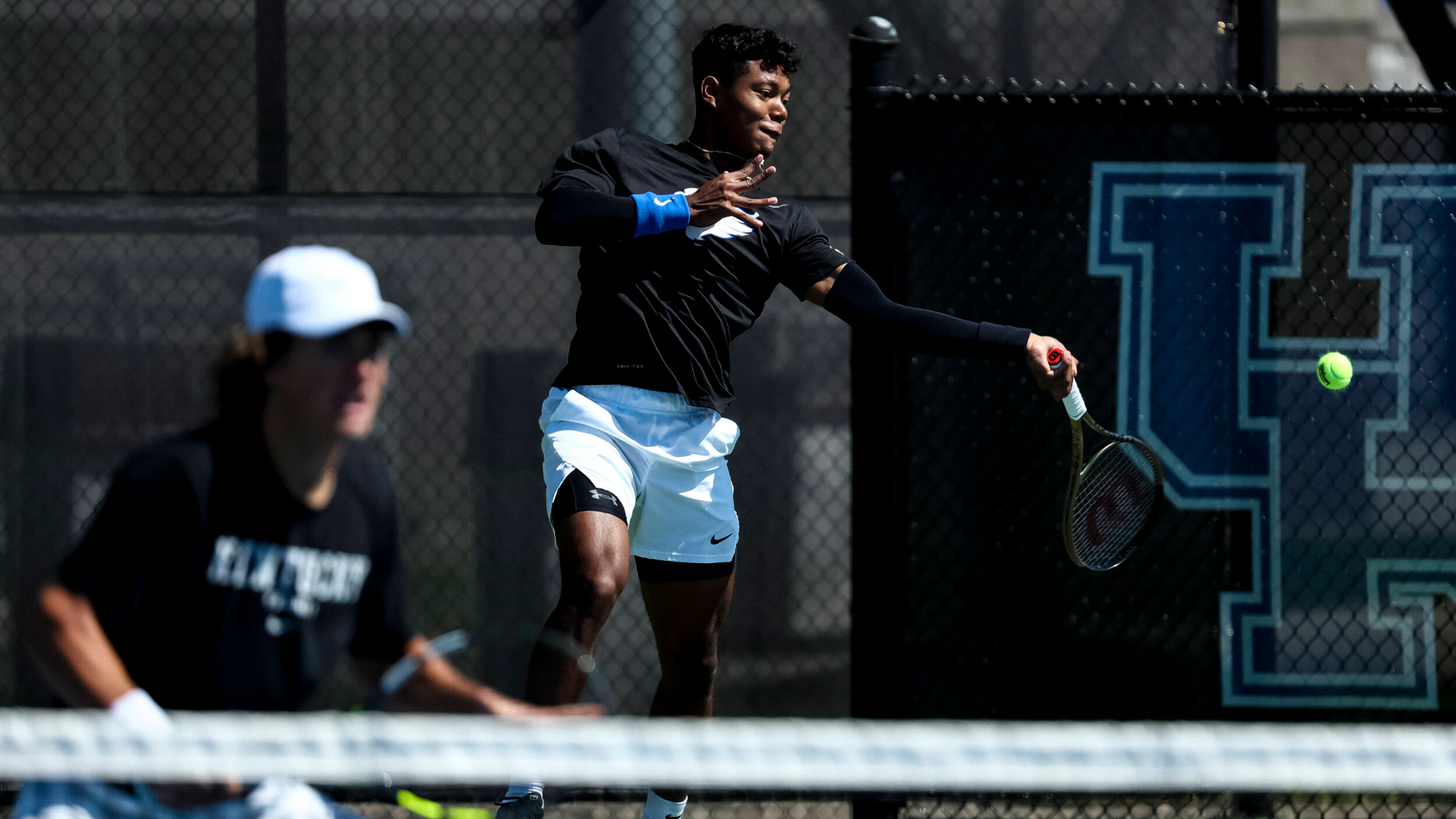 April 20, 2023 - 02:31 PM
No. 5 Kentucky Begins Postseason Journey at SEC Tournament
AUBRUN, Ala. – Kentucky men's tennis (21-4, 9-3 SEC) is set to begin play at the 2023 SEC Tournament on Friday when the Wildcats square off against Alabama (12-14, 4-9 SEC) at the Yarbrough Tennis Complex on the campus of Auburn University.
The quarterfinal match will begin at 10 a.m. ET with live stats and streaming available for fans. For more information on the tournament, including schedule, ticket info and more, visit the tournament central page.
Kentucky is the third seed in the bracket after posting a 9-3 regular season in conference play. The Cats faced the Crimson Tide just over a month ago, earning a 6-1 victory in Tuscaloosa. In the two teams' previous matchup, UK clinched the doubles point with victories from the pairs of Alafia Ayeni and Taha Baadi, as well as Liam Draxl and Jaden Weekes. Draxl, Ayeni, Baadi, Weekes and Joshua Lapadat all followed with wins in the singles session to secure the victory for the Cats.
Entering this week's tournament, UK has three players ranked inside the top-60 of the ITA rankings. Draxl leads at the way at No. 19 followed by Ayeni at No. 25 and Lapadat at No. 56. The Cats also have two-ranked doubles teams, Ayeni and Baadi at No. 23 and Lapadat and JJ Mercer at No. 67. Big Blue won its final two regular season matches of the year, defeating Vanderbilt and Florida.
Alabama reached the quarterfinal round after upsetting No. 15 Mississippi State on Thursday. The Crimson Tide is led by two nationally ranked singles players in Filip Planinsek (No. 92) and Enzo Aguiard (No. 121). Bama is coming off a 4-3 victory over the Bulldogs in which the Tide captured the doubles point before adding victories at third, fifth and sixth singles.
The winner of Friday's contest will advance to Saturday's semifinals for a 1 p.m. ET match. Both semifinal matches will be broadcast live on SECN+ with Sunday's final set to air on SEC Network at 4:30 ET.
Kentucky has won the SEC Tournament just once in program history back in 1992. Last year, the Wildcats reached the Championship match before falling to Florida.
For the latest on UK Men's Tennis, follow the Wildcats on Twitter and Instagram at @UKMensTennis.