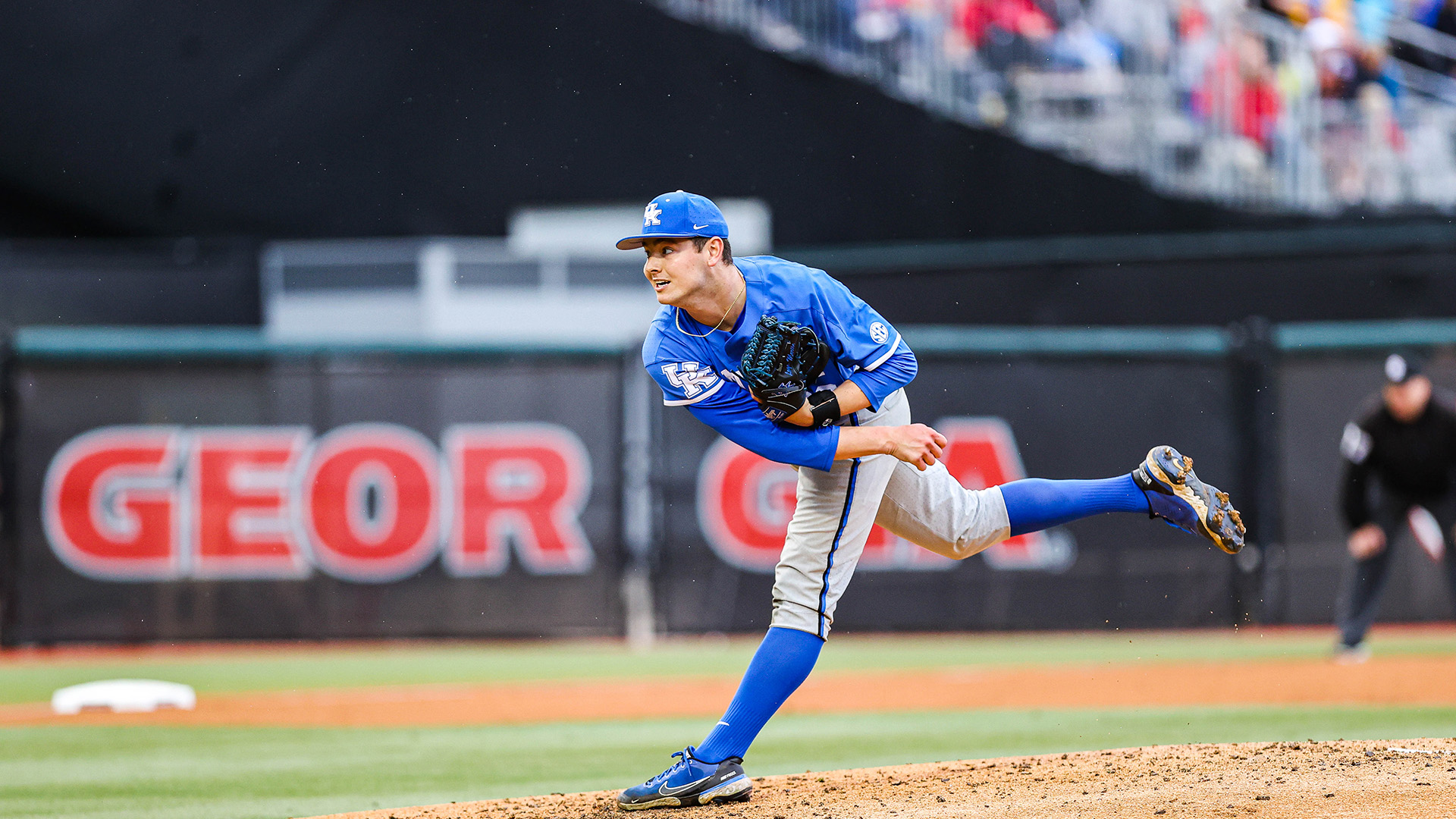 ATHENS, Ga. – Unable to break through for six innings, No. 9 Kentucky got a two-out, two-run double from Reuben Church in the seventh inning to crack the seal, score seven unanswered runs and erase a four-run deficit over its final seven outs to score a 7-4 series-opening victory over Georgia at Foley Field on Friday.
Nolan McCarthy delivered a two-out RBI double in the eighth to fully erase the 4-0 deficit, Emilien Pitre drew a go-ahead, bases loaded walk in the ninth and both Hunter Gilliam and Ryan Waldschmidt added insurance runs as the Cats (27-3, 9-1 Southeastern Conference) won going away.
UK now has won 23 of its past 24 games.
Mason Moore picked up the win on the mound with three perfect innings of relief. He gave Georgia nothing over the final three frames after the Bulldogs scored four in the sixth. But UK responded with three of its own in the seventh and drew six walks over the final three innings to stun the crowd.
NOTES
Kentucky is 34-6 over its last 40 games dating to last season.
UK is 18-7 in its last 25 games vs. SEC opponents.
Kentucky now has won 23 of its last 24 games.
UK Coach Nick Mingione is in his seventh season at the helm and now owns a 203-132 career record.

UK is 46-44 in the month of April under Coach Mingione.
Mingione is 8-8 vs. Georgia.

UK has scored in 329 of 335 games under Coach Mingione.
The Cats stole three bases and now are 57-of-74 on the season.
UK drew six walks in the final three innings, including two with the bases loaded.
Outfielder Ryan Waldschmidt went 3-for-5 with two runs and an RBI.
Infielder Jase Felker went 2-for-4 with a run, RBI and walk.
First Baseman Hunter Gilliam saw his hit streak to 22 games and reached safely streak of 28 games end.

The streak was the second-longest at UK since 2005, one behind Gunnar McNeill's 23-game streak in 2016.
It is the third-longest in the SEC this season behind LSU's Dylan Crews (28 active) and Georgia's Charlie Condon (24).
He had a sacrifice fly in the ninth.

Catcher Devin Burkes has reached safely in 19 consecutive games.
Infielder Emilien Pitre was on base three times and drew the go-ahead, bases loaded walk.
Outfielder Nolan McCarthy had a game-tying double in the eighth.
Outfielder Jackson Gray has reached safely in 21 consecutive games.
Infielder Grant Smith has started all 146 games of his collegiate career.

He has reached in 18 straight games.

Pitcher Mason Moore earned the win with 3.0 perfect innings of relief.
 ON DECK
Kentucky will go for its fourth SEC series win on Saturday at 2 p.m. ET, weather permitting. It will be streamed on SECN+. The radio call will be on the UK Sports Network (630 AM WLAP, locally).