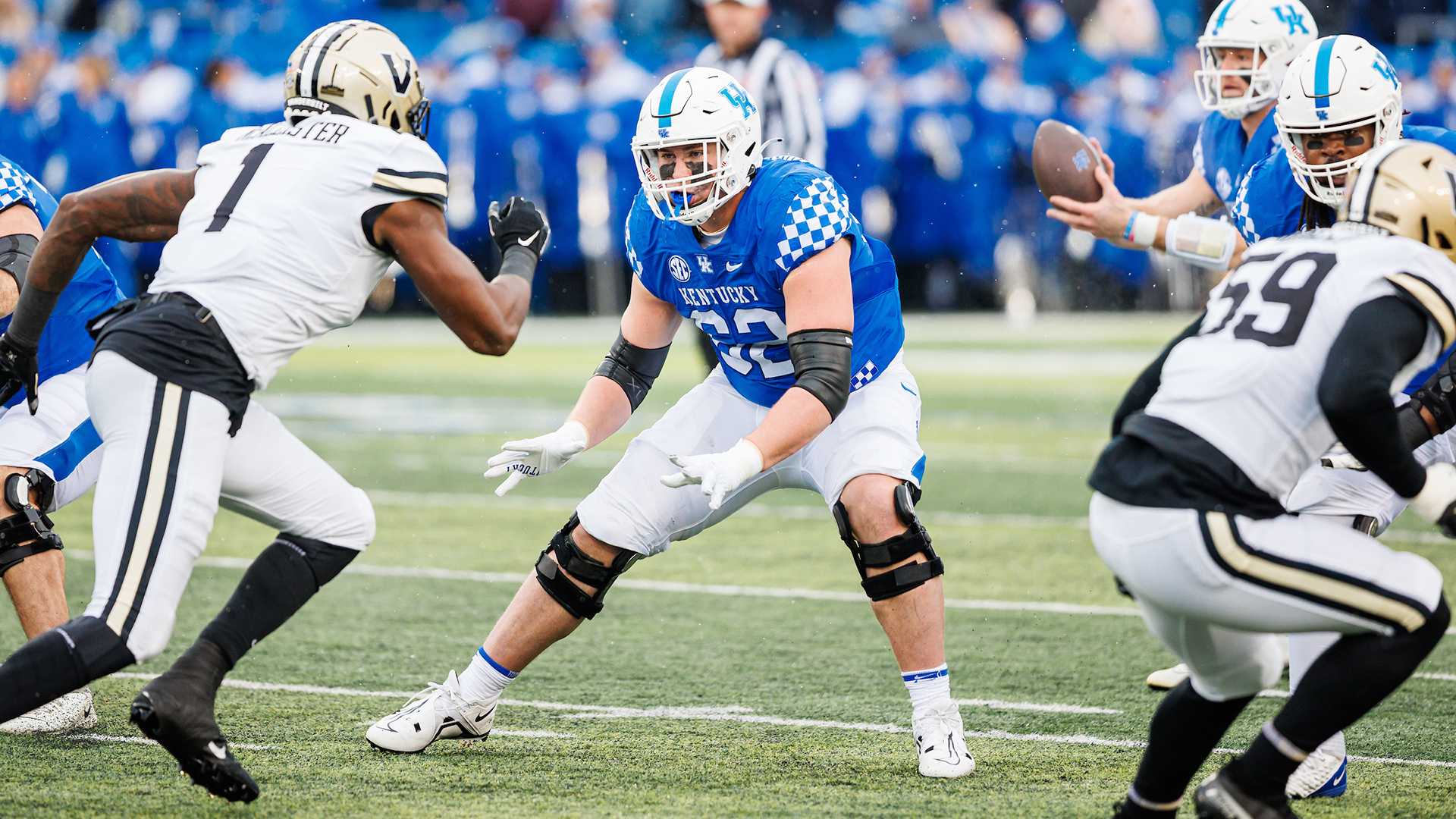 Kentucky offensive lineman Jager Burton has played football for a large portion of his life. But this spring, he's doing something in the game that he's rarely done before.
UK offensive coordinator Liam Coen knows that he has Eli Cox returning to play center. But the spring is a time to experiment, so Coen has moved Burton over one spot from guard for at least parts of the first four practices.
"We're working with a couple of different centers right now," Coen said following Tuesday's practice. "Jager is getting some reps, Eli is going to be mixing in. We've got Koby Keenum is a young kid. So, just some of the snaps right now, we're working on from an operations standpoint just being sharp and crisp every single time."
How is Burton handling the change?
"He's doing some good things," Coen said. "It's really hard to just kind of jump in and play center. You literally touch the football every play as an offensive lineman and that's not easy to do when you've never touched the ball. So, just snapping, the cadence, timing it up and then having to go block and work your responsibility, that's not easy to do."
As for Burton, he's willing to make the change if it's the best thing for the team as a whole.
"It was something that we decided we were going to try out when Coach Coen got here just to see what works best for the team," Burton said. "I've really loved it so far just being able to be more versatile. I feel like center is the hardest one because you've got to help people with calls, you've got to make the snap, then you've got to do what you've got to do."
Burton, a Lexington native, has gotten plenty of help from other centers who are currently inside the Joe Craft Football Training Facility.
"I'm super thankful for (graduate assistant coach) Drake (Jackson)," Burton said. "He's done it, he did it at a high level, he was an All-American. To have him and, obviously Eli and even (Jacksonville Jaguars center and UK alum Luke) Fortner is back, to have him around to help me has helped speed up the process so far."
Coen has not decided who will play center this fall when the Cats open the season against Ball State. But he likes having choices.
"That's not set in stone for us right now," Coen said of Burton playing center. "It's just a matter of, how can we continue to develop depth at the center position while knowing both Eli and Jager can play guard as well."
As for the position change, Burton believes he is handling it well, although there are aspects of the position that are completely foreign to him.
"Not having a stagger makes blocking really weird," Burton said. "And you're not off the line. And the dude is right there in your face. It's been weird to learn a little bit."
Burton worked his way into the rotation last season as a redshirt freshman. He could be taking on an even bigger role this season. And it could be at center, a role he has rarely played in his football career.