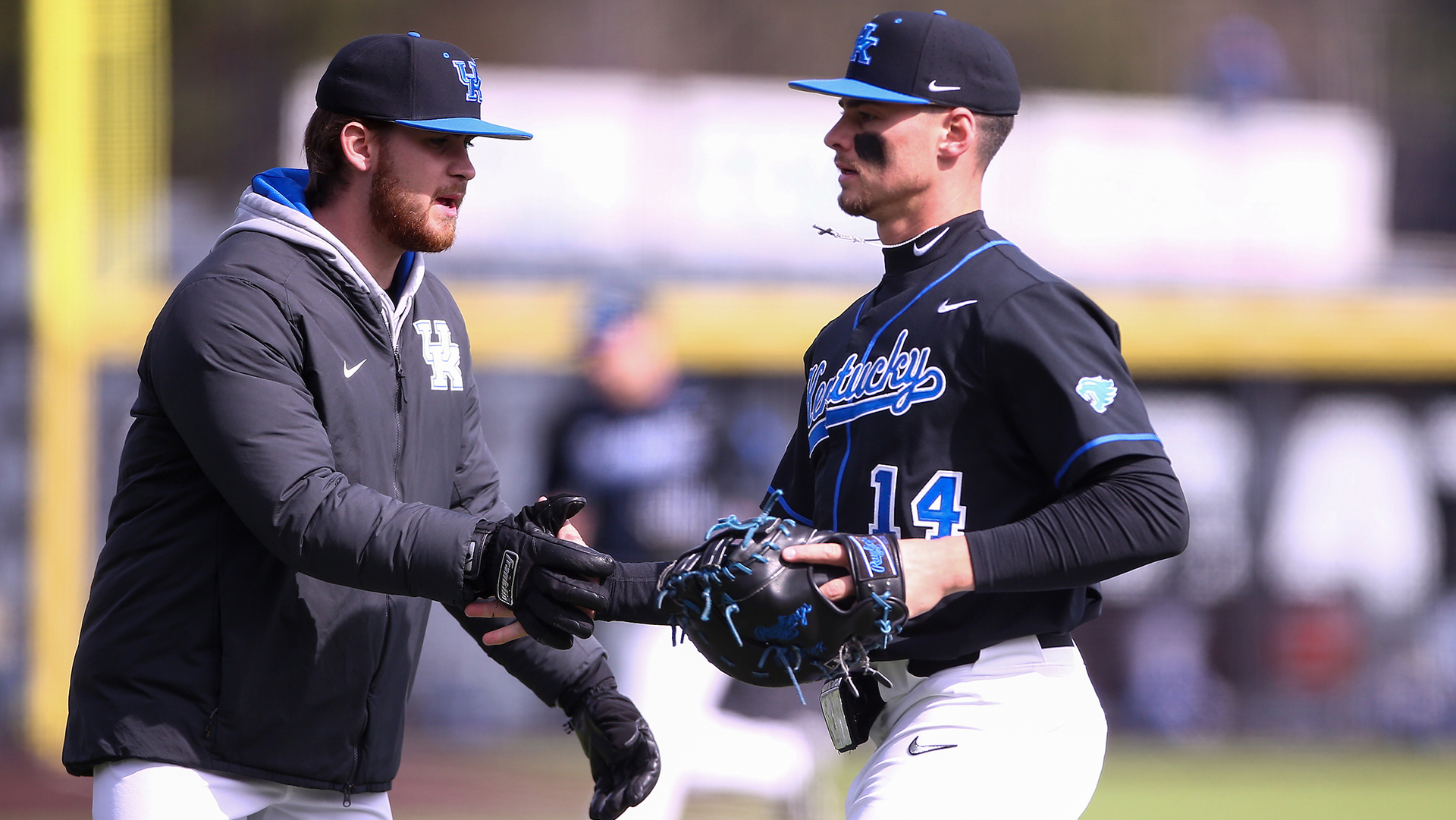 The Kentucky baseball team had a shiny 14-2 mark heading into the week. But the Cats were still not getting much attention on a national level, despite all of the early success.
This week brought with it a couple of big opportunities for the Cats, beginning with Tuesday's home game against Indiana.
And the Cats took advantage of their chance.
Hunter Gilliam continued his torrid hitting and the Cats pounded the Hoosiers 12-2, in seven innings, Tuesday evening at Kentucky Proud Park.
Kentucky scored three runs in the bottom of the second and never looked back on its way to a big win over the same team that beat the Cats 20-7 last season in Bloomington.
Gilliam led the charge once again on Tuesday. After hitting .619 with 11 RBIs last week, Gilliam was named the NCBWA Dick Howser Trophy National Hitter of the Week. And his hot streak continued against Indiana.
The Farmville, Virginia, native reached base on an error in his first at-bat and followed that with an RBI double in the third inning. In the fifth, Gilliam had an RBI single, knocking in Devin Burkes to extend the UK lead to 5-2.
But his loudest knock of the day came in the sixth inning. With three runs already on the board in the sixth, Gilliam pounded a home run to left center field, knocking in three runs and padding the UK lead, which was 11-2 at that juncture. Gilliam finished 3 for 4 with five RBIs and two runs scored.
As hot as he has been, Gilliam made his approach sound simple.
"We've just been working to stay through the middle of the field," Gilliam said. "I'm trying to battle a little bit more in counts."
He does acknowledge that he has been on a roll over the past six games.
"I'm just trying to ride the wave," Gilliam said. "We've been putting in a ton of work. It's a good feeling up there right now. Super confident."
UK head coach Nick Mingione summed it up succinctly.
"Gilly has been doing special things."
Now, the Cats will get another opportunity as Mississippi State comes to Lexington for the opening of Southeastern Conference play. Gilliam hopes that the momentum of an 11-game winning streak can help the Cats as conference play gets underway.
"It's huge for us," Gilliam said. "The most important game is the next one. We're trying to just handle our business on Friday night."
Mingione said he wants his team to focus on its plan and not worry about who the opposition might be.
"I told my team all year, I'm more concerned about what we do and not so much concerned about what everyone else is doing or who we're playing," Mingione said. "We have a plan and when the guys stick to it, there's been some good things happen."
Those good thing happened early and often on Tuesday as the Cats thumped Indiana.