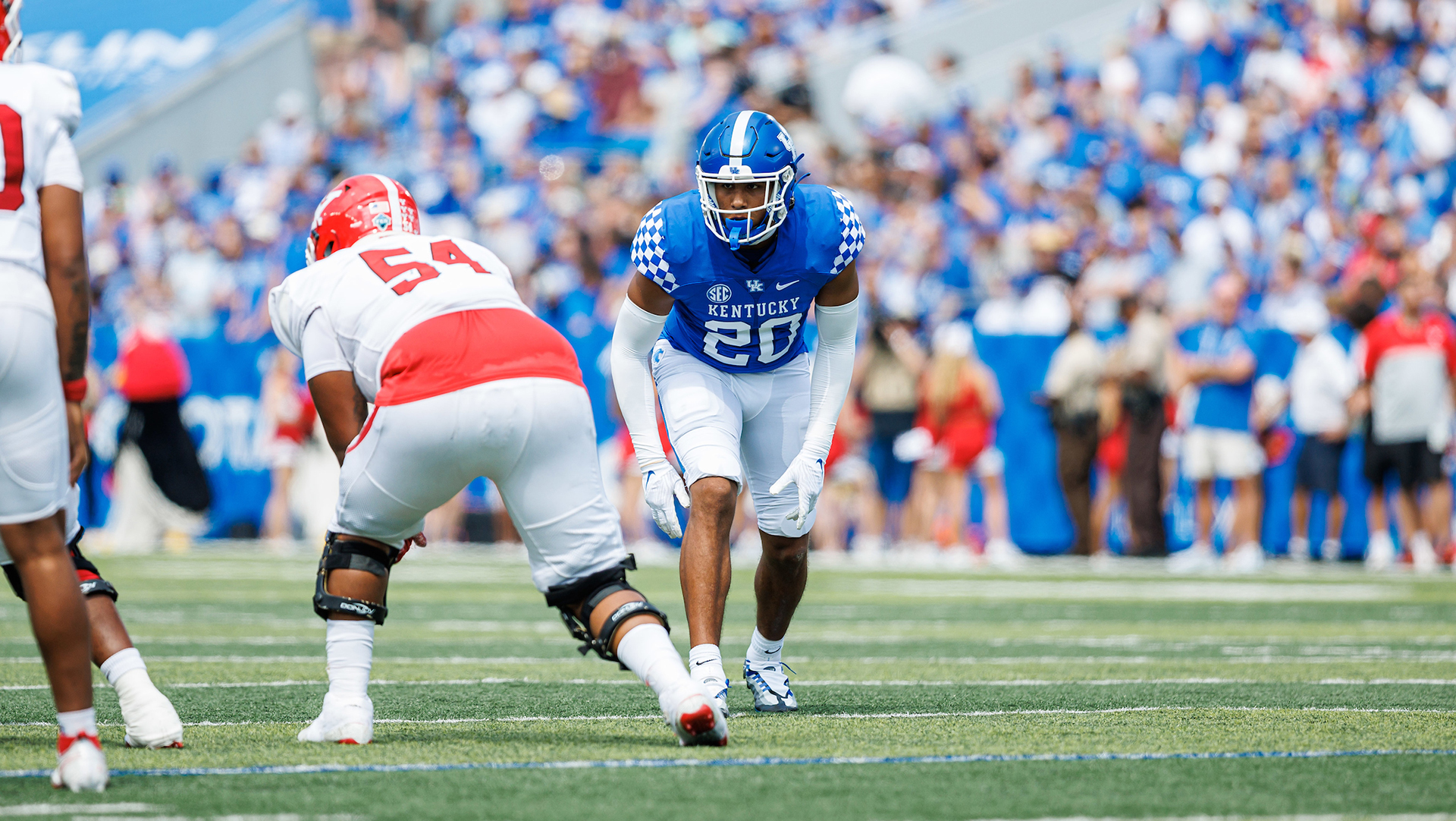 Nashville has been a home away from home for Kentucky athletics for many years. Whenever the Cats are playing in Music City, the Big Blue Nation shows up in large numbers.
This season, that home field feeling takes on an even bigger feeling as the Cats have some significant contributors from the Nashville area. Those include freshmen Barion Brown and Keaten Wade. Destin Wade, Keaten's twin brother, also has a chance to see his first game action in the TransPerfect Music City Bowl. UK head coach Mark Stoops spoke about those players during Wednesday's media opportunity.
"Barion is just excellent," Stoops said. "The Wades, they're just great young men. Barion has had a monster season. Keaten has done a good job and played a lot for us and hopefully we'll see D-Wade (Destin Wade) in this game, we'll see what happens. They're great young men and they're great fits for us and we're really glad we have them."
Speaking of Destin Wade, he's one of three quarterbacks (along with Kaiya Sheron and Deuce Hogan) who are vying to be the starter against Iowa in the Music City Bowl. Stoops likes what he has seen from Destin Wade during the bowl preparation.
"Destin's doing a really good job," Stoops said. "The nice thing is, he puts his head down and he goes to work and he's getting better. Destin's done a really good job."
Kentucky continues to recruit the Nashville area, adding wide receiver Shamar Porter for the 2023 signing class. Stoops thinks that the area can continue to be fertile ground for Kentucky recruiting.
"It's nice and close and the guys like it," Stoops said. "The players on our team from this area fit in well. Good players, good people, so that helps recruit the next group."
As for the game itself, the Cats will be playing Iowa for the second time in the same calendar year. Still, it's a bowl game, the first for some Cats, and their excitement is evident.
"For a lot of these guys, it's their first experience, their first bowl game," Stoops said. "I think the energy has been good. We're excited."
The Hawkeyes play solid defense and are a physical team. Stoops is a fan of Iowa head coach Kirk Ferentz and his program.
"I have a lot of respect for Coach Ferentz and Iowa," Stoops said. "Their football IQ is really high. They play extremely hard, very physical, well-coached and they play really hard."
The UK head coach knows that it will be crucial for the Cats to play a clean game all around.
"It's important, in a game like this with two good defenses, to not beat yourself with turnovers and penalties and things that can put you in a bad spot," Stoops said. "There were some games late in the year when we're getting penalties on special teams and things of that nature, we cannot do those things. We have to play clean."
Kentucky is hoping that Nashville will be good to the Cats once again this season, especially those players who hail from the area.