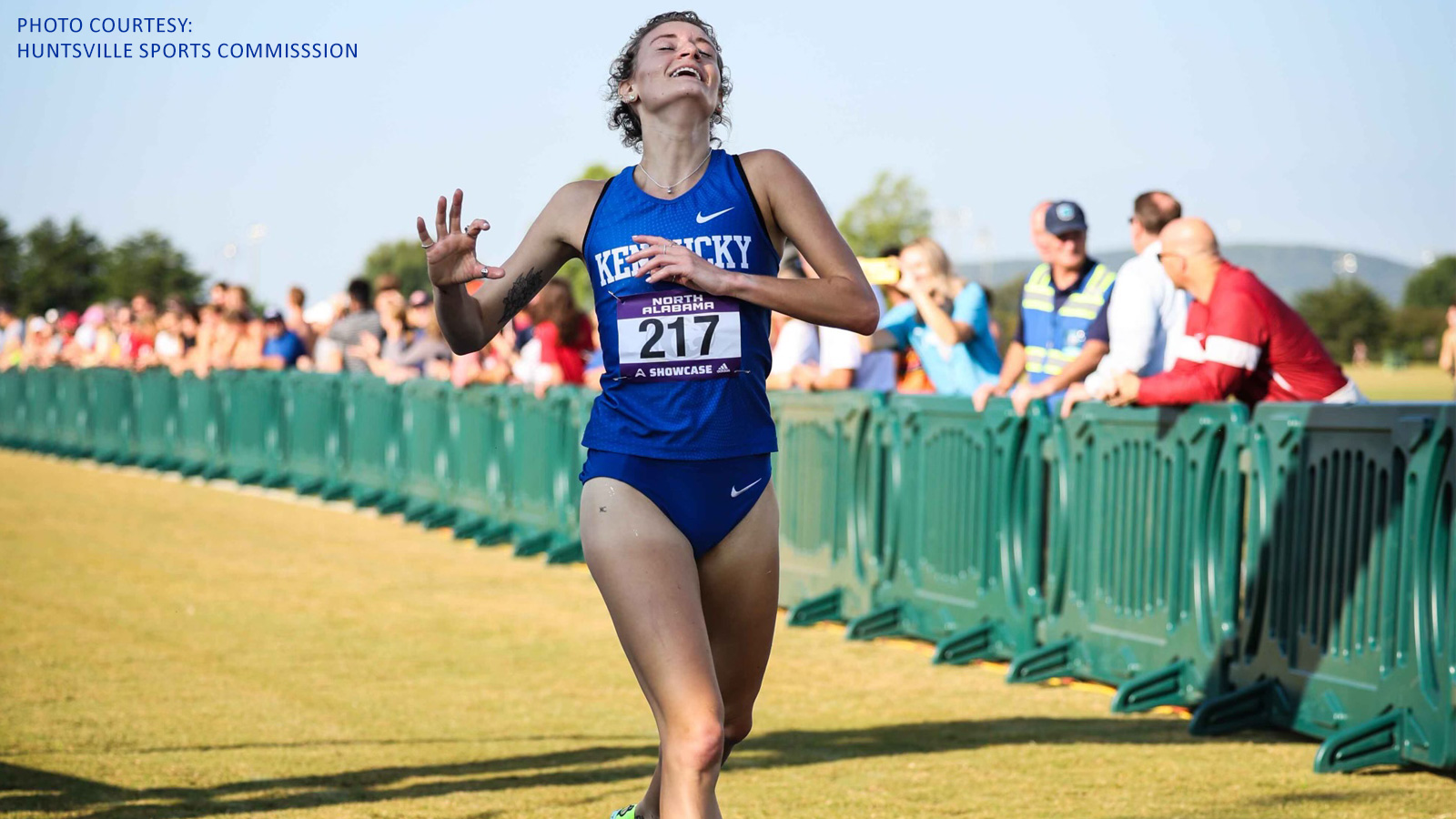 October 15, 2022 - 02:08 PM
Bockrath Wins, Herman Second at Panorama Farms Invitational
EARLYSVILLE, Va. – Perri Bockrath and Tori Herman of the University of Kentucky women's cross country team finished first and second, respectively, Saturday morning at the Panorama Farms XC 23 Invitational, hosted by the University of Virginia in Earlysville, Va.
A graduate student from Centerville, Ohio, Bockrath covered the 5,000-meter course in a personal-best 16:23.1, eclipsing a field of 173 competitors.  She was among the early leaders, took the lead mid-race, then earned a six-second victory as teammate Herman took second-place laurels. It was the second victory of the year for Bockrath after winning the North Alabama Showcase in September.
"The plan was for Perri and Tori to be in the front pack, then around the two-mile mark (approximately 3,000 meters into the race), make a move and make people decide to go with them or stay back," said assistant coach Hakon DeVries, who manages UK cross country and distance runners. "Perri moved so hard that she left everyone behind. With about 1,200 meters to go she put the gas down, really opened it up, and was able to enjoy the last half mile.
"They did exactly what we wanted them to do.  It's exciting to watch the race plan executed so well."
In addition to Bockrath's win, Herman also turned in a notable performance, setting her personal best at 16:29.2.
"Virginia is not known to be a fast course, so for both of them to set a personal best is definitely something to say," DeVries said. "They are working well with each other and running with a lot of confidence."
Bockrath and Herman led the No. 27-ranked Wildcats to a third-place team finish, behind Virginia and Ole Miss, out of 18 teams. Joining them on the scoreboard were Sydney Steely (25th, 17:24.5), Kaylie Kenne (34th, 17:38.7) and Jenna Schwinghamer (56th, 17:52.2).
The men's team was led by junior Jake Allen, who turned in a career-best 23:56.8 over the 8,000 meters and finished 32nd overall in the field of 184.  Dylan Allen was the next Wildcat, finishing 60th with a time of 24:23.5. Rounding out the top five were Aaron Withrow (69th, 24:28.8), Jackson Watts (76th, 24:39.4) and Harper Moore (78th, 24:41.3).  The Wildcats had a 10th-place finish among 17 teams, with Wake Forest winning the event.
"Jake ran very strong up front," DeVries said. "Some of our pack went out too fast but there were definitely some bright spots today and we learned some things heading into the SECs."
Kentucky begins postseason action October 28 at the Southeastern Conference championships, hosted by the University of Mississippi.
UKXC Women's Team: 3rd, 116 points (first five finishers count toward team scoring total)
UK 5k Individual Results, 173 total runners
Perri Bockrath: 16:23.1
2. Tori Herman: 16:29.2
25. Sydney Steely: 17:24.5
34. Kaylie Kenne: 17:38.7
56. Jenna Schwinghamer: 17:52.2
66. Ally Kruger: 18:00.6
79. Julz Williams: 18:16.4
80. DeAnna Martin, 18:18.1
105. Natalie Molotky, 18:39.4
140. Phoebe McCowan, 19:14.7
143. Bryanna Lucas, 19:20.8
UKXC Men's Team: 10th, 283 points (first five finishers count toward team scoring total)
UK 8k individual results; 184 total runners
32. Jake Allen: 23:56.8
60. Dylan Allen: 24:23.5
69. Aaron Withrow: 24:28.8
70. Jackson Watts: 24:39.4
78. Harper Moore: 24:41.3
84. Miles Brush: 24:47.6
96. Jonah Mitchell, 25:02.4
102. McLean Griffin: 25:09.6
120. Alex Justus: 25:23.9
147. Cade Byer, 25:54.6
Follow Kentucky Track and Field and Cross Country on Facebook, Instagram, Twitter and at UKathletics.com.
‑ GO CATS –