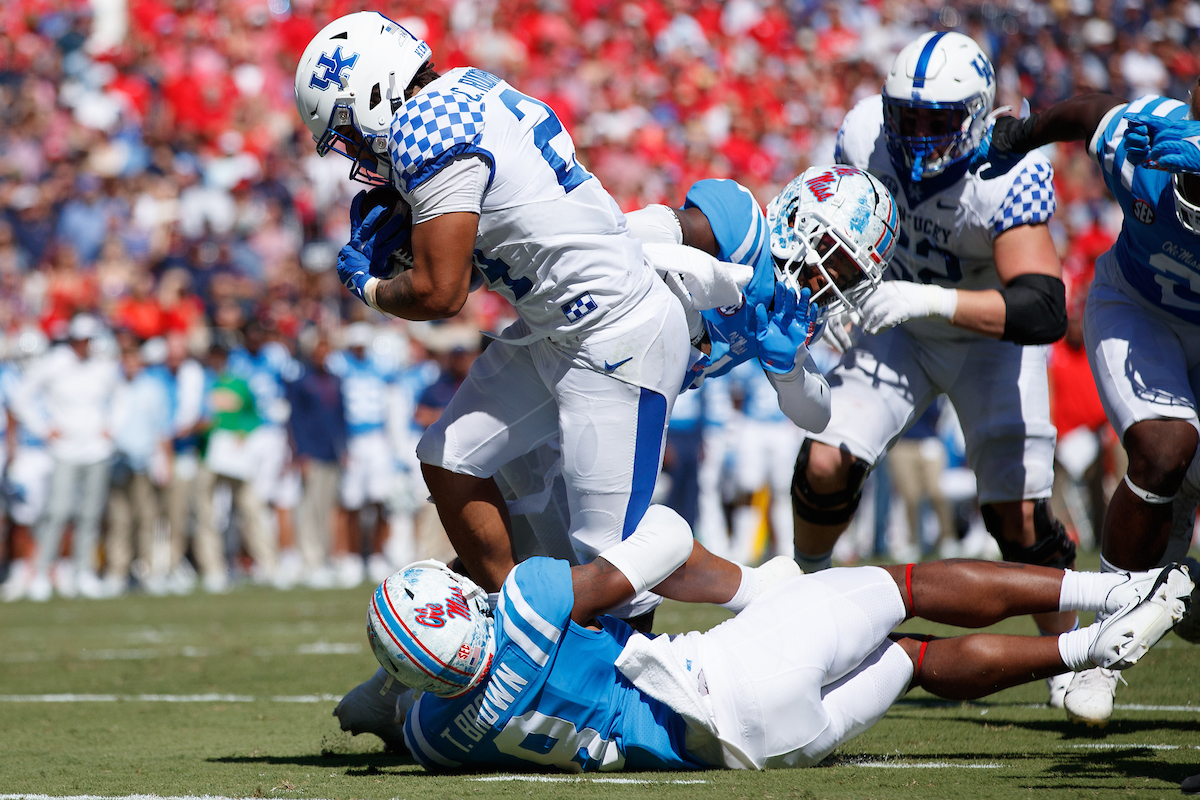 After missing the first four games of the season, Kentucky running back Chris Rodriguez Jr. returned in Saturday's game at Ole Miss. And, as he has done for his entire UK career, Rodriguez had a big impact on the Wildcats' offense.
Rodriguez had 19 carries for 72 yards and a touchdown and also caught three passes for 40 yards. Offensive coordinator Rich Scangarello had an idea of what Rodriguez would bring to the game, but he still found himself impressed with the senior's effort against the Rebels.
"It was exciting. I knew what he was, but to see it live, he's just one of physical guys who has great feel," Scangarello said. "Overall, I just like his demeanor and everything about him. He's just such a good football player. He's going to have a long career."
Having coached in this offense now for a while, Scangarello knows what successful running backs in this scheme have in common.
"Guys in our offense, how they run behind their pads (have) that ability to never stop their feet," Scangarello said. "It's a mindset and it's also a skill. They've got to have good hips, they've got to be powerful and they've got to have some feel."
As for Rodriguez, he was just happy to be back on the field.
"It felt great," Rodriguez said. "It felt great to get out there and knock the rust off a little bit. Now, I'm ready."
Having not played a game in almost 10 months, Rodriguez had forgotten what it was like to get knocked down at full speed on the field.
"I forgot what it felt like to get hit," Rodriguez said. "But with my playing style, I couldn't wait to feel that again."
When asked what was different in this year's UK offense, Rodriguez cited the playmakers in the Kentucky receiver corps.
"It makes it easier on me," Rodriguez said. "They're opening up the run game for me. We've got a lot of guys in that receiver corps that can go (for a touchdown) at any time. It just opens a lot more up."
Now, Rodriguez faces off against South Carolina, a team that he has had great success again in three previous contests. As a freshman, C-Rod carried six times for 65 yards and his first career touchdown. His sophomore season, Rodriguez rushed 14 times for 139 yards and three scores against the Gamecocks. And last season, C-Rod carried 26 times for 144 yards.
In total, Rodriguez has carried 46 times for 348 yards and four touchdowns. C-Rod has averaged 116 yards rushing per game and 7.6 yards per carry against South Carolina. What is it about South Carolina that brings out the best in Rodriguez?
"Not in particular. Nothing toward them," C-Rod said. "That was the first time I actually played a lot, I think that was my first touchdown, against South Carollina, a few years ago."
Now, as he has one last chance to face the Gamecocks, Rodriguez is looking for one more big game against South Carolina. And, more than that, he hopes to help the UK offense click even more this week.