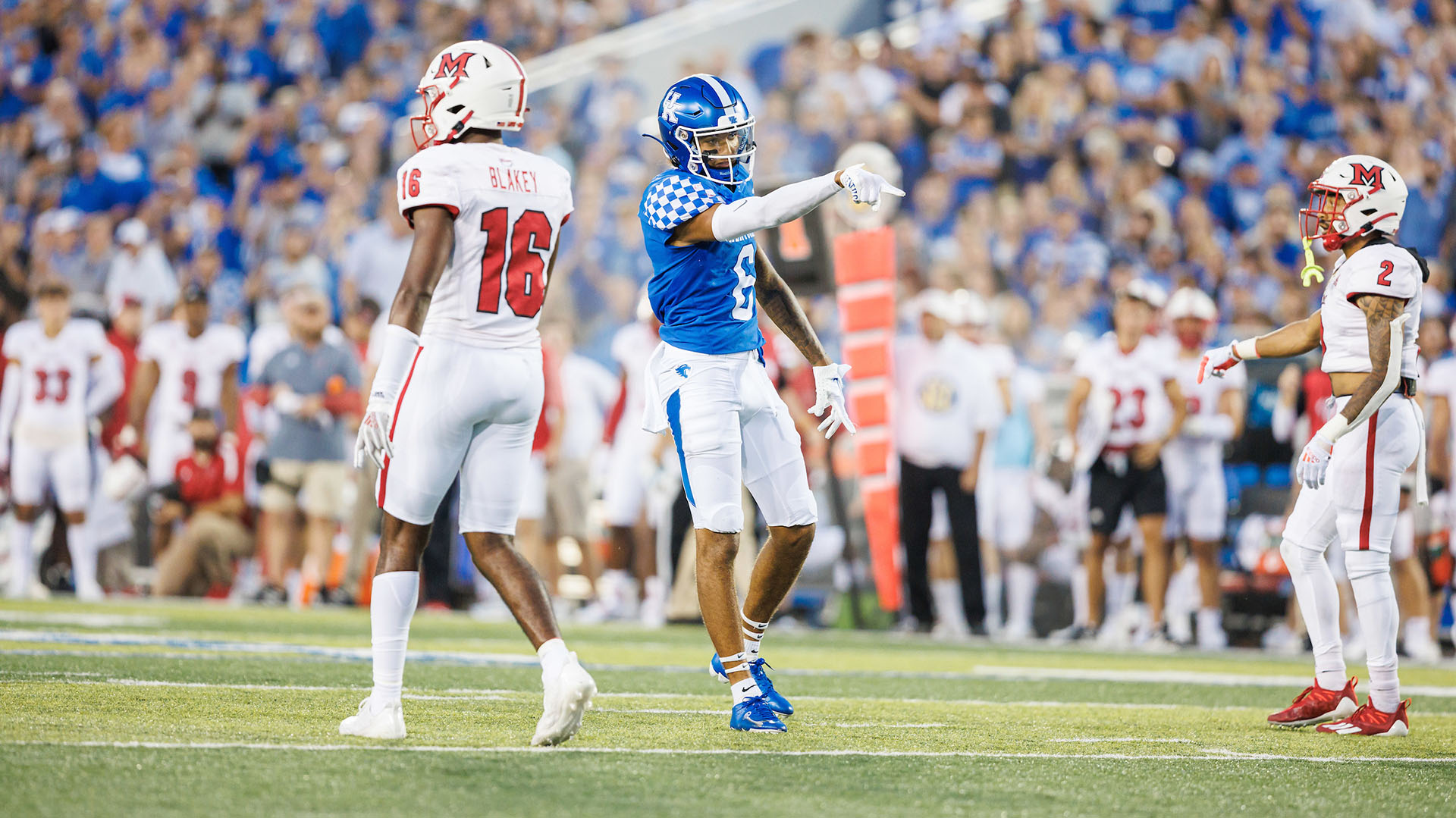 On Saturday night, Kentucky wide receiver Dane Key got to experience a night that he has dreamed about for years. Key got to play for his dream school, in a stadium where he has seen dozens of games, and at the same school where his father played.
Key, who graduated from Frederick Douglass High School, got to play his first collegiate game in his hometown, he caught his first touchdown pass and his Kentucky team won the 2022 season opener, 37-13 over Miami (Ohio).
It was the perfect night for Key – almost.
When Key caught his first career touchdown pass – a one-yard strike from Will Levis in the fourth quarter – it was a moment of celebration for Key, his mother and his father Donte, who played linebacker at Kentucky in the 1990s. But it happened on the wrong end of the stadium.
"It was a really cool experience, just to be able to score," Key said. "I wish it was in the other end zone because that's where my parents were. But I'm just happy I got in there."
As for the experience of stepping onto the Kroger Field playing surface while wearing blue for the first time, it was all Key had hoped it would be.
"It was really cool, just stepping on the field," Key said. "I remember when I walked through the tunnel just looking at everything and I was like, dang, I'm really here and now it's time to go prove why I'm here."
In his first game as a Wildcat, Key caught four passes for 53 yards and that one touchdown. Levis was impressed with Key's first game in blue.
"It was great," Levis said of Key's performance. "He's hard on himself, which I appreciate. He expects perfection out of himself, holds himself to a really high standard. I know he thought he could have played better Saturday, but I thought he played great."
Levis knows that Key can be a key (no pun intended) part of the UK offense this season.
"That touchdown catch alone, that's a strong hands catch that not a lot of people can make," Levis said. "For him to pull that away, to make that happen, that's a route we work on a lot and we're going to need him in situations like that and on the big stage. We know he will continue to be a big part of our offense."
Key and fellow freshman Barion Brown were outstanding in the first games of their UK careers. Key thinks that this UK receiver group can be outstanding.
"I really feel like our receiver group is something special," Key said. "A lot of people look at us like we're young but I really feel that we're just going to play and just prove that we belong here. We caught the ball and made plays."
Now, the young UK receivers head into hostile territory for the first time when Kentucky visits Florida on Saturday night. It will be the first road game for Key, Brown and the younger Wildcats. Key is preparing himself for what lies ahead.
"I'm ready for it to be loud, I'm ready for them to be a really good team," Key said. "But I'm ready to lock in this whole week, have a good week of practice and just play how we know how to play."
After an almost-perfect night in week one, Key must now turn his focus to the nationally-ranked Gators and the tough environment at "The Swamp" in Gainesville. He and the young Cats will do their best to prove that they are up to the challenge on Saturday night.