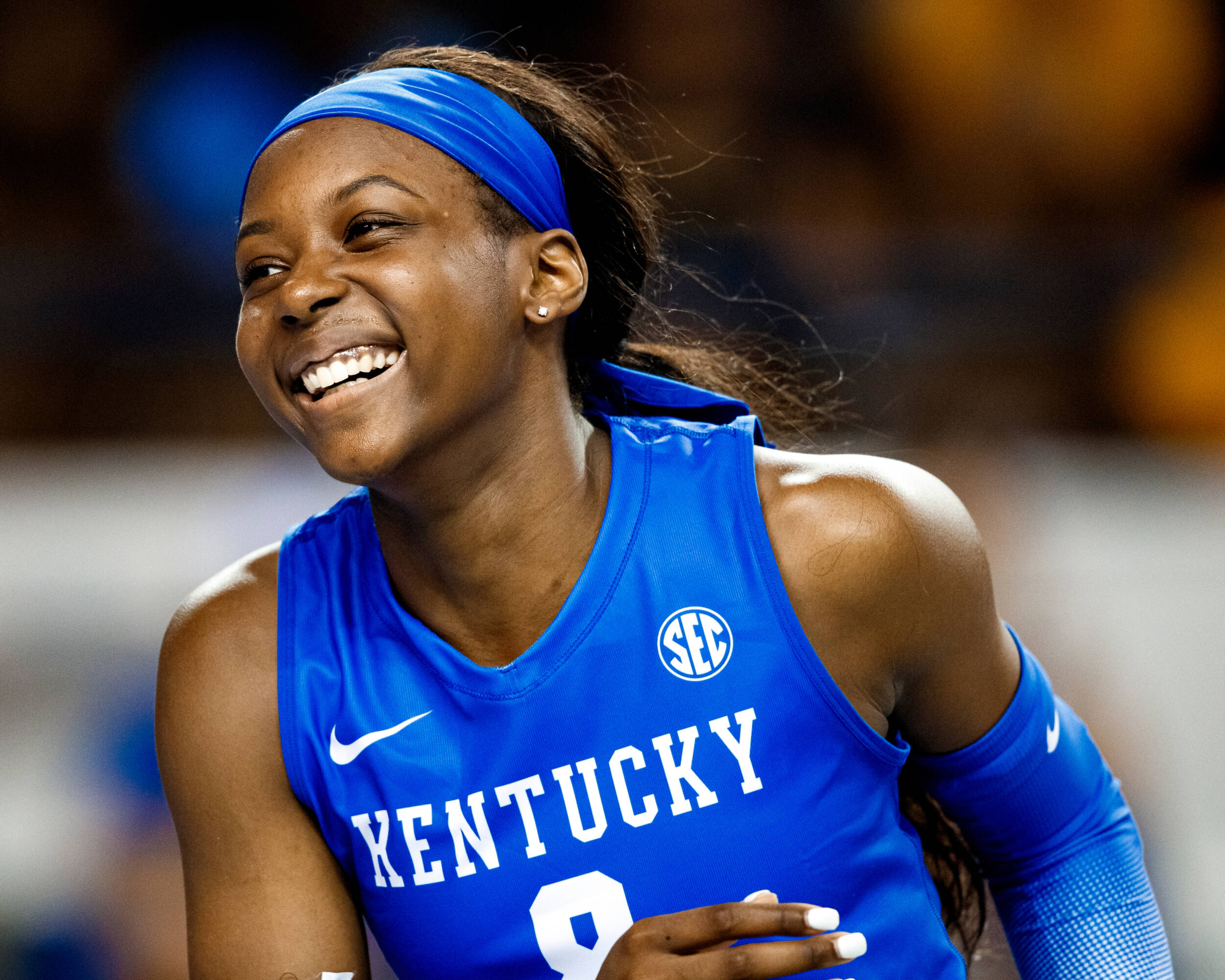 August 26, 2022 - 11:08 PM
Adanna Rollins' 28 Kills Not Enough as Marquette Takes Five Setter
LEXINGTON, Ky. – Kentucky Volleyball's Adanna Rollins had 28 kills on 55 swings Friday night as the No. 11 Wildcats dropped a five-set thriller to Marquette on opening night, 3-2 (25-21, 25-22, 18-25, 16-25, 15-12) inside Memorial Coliseum.
Rollins had a .473 hitting percentage on the night with her 55 swings and additionally, tacked on two service aces, 11 digs for a double-double and a solo block.
Sophomore setter Emma Grome made a big difference on both ends of the floor and led Kentucky with 54 assists and recorded her seventh-career match with 50-plus assists to go alongside 12 digs in the match. She had a critical service ace in the fourth to extend Kentucky's lead to 21-14, prompting a Marquette timeout to all but assure the match would go five.
Junior middle blocker Elise Goetzinger was a game-changer on both sides of the net for Kentucky, as the Blue Mounds, Wisconsin native had eight kills in the match to go along with six blocks, including two solo stuffs.
Marquette came out of the gates strong with set wins in the opening two frames, by scores of 25-21, 25-22. The Golden Eagles hit .287 on the night, had two players in double-figure scoring led by 18 kills from Aubrey Hamilton and won the fifth set, 15-12.
UK fought back with wins in sets three and four thanks to Rollins' strong effort, as the Wildcats got convincing 25-18 and 25-16 set victories to take the match into five.
Kentucky will play its next match on Sunday afternoon, beginning at 4 p.m. ET vs. Ohio University on the SEC Network with Eric Frede and Kelly Burke on the call from Lexington. Tickets are available at UKathletics.com/tickets.
Set One
Kentucky lost set one, 25-21. Struggling to find the court early on offense, the Wildcats hit just .152 as a team. Adanna Rollins led the offense, hitting .471 with nine kills, but that ultimately was not enough. Junior Riah Walker went on a four-point serving streak to bring the Wildcats even with the Golden Eagles at one point in the set at 19-19. In the opening set, Kentucky hit just .152 in comparison to the Golden Eagles impressive .306.
Set Two
In the second set, Marquette had a flurry of service errors that kept Kentucky in front of the Golden Eagles, maintaining the lead up until the 19th point of the frame when MU took a 10-9 lead. Marquette then fell behind 15-12 at the media timeout and was four points behind at 18-14. Reagan Rutherford and Eleanor Beavin dug some tough balls from the Golden Eagles, but it was not enough to stop them from rallying to take their lead at 20-19 to prompt Kentucky to call its first timeout of the set. The Wildcats struggled late in the set to point score and Marquette saw out a 25-22 second set victory to go up 2-0 in the match.
Set Three
Needing a spark, Kentucky turned to Emma Grome, who used all of her offensive options and began spreading the ball to Erin Lamb. Lamb ended the match with a staggering 18 kills on just 36 swings for a .417 average on her way to a career-high in kills, previously set in 2021. A combination of kills from Goetzinger and Rutherford led to an 11-6 UK lead and prompted a Marquette timeout. Scrappy defensive plays by Eleanor Beavin and Riah Walker showed throughout the entire set as UK never trailed in the entire frame. Rollins continued to attack the ball well, maintaining a hitting percentage of .459 off of 37 attempts through three sets. Lamb continued to give the Wildcats some momentum, extending their lead to 17-10. Audrey Whitmore made her first NCAA appearance as the Golden Eagles began to close the lead a bit, but Rollins came up with some clutch swings to keep the lead above three points the entire stretch run. The Wildcats won set two 25-18, which ended with a kill from Rutherford.
Set Four
Looking more comfortable, Grome continued to set up some great plays for the offense to begin the fourth set. Azhani Tealer, Goetzinger and Rollins used some off-speed balls to their advantage, coming up with great kills to put Kentucky ahead by three. Maddie Berezowitz increased the Kentucky lead to 9-5 on her first ace of the season as she was subbed into the match. UK pushed the lead to six at 15-9 and forced a timeout. The Wildcats lead extended to nine with a service ace from Rollins. A challenge by head coach Craig Skinner ended up in Kentucky's favor, bringing the lead to 21-14. Lamb and Rollins continued to roll with kills, and UK ended the set 25-16 on a Marquette error.
Set Five
With service from Grome and two early kills by Goetzinger and Rollins the momentum swung early with UK taking an early 4-2 lead. Marquette came up with some nice plays on its end, grabbing the lead away by as many as four at 9-5 after the changeover. Lamb ended the Golden Eagles' run with two-straight kills, and Beavin behind the serving line. Whitworth had terrific plays in the set to keep the Wildcats alive midway through the stanza on the back row as UK cut the lead to one at 12-11. A big block from Goetzinger and Grome brought some energy into Memorial Coliseum as UK pulled within one at 13-12, but, Marquette won two of the final three points to take the fifth set and the match, 15-12 in the fifth.
Follow along with the Wildcats on Twitter, Facebook and Instagram, and on the web at UKathletics.com.