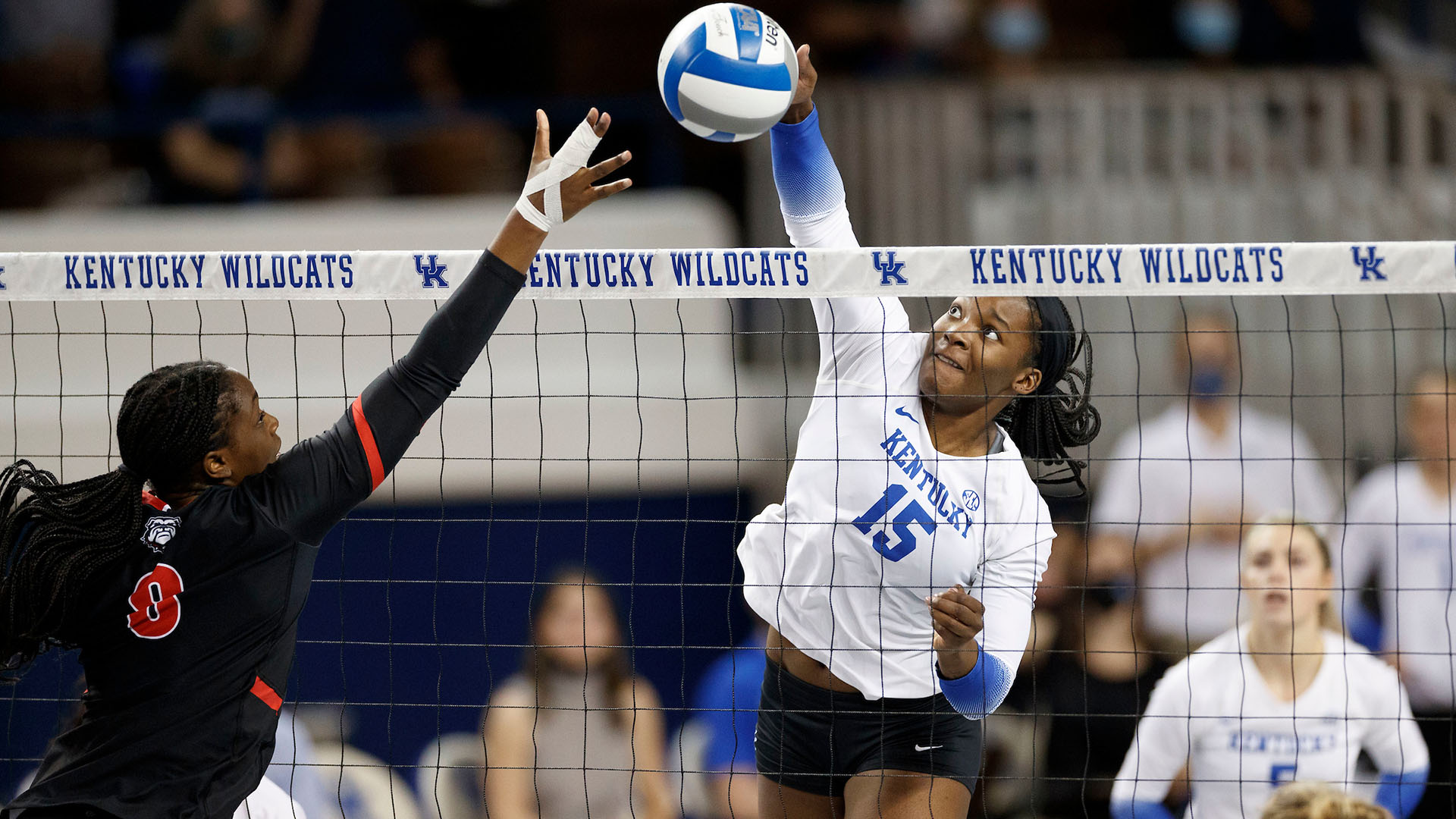 August 25, 2022 - 01:02 PM
Azhani Tealer Ready to Assume Leading Role for UK Volleyball
Since her arrival in Lexington, Azhani Tealer has been a key cog in the Kentucky volleyball attack. But there's always been someone else on the team that has been the primary focus.
Tealer has played with UK legends like Leah Edmond, Madison Lilley, Gabby Curry and Alli Stumler, just to name a few. But in 2022, it's Tealer's time to be in the spotlight. And she's more than prepared for that role.
"It's kind of crazy. We'll be doing open gyms in the summer and everyone is looking to me, and I'm like 'oh yeah'. That's the position I'm in now," Tealer said. "It's kind of cool to be a leader for these girls and to be someone the younger girls look up to."
Tealer has seen someone step into that "senior leader" role in each of her three seasons.
"My freshman year, we lost Leah, my sophomore year we lost Madison, Gabby, Avery (Skinner) and Kendyl (Paris), my junior year we lost Alli," Tealer said. "Every year, it's like we can prove that we can do this without this person. So, with this new group, we can come in and keep doing what we're doing and that's exciting."
Tealer has even heard from some of her former teammates who were once in her position.
"It's kind of surreal," Tealer said. "I have my teammates from my freshman year texting me. It's like, wow, you guys were this when I was a freshman, I was looking up to you guys. I can't imagine how our freshmen now feel. I'm getting so old. But I'm excited."
And the Cats are excited to have Tealer back as well. During her three-year career, the Texas native has 571 kills in 70 matches. She has 234 total blocks, along with 108 digs.
Last season, Tealer had 271 kills and hit .433, which led the SEC and was fourth in the country. She added 119 blocks and was eighth in the league in blocks per set (1.14).
This year, Tealer is looking to become a steady force for the Cats.
"For myself, I just want to continue to be consistent," Tealer said. "I feel like the past couple of years have been really good for me. I just want to continue to prove that I can do it at a high level."
UK head coach Craig Skinner also cited consistency when he spoke about Tealer earlier this week.
"You know what you get with Azhani every day," Skinner said. "You're going to get explosive athleticsm, you're going to get presence, you're going to get leadership, you're going to get effort. You have a lot of trust and faith in her."
Tealer is also known as a team-first player, something that Skinner admires about her.
"Just her willingness to give herself to the team, no matter what position she has played is something that a lot of younger players in the sport need to look up to someone like that," Skinner said. "She obviously impacts our team, and will again this year, but her legacy will be bigger than that for sure."
After three years of watching others have their time in the spotlight, it's now time for Tealer to shine. And she's ready to take advantage of that opportunity.