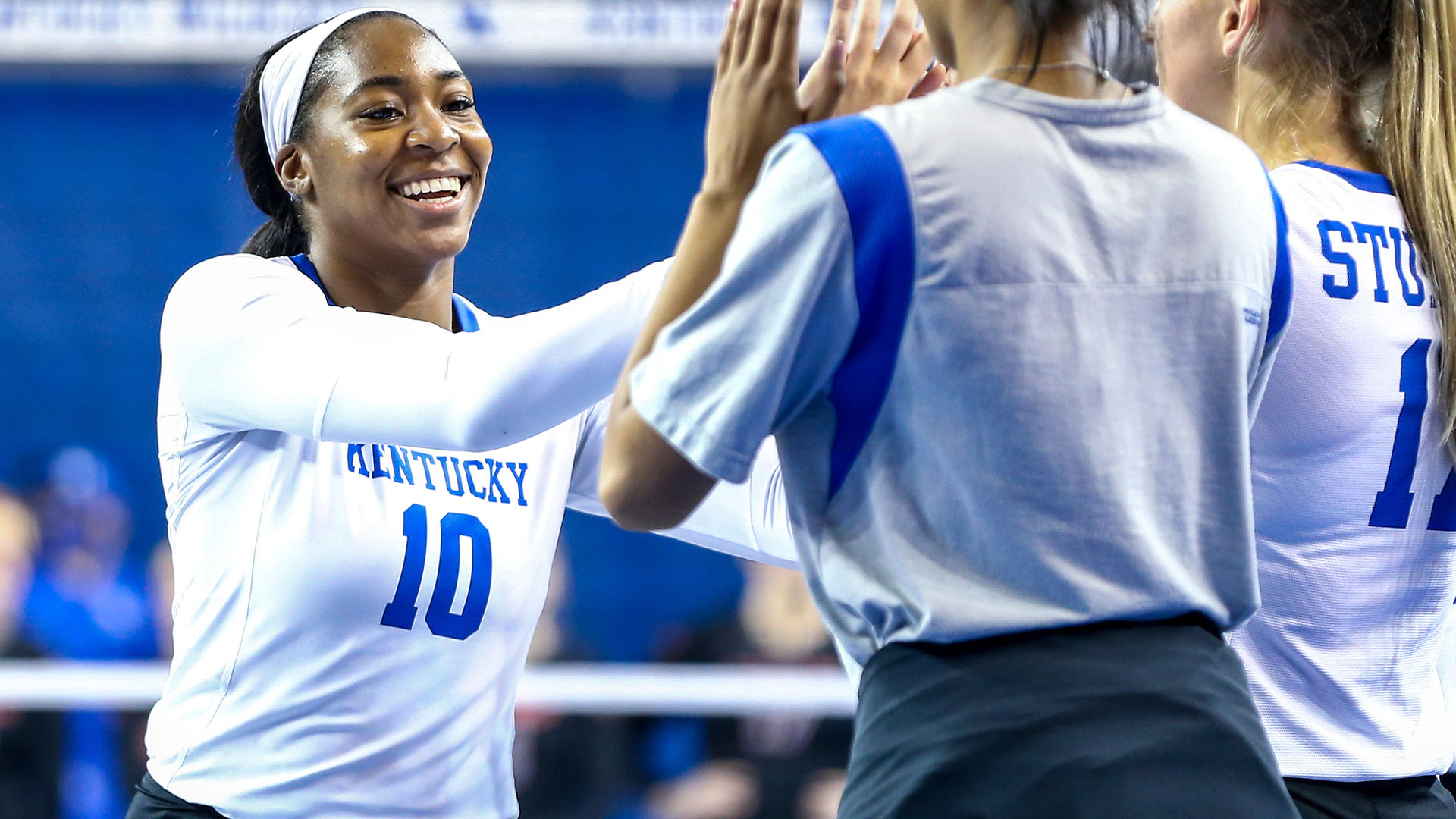 August 20, 2022 - 11:02 AM
Reagan Rutherford Prepared for Her Time to Shine
Reagan Rutherford came to Kentucky as one of the top-ranked high school players in the nation. And after two years of living in the shadows of All-Americans like Madison Lilley, Gabby Curry and Alli Stumler, Rutherford is prepared for her time to shine.
In her first season at UK, Rutherford was limited due to the players in front of her and because of an injury. She played in just 23 sets that season, knocking down 44 kills and hitting .281.
Rutherford played in 103 games last season as a sophomore and was productive for the Cats all season long. She had 217 kills while hitting .288. She had 78 total blocks and 49 digs. The latter is a number she's hoping to improve this season.
"I've worked on a lot of serve receive and just being able to play in the back row," Rutherford said. "Serving and defense and being a six-rotation player, back-row attack. So, I'm really excited for that. There's a lot in store and I'm looking forward to it."
Rutherford came to UK with a background as a setter in addition to being a hitter. She thinks those setter skills will benefit her when she's playing in the back row.
"I feel like it's pretty natural," Rutherford said. "It was a little rocky at first getting back there but definitely where I belong. I love playing defense, falling into the crowds, going out for balls, laying out. It definitely is a natural feeling."
Overall, Rutherford is looking forward to her third year in the Blue and White.
"I'm very excited for the season, going into my junior year," she said.
SEC coaches apparently have liked what they have seen from Rutherford. Last month, she was selected to the preseason All-SEC team, along with teammates Eleanor Beavin, Emma Grome and Azhani Tealer.
In addition to stepping into a larger role on the court, Rutherford is also ready to show the younger players the proper way to handle their business. Rutherford knows that she will be looked up to by the underclassmen and she's prepared for that.
"Craig (Skinner) always says leadership has no age, so everyone can voice their opinions," Rutherford said. "I think it's just saying more and doing more I have to step into now."
And when she shares her opinion, Rutherford knows what she will be telling the players who are new to the program.
"I think it's just staying true to Kentucky volleyball," Rutherford said. "Just being the players that we are being true to ourselves and not trying to do too much. Just be ourselves."
Rutherford hopes to take another step forward in her progression this season. Doing so will make the Cats an even more formidable squad.