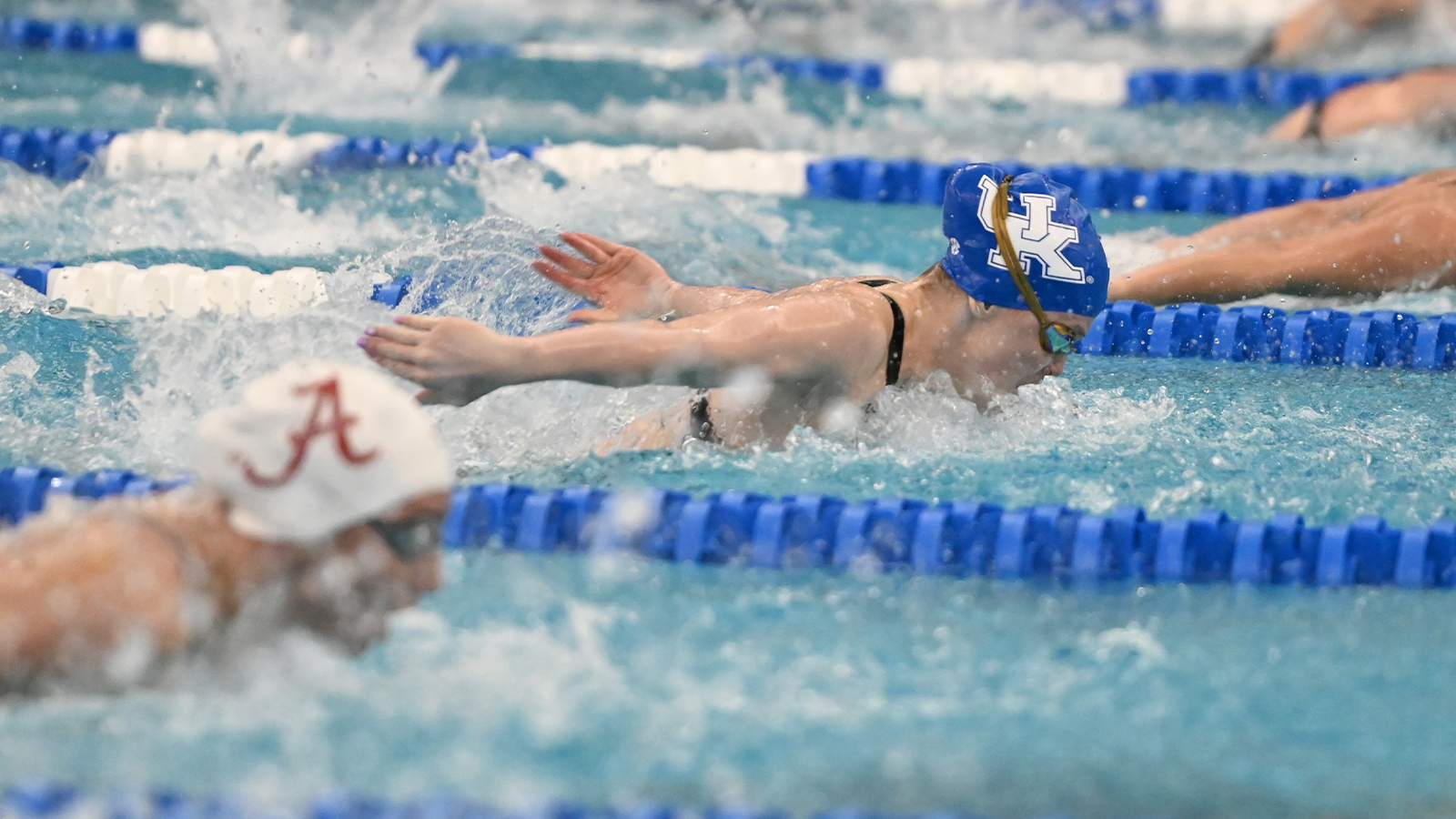 February 16, 2022 - 08:45 PM
Three Top-5 Finishes Highlight Second Night of SEC Championships
KNOXVILLE, Tenn. – The Kentucky men's and women's swimming and diving team had three top-5 finishes on the second day of the 2022 Southeastern Conference Championships in Knoxville, Tennessee, also breaking one school record and setting 17 lifetime bests. 
The 13th-ranked Wildcat women are in fourth place with 299 points heading into the third day of competition at the Allan Jones Aquatic Center. The men have accumulated 242 points to sit in eighth. 
Sophie Sorenson was the top finisher of the night for the Wildcat women after her fourth-place showing in the women's 200 IM in 1:56.34, followed closely by Gillian Davey in 1:56.58 for fifth. They both set lifetime bests and rank fifth and sixth, respectively, in school history in the event. 
Dominating the consolation final of the women's 200 IM was Lauren Poole, who swam to ninth place despite posting the fourth-fastest time in the entire field with a 1:56.20. Anna Havens Rice (20th, 1:58.30) and Jodi Ogle (24th, 2:00.77) were also finalists for Kentucky. 
Taking the top spot in the B-final of the women's 500 free was Izzy Gati, whose lifetime best of 4:42.71 placed ninth overall and moved her up to eighth all-time in program history. Kaylee Williams posted a time of 4:47.44 for 14th and Beth McNeese won the C-final in 4:43.63 to finish 17th. 
On the boards, Danny Zhang also secured a fourth-place finish on the men's 1-meter springboard for the third consecutive season. After qualifying as the eighth diver with a prelims score of 323.35, he bested that to finish with a final mark of 355.20.
Swimming in his first SEC final, Nick Caruso threw down a time of 4:18.73 to finish 13th in the men's 500 free. The freshman, who entered the meet with a lifetime best of 4:22.53 from the Ohio State Invitational in November, lowered his own fifth-fastest performance in school history.  
Jakob Clark finished a spot behind Caruso in 4:20.21 for 14th, while Adam Rosipal posted a time of 4:21.14 for 15th to mark the highest finish at the conference meet in his UK career. 
Also earning second swims this evening for the men were Max Berg and Kyle Barker, the latter who finished 22nd in the 200 IM with a time of 1:45.98. Berg sprinted to 14th in the 50 free – his highest SEC Championship finish – in 19.75, slightly off his prelims time of 19.54 which ranks sixth all-time in the UK record book.
Although disqualified during finals, Mason Wilby had a fantastic swim during prelims of the men's 200 IM, breaking the school record with a time of 1:43.05. The previous mark stood at 1:43.47 set by Glen Brown in 2020. 
Kaitlynn Wheeler (22.91), Riley Gaines (21.84), Sorenson (22.48) and Kristyn Sabol (22.80) combined to place 11th in the women's 200 free relay with a time of 1:30.03. Berg (19.69), Wilby (19.65), Victor Martin Roig (20.31) and Michael Belair (20.35) joined together to give the men a 10th-place finish in 1:20.00.
Kentucky is back in action on Thursday, Feb. 17 for the third day of the SEC Championships. Tomorrow's event lineup includes the 400 IM, 100 fly, 200 free and women's 3-meter with prelims starting at 9:30 a.m. ET and finals commencing at 5:30 p.m.
More information, including the schedule, live results and spectator information, can be found on the meet central page here.
Medal Count: 4
Gold: 0
Silver: 1
Women's 800 free relay
Bronze: 3
Knight, women's 1-meter
Women's 200 medley relay
Men's 800 free relay
School Record Count: 2
Men's 800 free relay (6:14.35)
Berg, men's 200 free (1:33.17)
Wilby, men's 200 IM (1:43.05)
NCAA Automatic Qualifying Standard Count: 3
Women's 200 medley relay (1:35.87)
Women's 800 free relay (6:57.60)
Men's 800 free relay (6:14.35)
Personal Record Count: 19
New Top-10 Individual Performance Count: 5
For the latest on the Kentucky swimming and diving program, follow @UKSwimDive on Twitter and on Instagram, on Facebook and on the web at UKathletics.com.