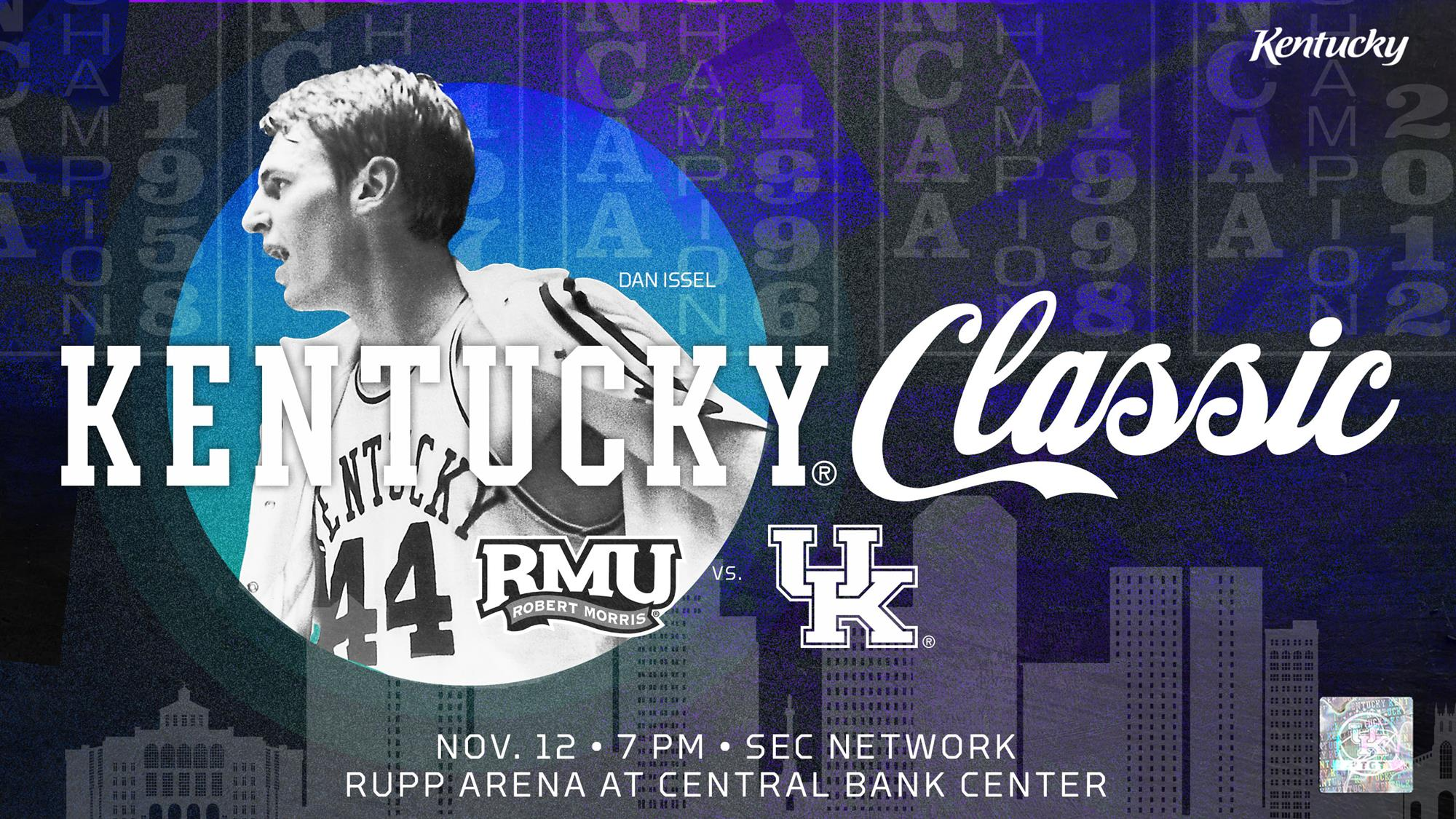 November 11, 2021 - 06:23 PM
Kentucky Hosts Robert Morris in Home Opener Friday
After opening the season with a 79-71 loss to No. 9 Duke, Kentucky gets back to action on Friday night, hosting Robert Morris at Rupp Arena in the home opener.
The Cats got big efforts from point guard Sahvir Wheeler and forward Oscar Tshiebwe in Tuesday's game. Wheeler had 16 points and 10 assists in his UK debut, while Tshiebwe was a dominant force inside, posting 17 points and a whopping 19 rebounds in his first game as a Cat.
Still, Kentucky came up short and has plenty to work on, according to associate head coach Bruiser Flint.
"We've got to tighten some things up," Flint said. "I think, keep our intensity and keep fighting when you get in the game. First game – tough game to play the first game but, I think we learned a lot about ourselves."
As far as what, specifically, needs to be worked on, Flint pointed to a couple of areas.
 
Kentucky vs. Robert Morris

Fri., Nov. 12 – 7:00 p.m. ET
Rupp Arena
Lexington, Ky.
Game Notes: UK | RMU
UK Athletics App

Coverage

TV: SEC Network
Radio: UK Sports Network
Watch
Listen
Live Stats

UK
Stats
RMU
0-1
Record
0-1
71.0
PPG
59.0
79.0
Opp PPG
69.0
.377
FG%
.328
.508
Opp FG%
.438
44.0
RPG
44.0
.389
3PT FG%
.174
.077
Opp 3PT FG%
.250
15.0
APG
11.0
4.0
SPG
4.0
3.0
BPG
4.0
"I think we can get to the line a little bit more," Flint said. "Just getting to the line more, maybe posting the ball a little bit more. Also, when you get into games, you can figure out who can do what."
Flint and the staff were pleased with not having to coach one particular aspect of the game.
"The biggest thing is, you're not looking out there and saying we didn't play hard enough," Flint said. "As long as you don't worry about that, you can coach the other things. You never want to have to coach effort and we didn't have to worry about that at all."
One of the primary challenges that the Cats will be dealing with this week is a short turnaround between games. After arriving home from New York very late on Tuesday night/Wednesday morning, UK had the day off on Wednesday. That gives head coach John Calipari and his staff one day to prepare for Robert Morris. Flint thinks having veterans on the roster will help with that aspect.
"The older guys really help more in terms of how you prepare," Flint said. "Freshmen aren't used to preparing the way we do. I think our preparation has been pretty good and our older guys are better at that."
Flint hopes that the maturity level on this team will prevent any sort of letdown on Friday against Robert Morris.
"The biggest thing is that we come out with the same type of intensity," Flint said. "It's easy to get up for Duke. Now, we've got to continue that in a game like Robert Morris. If we do and tighten up some of the things we work on, we'll be alright."
Robert Morris opened its season on Wednesday night with a 69-59 loss at Central Florida. Enoch Cheeks and Rasheem Dunn each had 12 points to lead Robert Morris in the game. Cheeks added 10 rebounds for the Colonials.
Friday's contest will be the first of seven consecutive home games for the Cats. It's also the first of three games for UK in the Kentucky Classic. In addition to Robert Morris, the Cats will face Mount St. Mary's on Tuesday and Ohio University on Saturday as part of the multi-team event.
Wildcats Begin Seven-Game Home Stand with Robert Morris
After opening the 2021-22 season away from home and a year after the Wildcats could only host 3,075 fans inside Rupp Arena, John Calipari and his squad will embark on a seven-game home stand beginning with a three-game multi-team event vs. Robert Morris, Mount St. Mary's and Ohio in the Kentucky Classic.
Up first is Robert Morris on Friday. The Colonials and Wildcats will meet for the fourth time in the series' history and the third time in the Calipari era. Kentucky owns a 2-1 mark and won 87-49 in 2013-14, a season after Robert Morris captured a win in the National Invitational Tournament by a 59-57 score on its home floor when the Wildcats were unable to host the event in 2013.
The Colonials opened its 2021-22 season with a 69-59 loss at Central Florida on Wednesday. Three players Rasheem Dunn (12), Enoch Cheeks (12) and Kahliel Spear (10) scored in double figures. Cheeks led the way on the boards with 10 rebounds.
Robert Morris is coming off a 3-15 season in 2020-21, but the Wildcats will face a few early season tests in front of Big Blue Nation. Both of the other Kentucky Classic participants in Mount St. Mary's and Ohio appeared in the NCAA Tournament a season ago. Kentucky is 41-4 in Rupp Arena openers and 12-0 under Calipari.
Despite Effort, Wildcats Fall to No. 9/9 Duke in Season Opener
Freshman Trevor Keels scored 25 points and classmate Paolo Banchero added 22 to help No. 9/9 Duke open Mike Krzyzewski's final season by beating 10th-ranked Kentucky 79-71 on Tuesday night in the nightcap of the Champions Classic.
The two basketball blue bloods, who have quite the history between them on the game's biggest stage, put on a spectacular show to open the season. The loud split crowd at Madison Square Garden that included many members of the New York Knicks and Bruce Springsteen was on its feet for most of the second half.
Duke, which led by four at the half, built the advantage to 15 with just under 10 minutes left behind Keels. The Wildcats wouldn't go away, scoring the next 11 points to get within 69-65 on a three-point play by Oscar Tshiebwe with 6:07 left.
That's as close as Kentucky could get. Keels scored on the Blue Devils' next possession and Banchero followed with a three-point play after a huge block by Mark Williams to start a 7-0 run. Kentucky could only get within eight the rest of the way.
Tshiebwe finished with 17 points and 20 rebounds. Sahvir Wheeler added 16 points and 10 assists for the Wildcats. Despite the season opening loss, John Calipari was pleased with the team's effort."
"I loved our fight," he said. "I loved our competitive spirit. And that's what our program is always been about."
• Now in its 120th season of men's basketball, Kentucky fell to 98-21 in season openers (no season in 1952-53)
• Despite the loss, Kentucky still leads the series 12-11
• The Wildcats suffered their first loss in this arena in the Champions Classic and are 3-1 in Madison Square Garden in the annual series
• Kentucky is 38-15 all-time in games in the New York City area, including wins in 10 of the last 13 games.
• In the modern-day version of Madison Square Garden, UK is 14-5
• Led by Oscar Tshiebwe, who set a Champions Classic record with 20 rebounds, UK won the board battle 44-36
• In addition to setting the Champions Classic record for rebounds, Tshiebwe also set the UK record for most boards in a Wildcat debut. His 20 boards are the most in the Calipari era.
• Wheeler had 16 points and 10 rebounds for his ninth career double-double. He tied for the second-most assists (Kyle Macy) in a UK debut, trailing only De'Aaron Fox who had 12 against Stephen F. Austin on Nov. 11, 2016
'Big O' Makes Big Impression in Big Apple
In Kentucky's season opener against Duke, fans and pundits alike noticed the size advantage the Blue Devils had over the Wildcats. But there was one big man who stood out more than any other and that was Kentucky's 6-foot-9, 255-pound Oscar Tshiebwe, who nearly willed the Wildcats to victory with his ferocious tenacity and drive to come down with every rebound.
Tshiebwe, who joined the Wildcats in the middle of the 2020-21 season, already had a reputation as one of the best rebounders in college basketball. In his Kentucky debut, Tshiebwe took it to another level.
Tshiebwe, who notably told UK's media contingent his goal for the season was to average 20 boards a game, did just that vs. Duke with a career-high 20 rebounds, bettering his previous best by one. The mark set a Champions Classic record and it marked the most rebounds for any Wildcat in their debut.
"If you really want to help your team, you got to fight, so I come out and fight," Tshiebwe said. "So I was going for everything. I was doing my best. I came in to win the game. That's why I was fighting. I cannot make anybody rebound them for me. That's why I was going for everything."
It was also the most rebounds of any UK player under John Calipari and the most by a UK player since Jared Prickett pulled in 20 against Arkansas on Feb. 9, 1994. His 12 offensive rebounds were the most in the Calipari era.
"I would say we're used to it. We watch it every day in practice," Kentucky forward Jacob Toppin said. "He's always fighting. He doesn't take days off. He wants to better himself. And the way he plays in practice helps us as individuals and a team. So he's always been a fighter, he's always been a hustle player, and he's always been that type of dog to just go after rebounds, dive on the floor."
The big man was not intimidated by Duke's frontcourt or the bright lights of Madison Square Garden. And he didn't just produce on the boards. Tshiebwe poured in a team-high 17 points to mark his 13th career double-double. He also added a pair of blocks and a steal. He is the first Wildcat with at least 17 points and at least 20 rebounds in a season opener since Dan Issel vs. Xavier on Nov. 30, 1968. Issel had 29 points and 24 rebounds.
As a freshman in 2019-20 at West Virginia, Tshiebwe led the nation with a 19.0% offensive-rebounding percentage. After game one in UK blue, Tshiebwe is hauling in offensive rebounds at a 36.0% rate, according to KenPom.com.
Prior to the season, Tshiebwe told UK's media contingent his goal for the season was to average 20 rebounds per game. He did just that in game one against a top-10 ranked opponent.