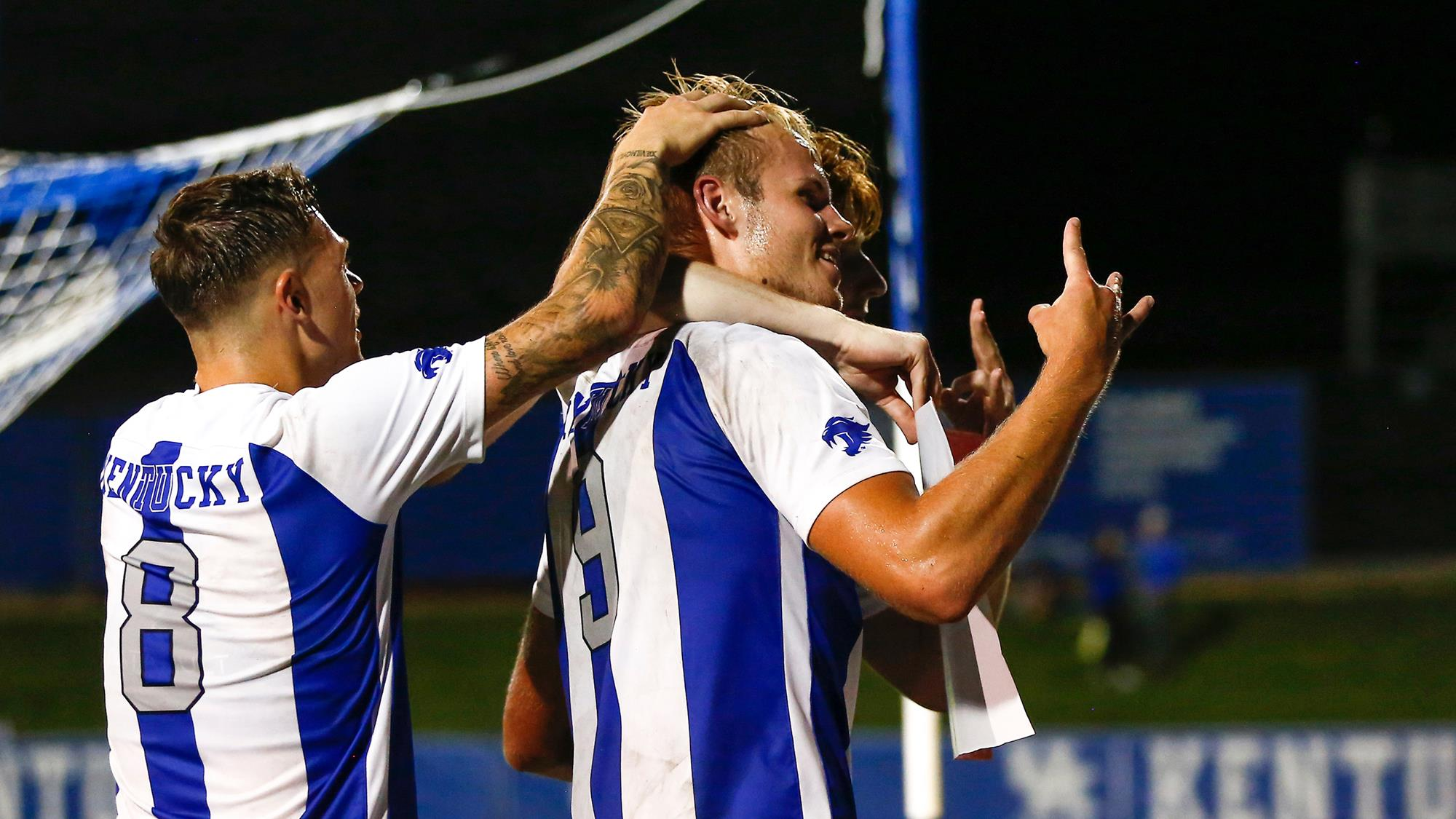 September 6, 2021 - 09:06 AM
UK, UofL to Renew Rivalry Tuesday Night on ACC Network
LEXINGTON, Ky. – Following three consecutive shutouts to open the season, No. 21 Kentucky (2-0-1) is set to travel 80 miles westward to renew its annual rivalry with in-state foe Louisville (2-1) on Tuesday at 7:30 p.m. ET, live on ACC Network.
 
The Wildcats enter the contest seeking a second straight win over an opponent from the Atlantic Coast Conference after defeating Notre Dame 1-0 last Friday. Kentucky is led on the offensive end by junior forward Eythor Bjorgolfsson, who assisted Luke Andrews via Oliver Juul to clinch the game winner over the Fighting Irish.
 
Bjorgolfsson recorded the third brace of his career in Kentucky's 3-0 win over Wright State earlier in the week, making him the only Wildcat to score multiple goals so far this season. Bjorgolfsson's previous two-goal performance came Sept. 28, 2020, when Kentucky defeated Louisville 3-1 in Lexington.
 
Since Kentucky's inaugural varsity season in 1991, the Wildcats have commanded a 13-8-5 lead in the all-time head-to-head series. Prior to last year's result, the teams split the previous three meetings 1-1-1, with each side scoring eight goals over the span. The home team has not fallen in the series since 2014, though UK has not won at Louisville since 2012.
 
The Cardinals head into Tuesday fresh off their first clean sheet and a 1-0 win over intra-city neighbor Bellarmine in double overtime last Friday. Louisville looks to improve upon a 2020 campaign that ended at 5-8-1 without a berth in the NCAA Championship.
 
Admission to all 2021 UK soccer matches at Wendell & Vickie Bell Soccer Complex is free to the public. For the latest on the Kentucky men's soccer team, follow @UKMensSoccer on Twitter, Facebook and Instagram, as well as on the web at UKAthletics.com.